Who is Greta Thunberg?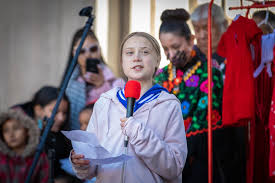 Meley Hagos, Reporter
December 9, 2019
On November 11th, Greta Thunberg received one of Glamour's "Women of the Year" awards. She's gained international attention after earnest efforts to bring attention to climate change. She's organized and spoke at many climate strikes, including one in Denver.
Thunberg is a 16 year old climate activist that's made a lot of noise in what seems to be a short amount of time. She began this journey at 15, when she would take days off of school to protest outside Swedish parliament. Since then, she's been giving speeches across the United States.
Her travel to the United States was not by plane, but by yacht. Thunberg is very conscious about greenhouse gas emissions and even convinced her parents to stop travelling by plane. Recently, she started her voyage from VA to Spain, and she's sailing there. 
"
I decided to sail to highlight the fact that you can't live sustainably in today's society,"
— Thunberg
Her concern stems from her belief that the government isn't taking climate change seriously. She claims that our leaders are "acting like children," in regards to this issue. She's one of the few climate change activists that has put the pressure on government officials rather than consumers. 
Many found out about Thunberg after she presented a chilling speech at the UN Climate Action Summit. Her most noted part of the speech has been taken by many as accusatory. "How dare you! You have stolen my dreams and my childhood with your empty words," Thunberg said. 
Michael Knowles, writer for the Daily Wire, claimed Thunberg was being used as a puppet for the left. Writer Jan Anali stated that Thunberg was a "clueless fanatic."
She's received a lot of attacks, most regarding the speech she made at the UN. Nevertheless, it's important to note that she's made a mark on international politics. Especially since she's 2 months younger than me. 
Thunberg is an important example that youth can be well spoken, informed, and influential.
"
The eyes of all future generations are upon you. And if you choose to fail us, I say – we will never forgive you."
— Thunberg