Junior Year Stress
I've always been told the junior year of high school would be the most difficult. I always wondered why that was the case…until I became a junior.
  I have a full schedule; two AP social studies classes, AP Language and Composition and science, math, Spanish three and two-year-long electives. On top of all this, I work six hours after school, most school days. 
Freshman year, during Raptor 101, a class we all probably took, we were told the requirements for graduation. The minimum to graduate is twenty-two credits.Though… I don't think any of us little freshmen really listened.
Sophomore year, I began to worry a little more about school. Was I on the right track? Did I know what I wanted to do after school?
Then came the talk of the dreaded standardized test. In order to get a "decent" score, an estimated 20+ hours of practice are needed. The ACT and SAT are required to be taken junior year. Freshman year we took the ACT Aspire; Sophomore year we took the PSAT. Needless to say, some of us didn't really take it seriously.
Starting class of 2021, there is a new minimum required for graduation when it comes to the ACT. An 18. On top of the stress I have worrying about getting a score that my future college will accept, I also have to worry about getting a minimum in order to graduate? 
An average on the ACT is a 25. However, for people below the status quo, the added stress of finding resources to study, tutors, and if they'll graduate becomes overwhelming.
The stress about college…What college am I going to? How will I be able to afford this college? Will I even go to college? The questions we all started asking ourselves junior year. 
Once again, fortunately, I know what college I want to go to.
Choosing a college, while a junior is very important. But there is more to choosing a college than simply applying. Getting transcripts, letters of recommendation, talking to your counselor. That's the hard part.
Do you want to commit to early admissions, or apply like the majority of seniors? What major will you choose? Are your grades and test scores good enough for your school? Believe it or not, if you wait until you're a senior… it may be too late.
I talked to my mother recently about wanting to leave the state when I go to college. My argument was based on the fact that the only schools in Colorado that stand out to me were Colorado College and Colorado School of Mines. I told her "My major isn't offered at Mines and why would I pay $60,000 to go to a private school such as Colorado College when I can pay that for out of state tuition at a different school?" Thus, I couldn't go to a school in Colorado. Maybe I'm lying to her. But maybe I'm lying to myself. Truth is: I've always craved independence. I've always wanted to have a sense of responsibility and to not lean on anyone. 
As any mother would, my mom's guilt-tripped me. She asked me who would do my laundry, she talked about how my room would be empty for at least four years, and that she'd rather have me go to community college than hundreds or thousands of miles away. Trying to impress my mom adds more stress and the fear of not disappointing her.
Junior year is by far the most difficult year I have endured throughout my high school career. Mentally, physically, and by far emotionally. I hold on to this sense of independence I want so bad. That's what's pushing me. 
They weren't lying when they said junior year was the hardest year in high school. 
About the Writer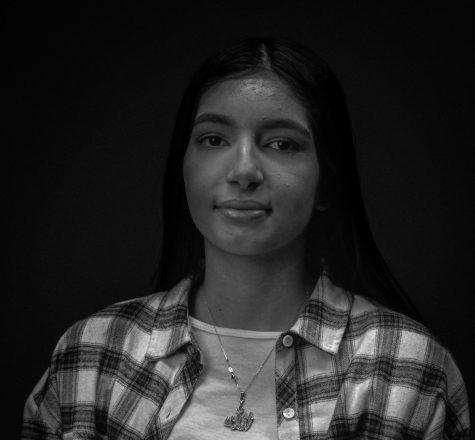 Huria Taj, Social Media Manager
Huria Taj is a thriving senior at Eaglecrest, she has been on the Nest Network staff for 2 years as she strongly is involved in writing in politics. Everyone...