Suicide Prevention Video Premiere
"On a Friday evening in April 2014, I received a phone call from the mother of one of my sons, Ethan's, friends. She told me her daughter was worried about Ethan because he was regularly talking about wanting to die, my first thought, and this is what I told her, was that Ethan, being a 14-year-old boy with a good sense of humor, liked to joke around and was still learning what was appropriate to joke about what was not appropriate to joke about. I had not seen any of the warning signs that would tell me that Ethan was in danger or even that he was sad or feeling depressed. He was a good student. He never struggled to get up in the morning. He had lots of friends and was engaged at home. I told her I appreciated the call and that I would have to talk with Ethan and make sure he was okay. 
So later that evening, I sat down with Ethan and asked him how he was doing and I got the typical 'I'm fine' answer. But then I told them about the phone call I'd received and about his friend's concerned for him and he broke down started crying. He expressed to me that he had been feeling sad all the time and he didn't know why. I told him that we loved him and that we could get help. And I got to work finding a therapist and making an appointment. He resisted the idea. He didn't really want to talk to a stranger about what was going on. But I convinced him to at least give it a try." 
Ethan's mother, Jen Hendricks, continued with tears in her eyes, "By Monday morning, so a few days later, knowing that his secret was out and that he didn't need to put on a good face anymore, I saw a lot of signs that were concerning to me. He didn't want to get up in the morning. He didn't want to be around our family. Miraculously, I was able to get an appointment with a good counselor that same day. And after visiting with Ethan, she told me that he had made plans to kill himself and then she recommended that we take him to the emergency room right away. As he couldn't at that time, he come up with any plan to keep himself safe. He was feeling so hopeless. So after a week-long stay in the mental hospital, he then returned home with a plan of what to do in order to keep himself safe should suicidal thoughts return. The next few years involve a lot of counseling, some antidepressant medication, a lot of worries, and a lot of prayers. 
Today, Ethan is finishing his last semester at CSU. He'll graduate in December with a degree in computer science. He still struggles with depression. And I still worry a lot and pray a lot. But therapy has helped him learn some healthier ways to manage them. And this experience has helped me know better what to look for and to be aware of how I can help those who are struggling. My first reaction after all this happened was that we shouldn't tell anyone about it. I didn't want others to miss judging Ethan and label him and get the wrong impression about what kind of kid he was or even what kind of family we were. However, as people started to know and understand what we were going through, I was surprised at how many of them had had similar experiences," a testimony from Jen Hendricks at the premiere of the Cherry Creek School District suicide prevention video premiere on September 3, 2019. 
Jen is a mother who got lucky. She was able to save her son from committing an irreversible act that would have had a lasting effect on the people Ethan was close to. While she didn't realize the magnitude of the situation when she first received the call, once she did she knew she had to act fast. She didn't notice the signs right away, like many parents, but she knew that it was serious. She talked to him and found him a counselor to see and saved his life. She is now helping other people with this story of hope. 
Hendricks is a member of CCSD's community wellness committee and gives a parent's perspective to major issues in the district. This year they decided to place their focus on suicide prevention. In the wake of several suicides in the district the past few years, they knew something had to be done. They stumbled upon a video produced by the Mayo Clinic that talks about suicide prevention. At the same time, students were very concerned, including Eaglecrest Senior, Mackenzie Prendergast. 
"[He] came to me and started a conversation about something that was very important in [his] mind and in mine as well: we needed to address the issue of teen suicide. That conversation continued on in several different points and problem solving and thinking about what we could do. In the midst of those conversations, I was invited to come to the meeting to talk about this video. When I got to that meeting, it became very clear to me that the conversations that Mackenzie and I were having were happening in every one of our schools. It was a very powerful moment for us to be coming together and to look at opportunities," Eaglecrest assistant principal, Jim Roome, said.
This is how the CCSD suicide prevention video was created. Students from each high school in the district were raising the conversation that something needed to be done. CCSD decided to make the produced by students. All the actors, editors, and production team members were regular students who wanted to use their voices.
"The group worked very diligently to bring all of the students together. And when we got together on that day, it was nothing short of spectacular. That morning was spent learning, and in that learning, it became clear, I think, to all of us, that individual action, something by students here, something by one school here, another school there, the district there wasn't going to cut it. That wasn't what we needed." Roome continued, "We were going to need to be a united force working with our community resources if we were truly going to make a difference. We forget, sometimes as educators, that to see the future, and we don't need a crystal ball, we don't need a magic potion. We just need to look at the faces of our students. Because the answers are in those students. We see the future leaders of our schools, of our businesses, and of our nation."
This video was produced to emphasize the signs of suicide and how to start a conversion, with a list of the do's and don'ts. The simple video showed students in various parts of a school saying a simple script. The beautiful editing and calm voices highlighted the realness of this issue. 
"The first step to mental health awareness is recognizing that mental illness isn't about things." Prendergast proceeded with, "if you have diabetes, you wouldn't feel guilty for taking your insulin. If you wear glasses and contacts, you don't feel ashamed of having to do so. So, why should someone who has OCD, anxiety, depression or any other mental illness feel wrong for seeing a therapist or taking medication to help balance chemicals in the brain?"
There is a heavy stigma behind mental health issues many people face today. It is new to media coverage and conversations within the government. People don't know the process or diagnosis of mental health, but the symptoms can be viewed on every news source. The conversations around mental health are avoided, but, in many's eyes, still needs to happen. 
Hendricks hopes that this will soon change. "There's a song from the musical, Dear Evan Hanson, that talks about feeling like you're looking through a glass window, tapping on the glass waving at the people passing by waiting for someone to notice and look back to you. There are a lot of different ways that the people that people will tap on the glass or wave through the window. And hoping that someone will notice them and their struggles. The video we just watched, helps us recognize some of those ways that the teens in our lives and others might send us this message. It's so important that we know what to watch for and how to respond."
About the Writer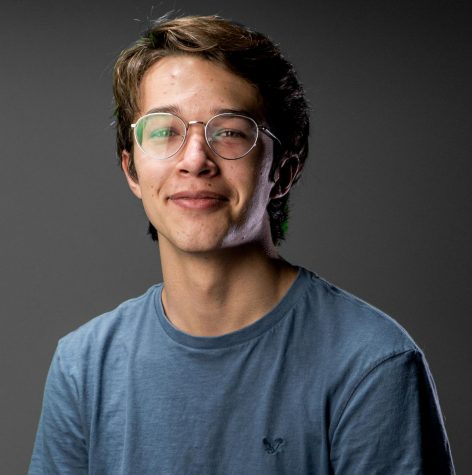 Jeremy Garza, Editor in Chief
Jeremy Garza is returning to Nest Network for his second year. He was Written Content Editor last year and is excited to be back as Editor in Chief his...