Lover Review
Lover was released on August 23, the seventh studio album released by Taylor Swift, and is nothing short of original. The 29-year-old tackles longing for youth, sexism, and love in this work. Of the 18 tracks on the album, there are definite lows, but the messages of love and loss and the theme of staying forever young shine through to listeners. A polar opposite of her 2017 release Reputation, this album is free of digs at the Kardashians or haters. Instead, she speaks of moving on and falling in love. 
I Forgot That You Existed – On the first song on the album, "I Forgot That You Existed", she sings, "It isn't love, it isn't hate, it's just indifference." She opened her album with a symbol of moving on from her past. She is forgetting the bullying she received online and this song is a perfect representation of moving on from cancel culture.
Cruel Summer – This song is about the fear of losing her new relationship because of the way the public viewed her as a snake. During the summer of 2016, the heat of her online shaming because of the West's was occurring. Around this same time, she began pursuing a relationship with British actor Joe Alwyn. "It's a cruel summer with you." 
Lover – Lyrics, presumably about Alwyn, tell a tale of Swift falling madly in love. "Have I known you twenty seconds or twenty years?" She sings a ballad of pure love that people can only dream of attaining. On reputation's "New Year's Day" she talks about her spending time at a hotel with Alwyn. This song talks about him taking her "home" and beautifully shows a shift in her relationship with him. 
The Man – Swift beautifully addresses sexism in this track. She sings, "Wondering if I'd get there quicker if I was a man". She sings about her refreshed dreams if she was a man. Wondering how much easier life would be if she was The Man.
The Archer – "Combat, I'm ready for combat." This song is a plea for support and respect. Swift discusses the way the public views her and if she was ready for that. This song is perfectly written, but listening to the song is a little bit of a bore. 
I Think He Knows – A song about a crush. A fast pace pure pop song with seductive lyrics. "Make me wanna know that body, like it's mine." She is trying to hide her feelings but is becoming so infatuated that she couldn't hold it in anymore. 
Miss Americana & The Heartbreak Prince – This song is reminiscent of her youth. She speaks of high school and "running away". This album is centered around love, but also holding onto her youth and the feeling of freedom. "It's you and me and that's my whole world. They whisper in the hallway she's a bad, bad girl."
Paper Rings – An upbeat track that will bring a smile to any listener's face. The quirky lyrics and fast pace are asking to be danced to. "I like shiny things but I'd marry you with paper rings," Swift sings. She is a millionaire with dozens of hits and is, arguably, the most famous artist globally, but it so deeply in love that she doesn't need anything fancy to marry her lover. She is so deeply in love that she wants his "complications too". She has"waited her life" for this feeling. Easily the best song on the album. 
Cornelia Street – "Drunk on something stronger than the drinks in the bar." The love she shares for her significant other is stronger than any drug or alcohol she could consume. 
Death By A Thousand Cuts – A song inspired by a movie that was inspired by Swift's 1989 album. Someone Great, a Netflix Original movie, was written and directed by Jennifer Kaytin Robinson. Robinson wrote the movie after taking inspiration from 1989, especially the track "Clean". In an interview with Elvis Duran's morning radio show, Swift said: "I just wrote a song based on something she made, which she made while listening to something I made, which is the most meta thing that's ever happened to me." She is so moved by the fact that her music is affecting people. This song shows the raw emotion of love and pain that can be found in one relationship. 
London Boy – "They say home is where the heart is, but God, I love the English." A love song about loving an English man. This song is straight-forward and again, presumably, about Alwyn. A cheerful song that is the definition of modern pop. 
Soon You'll Get Better (featuring Dixie Chicks) – A song dedicated to her mother who battled cancer. "And I hate to make this all about me, but who am I supposed to talk to?" The sadness in Swift's tone can easily be heard, and anyone who has experienced loss or a near-death experience can relate. 
False God – This song discusses the fact that even if God is false the love she has in her heart is still real. "Even if it's a false god, we'd still worship this love." 
You Need To Calm Down – "You need to calm down, you're being too loud." This is a message to anyone sending hate or causing pain to anyone. Taylor Swift has always been an advocate for minorities, but she made this song especially for the LGBTQ community. The music video for this song features every LGBTQ member or advocate Swift is close to, from the cast of Queer Eye to RuPaul to Ellen Degeneres. At the end of the video, there is a link to go sign Swift's petition for the Equal Rights Act. 
Afterglow – The song starts with a measure of a drum playing what emulates a heartbeat. She doesn't "want to lose this" and wants to "meet in the afterglow". She made a mistake and wants to fix the issue she created before they leave each other for good. A moment many can relate to, pure guilt and pain. 
ME! (featuring Brendon Urie) – The first single to come off of this album, "ME!" is also the weakest song on the album lyrically. Swift and Urie have beautiful voices that make the song tolerable, but the lazy rhyming and the Disney Channel theme song vibe are disappointing. 
It's Nice To Have A Friend – A totally different song from "ME!", this song is going back to the strong theme of pure love. Swift takes us on a tale of friends becoming more. 
Daylight – A perfect end to a near-perfect album. "And when the daylight comes I'll have to go but tonight I'm gonna hold you so close." She doesn't want to think of anything else or see anything else now that she has this experience, which could be about love and fame.
Taylor Swift still has "it" with the release of this album. Lover debuted at number one on the Billboard charts and its sales debut of 679,000 copies sold makes Swift one of only two acts to have six different albums to sell over half a million sales in an opening week (the other being Eminem). Lover being her seventh album, Swift shows no sign of slowing down and is a force to be reckoned with in the music industry. 
About the Writer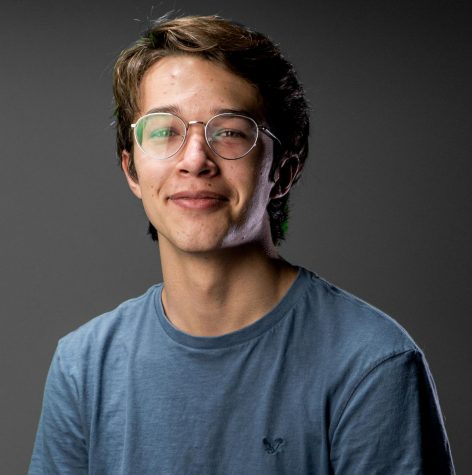 Jeremy Garza, Editor in Chief
Jeremy Garza is returning to Nest Network for his second year. He was Written Content Editor last year and is excited to be back as Editor in Chief his...