Billie Eilish Summer Concert Review
Billie Eilish is an iconic artist and performer. She isn't the average female music star we usually see in our world. She wears baggy clothes and doesn't indulge in drugs. She says what is on her mind and doesn't follow the status quo. Her lyrics are relatable and relevant. Her most recent project and first studio album, WHEN WE ALL FALL ASLEEP, WHERE DO WE GO? , has fourteen songs that enticed her already established fanbase. At only 17 years old, Eilish has crushed chart records and shows no sign of slowing down.
On June 5, 2019, I got the privilege of attending Ellish's concert at Red Rocks Amphitheater. On the drive up the sky turned dark and a storm began. It rained for two hours, but her fans, including myself, stayed. We waited patiently outside in the freezing rain for two hours. We sang her songs and chanted her name for hours. When she first walked on stage she was shocked that we waited and thanked us profusely for coming to her concert that we eagerly waited to start. 
Billie opened with her smash hit "Bad Guy". She performed the number flawlessly.
 The concert had a seventeen song setlist including tracks from her album and her extended play, Don't smile at me. The audience belted every song that was performed. Dancing through bright lights on a raked stage, the technical design of her show shined through. There were huge LED screens covering the whole proscenium and raked stage. They showed images from past music videos and brand new graphics to accompany her voice. Spiders crawled around Eilish during "you should see me in a crown" and bright green hues flashed during "wish you were gay". The music and visuals hit you in the heart and made you fell a full range of emotions.
The highlight of the night was when she sang her heartfelt song "i love you". She climbed onto a white, metal bed with her brother, Finneas. Together they co-write all of her songs, but this one is special due to its meaning. The song tells a tale of vulnerability that isn't common to see from Eilish. The bed became suspended into the air and the fancy lights and booming bass vanished. The song was performed with Finneas playing a simple guitar and Billie singing the meaningful lyrics. The audience pulled out their cell phone flashlights in the powerful moment. The light lit up Red Rocks in the pitch-black night. The words caused tears to appear, it was an emotional moment for all.
Her live performances leave you wishing for more. Even after standing in the rain for two hours, I would do it all over again just to be in her presence. Her intense bass and careless dancing made the experience great. But her light-hearted laughter and beautiful voice made it remarkable.
About the Writer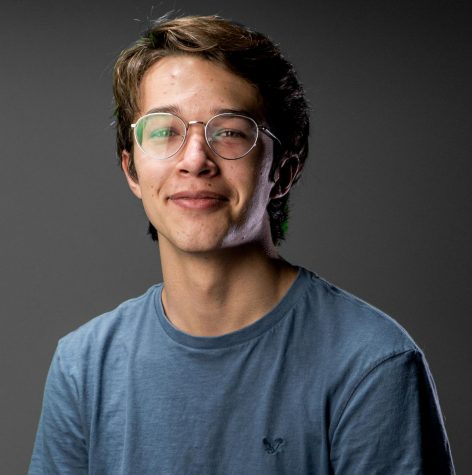 Jeremy Garza, Editor in Chief
Jeremy Garza is returning to Nest Network for his second year. He was Written Content Editor last year and is excited to be back as Editor in Chief his...