Boys V-Ball Serves Success
This 2019 season, boys volleyball had another pilot season to be able to go under review to become sanctioned by Colorado High School Activities Association (CHSAA). Fortunately, this time they were officially sanctioned along with girls wrestling and unified bowling. This new sport will add another opportunity for diversity in athletics at Eaglecrest and in Colorado.
This season boys volleyball is incredibly successful in their season. Their current record, as of May 1 2019, is 16 wins to 4 loses. This is an incredible feat and is something to be proud of for a piloted sport. CHSAA gave them a pilot season to go under review for sanctioning.
When their head coach, Tanya Bond, first heard the news of the sport being sanctioned she was very enthusiastic excited. "I was really excited for the boys. And I was really excited for the group of people that had been working hard to get it sanctioned for so many years," said Tanya Bond. She was one of the people fighting for this sport to be sanctions and accomplished the feat people had been trying to do for twenty years.
Aiden Bond, a Sophomore, said, "I grew up with the sport. My parents are both coaches. So, I've been around it my whole life. But I've just started taking it seriously four years ago. I started playing club in seventh grade. That was when high school boys volleyball was just starting and I figured I'd go for it." A. Bond is a prime example of good sportsmanship and dedication.
This year the team was not all Eaglecrest students, but they are heading in that direction. Currently Eaglecrest has three teams and thirty five EHS students playing. They are Co-Operated with CT, meaning students from those schools playing are playing with the Raptors because there were not enough players.
Bond said, "Each school will eventually have its own team, which would be great. Each school would then be represented, just like every other sport." This is terrific news for Eaglecrest. Boys volleyball will soon become a staple of Eaglecrest athletics. This new change is exciting for students. Hopefully soon Eaglecrest boys volleyball with be a new pride of this school.
The new addition is bringing creating a new appreciation for the sport. Marquis Coleman, a Junior, said, "I have found that I love this sport a lot since it has come to Eaglecrest. But if it didn't I probably wouldn't be playing this sport."
About the Writer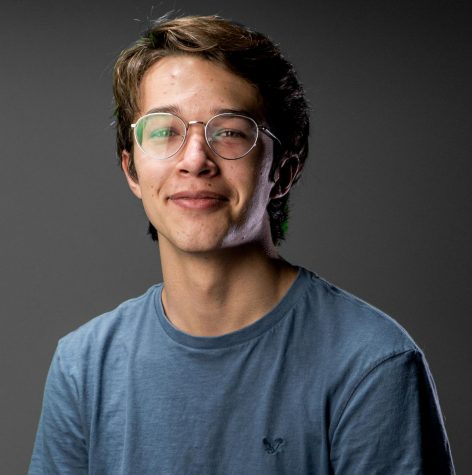 Jeremy Garza, Editor in Chief
Jeremy Garza is returning to Nest Network for his second year. He was Written Content Editor last year and is excited to be back as Editor in Chief his...