Forthcoming Fall Flicks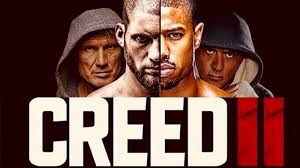 This upcoming fall several blockbusters have already started being talked about. These films will be hitting theaters this fall in theaters. Students are excited to see these new upcoming movies,  Zach Schneider says, "I'm really excited to watch the new movies this fall"."
            Most recognized has been Disney Studios, which have been continuously releasing new movies like the beloved Incredibles II, however this fall they have added more films to the box offices. November will air countless Disney films; their most anticipated sequel of "Wreck It Ralph", "Ralph Breaks The Internet:Wreck It Ralph 2", which will start premiering the twenty-second of November.  Along with the sequel of "Wreck It Ralph" is "Disney's The Nutcracker and the Four Realms", which is also premiering November second. "Wreck It Ralph 2" (Nov.  21), "Mary Poppins Returns" (Dec. 22), and "Fantastic Beasts: The Crimes of Grindelwald" (Nov. 16) are also movies being released this fall/ winter.
What used to be a Disney classic, "The Jungle Book", has now returned as "Mowgli", which is too dark to be in alliance with the Disney Studios any longer. After departing from Disney, Warner Bros  aligned with director Andy Serkis to work on the advanced motion picture. The new Mowgli has a much more dark approach to the children's story and although the film is supposedly starting off from the end of the first movie, it has surfaced that there will be no singing or dancing from the animals.
            Another film built on a childhood classic is "Marvel's Venom". Although it was originally linked to  the "Marvel's Spiderman", Venom (Eddie Brock), the former best friend of Peter Parker will be given his own movie without a Spiderman. Despite that fact that it will not cast a Peter Parker, starring newcomer Tom Hardy. "Venom" will premiere November sixteenth.  
          The movie The Nun, most acknowledged for its six second horror teaser that scared the world, will debut September 6. This tale is about a young nun at a cloistered abbey in Romania who takes her own life. A priest with a haunted past and a novitiate on the threshold of her final vows,, are sent by the Vatican to investigate. Together, they uncover the order's unholy secret. Risking not only their lives but their faith and their very souls, they confront a malevolent force in the form of a demonic nun. Many have been excited to see this movie due to the its creepy approach. Justine Odei adds, "I'm excited to see the movie "The Nun",and "I am excited to see if it is actually scary. I also want to watch it because my best friend is scared of movies, so I want to see her reactions while we watch the movie."
           As everyone knows, Halloween is relatively around the corner and several  love the holiday for its frightening and terrifying new original movies. The movie Halloween is set to come out October 19 and is set to come out October 19 and welcomes back the wicked siblings Michael Myers and Laurie Strode. Set forty years after the original film, Laurie Strode comes face-to-face with Michael Myers for one final showdown on Halloween night. Jamie Lee Curtis and Nick Castle reprise their roles as Strode and Myers, respectively, with stuntman James Jude Courtney also portraying Myers.
          Films starring African American lead roles will also be introduced this fall including the sequel to "Creed", "Creed II", The Hate U Give, and If Beale Street Could Talk. Creed II starring the exceptional Michael B. Jordan, is the sequel of Creed, directed by Ryan Coogler is set to be debut November 21. After Adonis Creed is crowned light heavyweight champion, he and Rocky Balboa train to face off against Viktor Drago, the son of Ivan Drago.
"
"When we sit down to watch a film, the sensual experience – sight and sound – is familiar, but the cerebral one, the story itself, can take us anywhere. In this sense, film is both an old friend and a new adventure.""
"The Hate U Give", based from the novel itself follows Starr Carter (Amandla Stenberg), a girl living in two worlds- the poor, mostly black neighborhood where she lives and the wealthy, mostly white prep school that she attends. Juggling her life and struggles, Starr is soon crushed when she witnesses the fatal shooting of her childhood best friend by the fault of a police officer. She finds herself pressured to find a way to cope with her loss and find a voice for her community. "The Hate U Give" is announced to air October 19. EHS librarian Hollie Hawkins, explains "I am expecting to cry first of all, I'm expecting to be emotionally moved. I hope there is a little laughter because there are funny scenes in the book. I hope it brings an awareness to everyone in our country about this issue and the complexity of the issue. It's important that we address and we recognize. I'm saying that as a white woman and I just think people around the country need to understand the emotional toll of violence against young people and against minorities or people of color and the impact that it has."                                                   
"If Beale Street Could Talk", also based on a novel debuting November 30 also is a film heavy on crime. It is the storytelling of how a pregnant African-American woman sets out to clear her fiance's name and prove his innocence after he is falsely committed of a crime he did not commit. Director Barry Jenkins explains the struggles of incarceration and the effects it has universally.
Both movies The Hate U Give and If Beale Street Could Talk are both based on novels. These films are set to capture the storyline from their novels. Film directors oftentime struggle with failing to accomplish the true form of the original storyline and purpose. Kristin McKeown, school librarian says,
"People tend to oversimplify things, but if you read the book you'd get a much better and more complete understanding of the complexity of characters. What sometimes happens if it's[films] poorly handled, I think that does the original book a disservice. But if it is handled well it helps to keep the conversation going and enriching the conversation about these topics that are so important that authors are trying to write about. Like the author in "The Hate U Give" was moved about to write about it because of the violence she was saying in the news.
Exciting blockbusters will be set to air this upcoming fall. These films are most anticipated for their creativity, action, storytelling, and vision. Not only does film create entertainment and fantasy from the reality we live in, it captivates us to illustrate imagination for the time spent in the cinema.