This is Game Day
How the 2021 Winter Art Show helps bring vitality and purpose back to Eaglecrest's art department — and recognition for artists at every level.
Art. It is a form of communication in and of itself, in many cases communicating visually beyond what words themselves can express. It's a form of expression and connection –and the annual Winter Art Show provides an ideal vehicle for such connection, for students and teachers alike.
"The art show as a whole reminds me of why I love art. You never just have one type or subject of art displayed, it's always different mediums, topics, and techniques. Art never gets old because it transports you to the past, the future and the present," said senior and A.P. Studio Drawing student Angela Duodu. "It's constantly changing and evolving." Every year, a new set of artwork, each piece unique, is displayed in the Eaglecrest library for the community to view. Occurring this year on December 2nd, the art department hosted an art show not only to raise funds, but to promote connection through artwork. The art show itself is a longstanding tradition and a point of pride for many within the art department.
"I've been at Eaglecrest for nine years and then we also did it when I was a student-teacher here, so for at least 13 years — 13 art shows I've been a part of," said Drawing and Painting and Ceramics teacher Carrie Hastings. "When I taught in a different district, I still came to these art shows. I taught at Broomfield High School for two years and I started their art shows because they weren't doing art shows when I got hired." To Hastings, art shows are a way to promote kindness and uplift the community, as well as get the community involved in the artistic side of school. The shows are akin to passion projects, and a notable amount of work goes into them.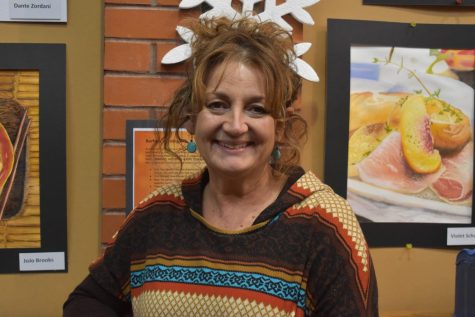 "I feel like many viewers only see the surface level of art in which artists are creative machines who continuously churn out work, but in reality, a lot of planning goes into hosting an art show," said Duodu. "We often have to take into account the placement of certain things…The art show, besides the creation of work, is very technical. Every piece needs to be presented in the best possible way, hence the measuring and framing of each individual piece." Not only is there skill and precision involved in preparing each piece, but also in picking each piece.
"After looking at all the work and assessing it, we have to pick out what are the strongest elements," said Hastings. "Not just the strongest pieces in the department but the strongest growth for an individual kid." She explains that representing kids and their hard work — rather than simply the technically strongest pieces — tends to be the focus. In fact, getting their art students involved altogether is a priority for the art department. 
"I think it's good for [students] to hang [pieces] and know what it means to do that and know what it is like to have to actually pick how things were set up and to be aware of space," said Hastings. "It's another place we get to teach and it's not graded….So I think that's the part that I really like. It just feels so honest because the kids that are helping us do it really love art." And for many art students, the art show is a chance to truly recognize the hard work they've put into pieces — even if their goal isn't to have art on display.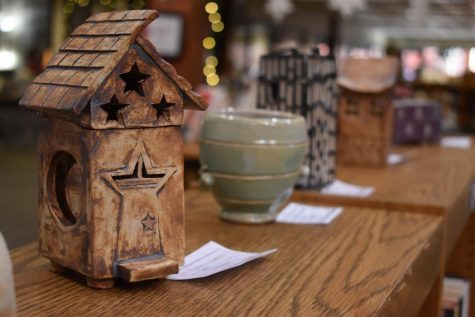 "There's the impression that all work you make has to be on display, but for me,the art show wasn't about putting my art out for everyone to see. It was more about me completing work that I set out to do," noted Duodu. "When I put water to paper, I'm not thinking of how someone else may perceive it. I'm just thinking about the paint in relation to the art itself." Despite this, Duodu, a senior, explains how this year's show was one of her first because of Covid, which makes it particularly sentimental. "It saddens me that this may be one of my last opportunities to hang out and collaborate with all the amazing artists I've come to know," she said. 
During the pandemic, like many other activities, the art show was postponed indefinitely, and the art department itself faced many challenges as the school transitioned to remote learning. As a primarily tactile class, it became a struggle to teach ceramics, photography, painting, and drawing with minimal materials and no in-person experiences. For the department, it's like a sigh of relief to be able to work in-person again and to have a place to display those works of art.
"I'm really glad we're not in COVID status anymore," said Hastings. "We get to have [the art show] and I'm so excited for second semester. I'm so excited for this piece of normal." The show itself was noticeably vibrant. Students and parents flowed in and out of the library, visiting pieces, partaking in food, and interacting with the art department's vending machine, original coloring sheets, and caricature artists. Duodu was one of the art students that helped to run the event.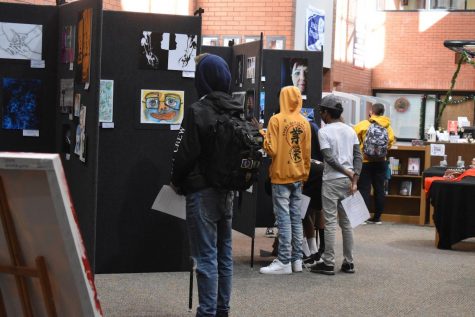 "During the actual show, I  spent most of the night admitting viewers and making sure every piece had a name tag," said Duodu. "I was running back and forth between cutting out name cards and taping them up." Part of the caricature station, she noted how it was fun to laugh at how the caricatures came out, and noted that she was able to branch out of her normal style to help design coloring sheets for art show attendees. "The show went pretty well, the turnout was amazing, and it was great to see the community come together," said Duodu. "Personally, I had a blast!" Lots of fun for those involved, the at show is, of course, a way to recognize art students at every level at Eaglecrest. That, in itself, can have a disable impact, according to Hastings.
"It's one of those quiet communications that are so genuine and valid," Hastings said of the art show. "Kids will see you that you think never saw you. I think that's a really big deal for some kids because a lot of kids don't feel seen." Hastings also said that seeing other types and levels of art can help open students' minds to artistic possibilities and inspirations as well. Students aren't always able to see what goes on in other art classes, whether it's a ceramics or photography or drawing and painting class. "I have kids that come back and they're like, 'I do want to take a level two class' or they see things that they want to try, which I think is really good," said Hastings. But more than anything, Hastings emphasized the importance of recognition for the student artists. 
"I just like seeing them put on a stage," said Hastings. "I like seeing kids being acknowledged for what they've done. And sometimes artists are not thought of the way athletes are thought of. And this is their game day: they get to shine, just like any other athlete or someone who's promoted in the school." Some art students, she points out, tend to be more introverted and less likely to put themselves out there. In her view, the art show allows them to do that and to find pride in their work. Not only that, but she says the strict deadline of the art show pushes students to work faster — a unique form of motivation she says she enjoys being able to foster. 
"This is their game day," she repeats. "This is their game day."
Leave a Comment
About the Writer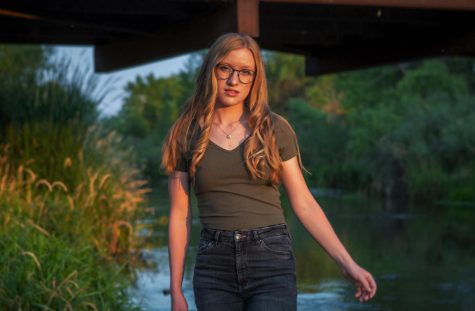 Simone Beauchamp, Editor in Chief
Simone Beauchamp is a Senior at Eaglecrest and, as she will let you know, she graduated from Challenge Middle School. She has many talents - photography,...