Expanding the Marvel Universe
2021 is starting off strong with WandaVision and The Falcon and The Winter Soldier.
2008 featured the release of the first Marvel Cinematic Universe (MCU) movie starring Robert Downey Jr. as Iron Man- or Tony Stark, the self-proclaimed "genius, billionaire, playboy, philanthropist". This started to build a strong fanbase of hundreds of millions, of all ages. The MCU was bound to be a success with a diverse cast and attractive personalities, -and faces too, I guess. 
Movie after movie was directed and produced, placed in the same universe but often centered on a different character. With the copious number of movies being produced, the idea of "phases" was introduced, separating the films by groups that could be referred to as a whole. 
For example, Marvel's Phase One would refer to the group of movies that served as an introduction for our most iconic superheroes: Iron Man (2008), The Incredible Hulk (2008), Iron Man 2 (2010), Thor (2011), Captain America: The First Avenger (2011), The Avengers (2012).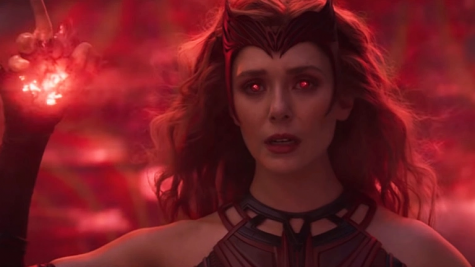 Now 13 years later, we get the pleasure of following characters we've met and learned to love in previous movies- but in the form of a TV show. Marvel fans have been spoon-fed with content since the beginning of 2021, with the release of WandaVision (finished at 9, roughly 30 minute episodes) and the ongoing Falcon and Winter Soldier show, set to end at 6 episodes. 
January 15th: the premiere of WandaVision. Spoilers ahead! Most of us felt the heartbreak that Wanda did when she killed Vision for the sake of the universe, and then, watched someone else bring him back- only to kill him again. Through WandaVision, we get closure, in a way, for her trauma- and arguably even more trauma along the way.
If WandaVision's strange and endearing change of scenery marked the paradigm of future Marvel films, I think we're in for a treat. We got faux-world realities, wispy red magic, and a time warped sitcom, all in one show. And so I dub thee, WandaVision, TV magic.
March 19th, 2021: the premiere of The Falcon and The Winter Soldier. Last time we saw Steve Rogers, played by our beloved Chris Evans, he'd traveled back in time. He left his friends for the love of his life. Arguably the wrong decision, but we won't dwell on that. When the year that Rogers left from rolled back around, well, let's just say he had more than a few white hairs. And in the setting of The Falcon and The Winter Soldier, was accompanied by a casket.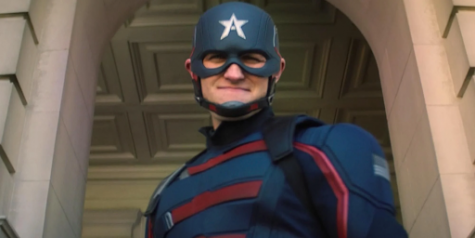 No Captain America? No problem: we've got "U.S. Agent". And he gets to use Steve's shield too! Now, mind you, when Mr. "U.S. Agent's" face popped up on the screen for the first time in episode one, my cousins (fellow Marvel fanatics) let out an audible, "ew," and "what was that?" I think it's safe to say that there's a generous amount of people who don't appreciate seeing John Walker (Wyatt Russell) in an adaptation of the costume of our favorite, recently deceased America-man.
What's next? A whole lot apparently, but sooner than the others, a series following Loki (the mischievous god of thunder's brother, and a supposedly redeemed villain) post-Endgame on June 11th of this year. Like every Marvel film since 2019, the Loki show can be found on Disney+. If you're hoping for character growth, what you saw in Infinity War will likely be backtracked. The Loki that this show follows is the Loki who escaped with the Tesseract in Endgame so, there's still a bit of villainous plotting going on.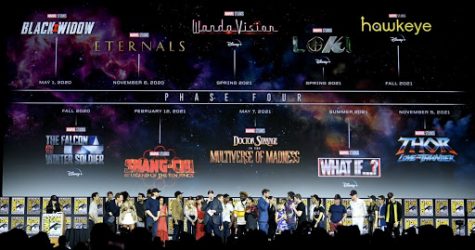 The Black Widow movie is set to be released this summer in July, a movie that many, especially young women, are looking forward to. Scarlett Johansson's Natasha Romanoff is arguably the most popular heroine in the franchise, but her release date was beaten by Bri Larson's Captain Marvel. It will still, no doubt, make waves in the industry. 
Marvel's Phase 4 is here, and I, for one, can't wait to see where Marvel brings the cinematic universe after over a decade of iconic movies- those that will soon be 'old' classics in 30 years. Woah.