Vaccines: Proof of Progress
Now Vaccinated, Educators and School Staff Breathe a Sigh of Relief as Schools Hint at a Shift Back to Relative Normalcy
It has now officially been over a year since the world went on lockdown due to COVID-19. The virus which has turned our lives upside down and inside out, permeating the media. Recently, though, there's been a light at the end of the tunnel as vaccines have begun rolling out in batches to the general public. 
For Colorado's educators, it's been a sigh of relief. The vaccines became available to Colorado school staff in early February during phases 1b.2 and 1b.3. The phases of vaccine rollout, dictated by the Colorado Department of Health and Environment, are different for every state.
"The states have had a lot of ability to determine the path of eligibility for adults with the vaccine; in Colorado's case, Governor Polis prioritized educators in our state," said Cherry Creek School District's Director of Health Services, Michelle Weinraub. Economically and educationally, the decision just made sense to her. By prioritizing educators, she explains that schools are much more likely to open, which in turn relieves parents of the worry and financial strain of childcare and allows students and teachers better communication and education. She says that district superintendents were undoubtedly vocal about getting school staff vaccinated as well.
"The vaccines were approved in December. By the end of December, health care workers were being vaccinated. So by January when we're all thinking about coming back after winter break, I'm pretty sure that there were some high-level conversations among superintendents involving state officials. I don't think it took a lot of convincing," Weinraub said.
The first round, labeled phase 1a, prioritized healthcare workers for the vaccine, giving it out to those working directly with patients first. Weinraub explained that because she is a health care worker but doesn't work in a hospital, she was able to get her vaccine in the next phase, 1b.1, along with many CCSD school nurses. Phase 1b.3 is when the vaccine became readily available to school staff and teachers, along with those over 70.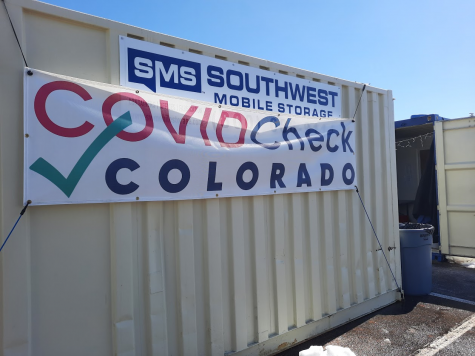 Now, a month later, multiple new phases have rolled out, covering those 60 and older, as well as those 16 and older with 2 or more underlying conditions. Beginning Friday, March 19, the vaccine will be available to those 50 and older and those with high-risk conditions, according to the Colorado Public Health and Environment. Still on track, Colorado hopes to make the vaccine available to more of the general public in the near future. Of course, like any other, the vaccine rollout was a process –and it took hard work. 
"We knew that we really needed to go to work early to kind of line up some of those community partnerships. So the minute we kind of knew this would be coming to our state. That was the time to start doing the work in the background," Weinraub said. She detailed long days spent calling community health partners, attending meetings, and preparing and brainstorming to not only make the vaccine available but also accessible. 
"What do you do when teachers have to leave in the middle of their school day to go get their vaccine because that's the only time it's available? Or what happens if they don't feel well today after their second dose? Do we need a sub for that teacher? How do we plan for that?" said Weinraub, explaining just some of the many questions her team had to ask. Getting the vaccine out quickly was a priority for them, but they still had to account for the inevitably laborious logistics of the process. She credits their community partners, including Kaiser Permanente, Centura Health, UC Health, and Stride Community Health Center for the efficiency of vaccinations, however.
"We were really clear in saying, 'whoever gives you your first opportunity to get the vaccine, please go do that.' Because we get divided out among all those partners, I think that was a way that we were able to get as many of our staff vaccinated as quickly as we did," said Weinraub. She also credits her team on the district level the success of their work. In the end, their efforts were not in vain, as teachers and staff were able to swiftly and effectively get vaccinated. 
The process of getting the vaccine, said science teacher Mike Haugen, was really easy. Teachers were not mandated to get the vaccine, of course, but Haugen says he doesn't know anyone who didn't opt to get it.
"They're just pumping people through the system, so I got mine at UC Health," Haugen said. "The day of my vaccine I just checked in, they sent me to a room and they just gave me a very easy shot. It was a small needle, no pain." Like any vaccine, there are some side effects. For Haugen, there were some mild body aches, while Weinraub spoke of only mild soreness in her arm for the first dose. For many staff, the second dose had more noticeable side effects, including headaches, fatigue, and aches, though they only lasted for a day or maybe two. Weinraub says this is actually a good thing, though. 
"I knew that by feeling a little bit of symptoms, it was working because what it's doing is telling me that my body is helping create the antibodies to protect me against COVID-19," she reassured. Our very own school nurse, Maggie DeRose, was able to get her vaccine at one of the earlier dates, on January 26th.
"It was an overall good experience for me. I got my vaccinations at Parker Adventist Hospital. My arm was sore for a few days and I felt tired for about 24 hours after both doses," DeRose said. The very fact that teachers are getting vaccinated right now is a testament to the continual work of so many people over the past twelve months –a blistering timeline for any vaccine development.
"It's been a year since we went out last March. And look how far we've come. I mean we've had terrible times when we couldn't leave our house. And then within a span of a year, we've had three approved vaccines now for our country," Weinraub said. There are still imperfections and the state and federal governments –as well as the global community– are still working toward greater normalcy, but for many like Weinraub, the vaccinations thus far feel like a step in the right direction. A global effort is necessary, however, for true progress. In the past new months, we've often seen reports of new variants that threaten any stability achieved so far.
"I think the faster we can get vaccines out to the world, the less variants there's going to be and we can squash the ones that exist," Haugen said. If keeping as many global communities safe as possible is not prioritized, it seems we may only continue to have more issues. Granted, there's a lot we are still learning.
"When we talk about these variants, whether they're the variants from Great Britain or South Africa or South America, the science is keeping up as best it can," Weinraub said. "What we know about these three variants is that the Pfizer vaccine is still very effective against them. These variants are more contagious, [but] what we don't know is whether one or more of our vaccines will have to develop a booster that then adds a little extra to protect people more against those variants." The Pfizer vaccine has a very high efficiency rate so far at 95%. For context, Weinraub said, the flu vaccine would be considered highly effective at 80%, so for the Pfizer vaccine to be 95% effective at protecting against COVID-19 is impressive. 
Even if the Pfizer or other vaccines –Moderna and Johnson & Johnson being the other two approved vaccines in the U.S. for now– need a booster to combat variants, Weinraub seems confident that the science will keep up, given a little extra time. In the meantime, DeRose, Weinraub, and Haugen all advise that if the vaccine is available to someone, they should get it.
"Vaccines are not new," Haugen said. "I think there's a ton of misinformation out there that is meant to scare people and is meant to make money. And I think the science is pretty clear. It's a vaccine and it's safe." There are, of course, concerns over the safety of the new vaccines, but all three –Haugen, a science teacher, DeRose, a nurse, and Weinraub, Director of Health Services for the district– maintain that the vaccine is safe and worth getting.
"That's one of the things we're learning in studies that are just coming out about people who are vaccinated. Not only is it protective for them, but we're learning that it's very protective because I wouldn't be able to pass on the virus to you because I've been vaccinated and because I'm wearing a mask and I'm still going to be careful," said Weinraub. "But it should make kids feel better about being back at school, and it should make kids think, 'when it's my turn, I'm going to do that too.'" For many students and teachers alike, this is true: at least having teachers vaccinated seems like it will reduce the risk of going into school. 
 "It does bring me relief that we are headed in the right direction as a community to slow the spread of the virus," said DeRose. The mental impact of living with the threat of the coronavirus for a year is undeniable and indescribable. For some, it has fed crippling mental health issues. And though our community has grown accustomed to it, the pandemic is a constant source of stress and anxiety.
"That's been really hard," said Weinraub. "I think that some teachers have handled that really well in terms of that stress and for some, it's harder. It should give teachers a lot more confidence about being able to be back in school." At this point, safety is at the forefront of the minds of students, parents, teachers, and staff. Having that sense of real safety through the vaccine is incredibly helpful, especially for teachers who continue to go into schools nearly every day. 
"Even going back in person with cohorts, it feels more comfortable to have the vaccine," Haugen added. With teachers now protected, many schools now feel like less of a risk for staff. And the relief staff feels applies to students as well. 
"I do think that it is good for teachers to get vaccinated right now because it keeps them and their families safe and keeps the students safe when coming into contact with them," junior Trinity Chevier said. Concerns about the continuing spread of COVID-19 aren't entirely eradicated though.
"Mentally the students think that they are safer when coming into contact with teachers," Chevier added. "But that doesn't mean they can't get sick from other students." This is one reason Weinraub advises continued safety measures, including wearing masks and social distancing, as we finish out the year –and perhaps even into the next school year. Even for newly vaccinated teachers, it's important to keep continued safety measures in mind.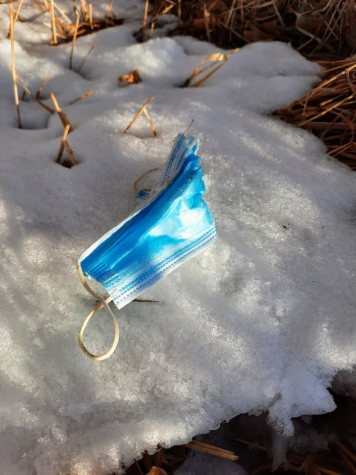 "We want to get as many people protected during the harder times of the pandemic. We wanted to work together to make sure people are wearing their masks and going to the doctor and getting tested if they need to," Weinraub said. "But at least now I can see this as a piece of recovery." And for so many, increased vaccinations is a welcome step to recovery. They are a reminder that just maybe, we can return to some new version of our maskless, social distance-less pre-COVID world. For schools, the vaccinations of their teachers and staff will have a great influence –particularly as students return from spring break. 
"I want them to see educators as role models in saying 'this is a way for us to protect each other.' It's the only way for us to get back to any kind of normalcy," Weinraub said. "And so I think it was an important privilege for educators to be classified as they were in our state but then it was also an important responsibility." That privilege and responsibility, Weinraub noted, was not just for educators, either. Students' best interests, along with the responsibility of protecting staff and students' families and trusted adults were a big part of Weinraub's motivation, according to her. She feels proud of all the hard work she and her team have done, speaking as if a weight has been lifted now that most educators have been vaccinated. Teachers seem to be feeling a similar release of stress and pressure.
"I'm just happy that I'm able to get it," Haugen said. "I think there was a lot of anxiety for teachers trying to find out where to get it and then once it was offered it was, it was really it was actually a pretty quick process." It's a relief, a cause for celebration, and an anxiety-easing advance toward a post-COVID world. It's had a tangible effect on our community; a certain shift in the atmosphere has occurred as teachers enter schools with excitement –or at least some peace of mind– rather than ever-present worry. For students and staff, it makes a difference, according to both Chevier and Haugen. 
"I think the vaccines are a big part of that process of really trying to find the balance between having students in school and still being safe," Haugen added. It's a piece of progress, a step in rebuilding our community in the aftermath of COVID-19. Recovery is not over, but it has begun.
Leave a Comment
About the Writer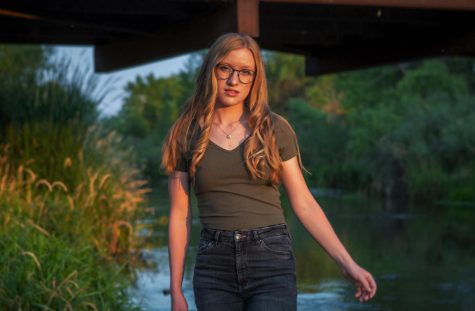 Simone Beauchamp, Editor in Chief
Simone Beauchamp is a Senior at Eaglecrest and, as she will let you know, she graduated from Challenge Middle School. She has many talents - photography,...