COVID-19 : Impacts on Mental Health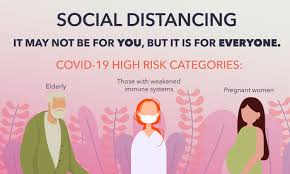 While the current global pandemic hasn't infected the majority of the population, everyone's feeling its effects in some way. Whether a loved one or relative has gotten it, events being canceled, and school ending, COVID-19 has impacted the whole population.
Karim Kbayli, a senior, speaks on the stress of the situation. "The whole idea of being trapped inside is stressful enough but the reasoning is even more so," he says. 
Although physical health is a concern during these historical times, mental health also needs to be addressed. The outbreak is a stressful time for everyone. According to the Centers for Disease Control and Prevention, the stress and anxiety in the midst of an infectious disease outbreak might include bigger concern for one's own health as well as the health of others, a change in eating or sleeping patterns, difficulty concentrating, worsening of chronic health issues, and increased use of drugs. 
The idea of not being able to leave the house with the current stay at home order in place has been rough on many students. "School was kinda my escape," says Cailyn Abraham, junior. "It's nice to have family time but I can't talk to them about emotional issues in the same way that I can talk to my friends." 
According to Active Minds, an organization dedicated to supporting mental health and spreading awareness and education, some healthy ways to cope during this time is to try to distract yourself. While it is important to keep yourself updated, it's also necessary to appropriately disconnect. To cope with his boredom, Aaron Salazar, senior, has been playing video games and working to keep himself distracted. 
COVID-19 has impacted all of our lives. It's important to acknowledge the seriousness of the situation by staying inside, but it's also essential that we're all here for each other. We're all going through the same thing right now. Make sure to stay in touch with your friends, and take care of yourselves, physically and mentally.