Remembering Bob Ross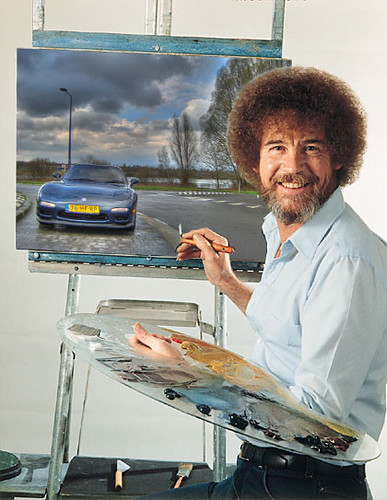 Meley Hagos, Reporter
November 7, 2019
On October 29th, 1942 a legend was born. Bob Ross created and hosted his show, The Joy of Painting, in 1983 and his impact remains relevant almost 4 decades later. 
Ross left the military to pursue his love of painting. Proving the importance of trusting your instincts and continuing along a path that genuinely brings you joy.  
             "I had to be the guy who makes you scrub the latrine, the guy who makes you make your bed, the guy who screams at you for being late to work," Ross said. He even swore that if he ever left the military, he'd never yell again. 
"
"Ever make mistakes in life? Let's make them birds. Yeah, they're birds now.""
— Bob Ross
Ross' philosophy is applicable to everyday life in that you shouldn't dwell on mistakes you've already made. Many are insecure about things they create, and Ross' soothing words help calm this. He depicts art as what it should be: the ability to create a world that has no boundaries.
To many artists, an accidental splotch of paint is the end of the world. To Ross, it was an opportunity to add something to his landscape. 
"
"I believe talent is just a pursued interest. Anybody can do what I can do.""
— Bob Ross
It's very easy to look at a Bob Ross painting and discourage yourself from even attempting it, but Ross genuinely believes that you can gain talent by simply pursuing what you enjoy. This isn't specific to paintings.
The Joy of Painting isn't just about painting. It's about doing things that bring you serenity and happiness, and doing them without a constant fear of messing up.
One of the worst things one can do to themselves is destroy your own confidence without even making a first attempt. Life isn't about getting things perfect on the first try, and that rarely happens. 
The Joy of Painting isn't simply about oil paintings. It's a depiction that tolerance for your own mistakes are essential to enjoying the path of your life.