Picture this: You have secured a general admission ticket, you have waited in line for hours to get the best view possible, and the venue lights begin to dim; your favorite musician will be right in front of you in a matter of minutes. 
Depending on when you grew up, in this vision, there is probably a barrier between your face and your favorite artist. The only thing separating you from this person, other than a barricade, is a screen. 
For AVID and AP Government and Politics teacher Faith Vigil, this was not the case when she first dove into the world of live music. 
"The first concert I ever attended was a minute ago, I think I was 8," Vigil said. "It was The Jets at the Colorado State Fair, and you are probably like, 'Who are The Jets?'". 
Vigil's assumption that I would not know who The Jets are was completely correct, and she was not able to pull up a picture of the exact moment she was referring to because at the time, physically capturing a moment at a concert was not an option for most people. 
"At my first concert, [phone usage] was nonexistent because there was no such thing as cell phones," said Vigil. 
If the band had happened to play Vigil's favorite song that day, obviously, she would not have had the opportunity to record it. On the other hand, Eaglecrest senior Leann Ochs takes advantage of this opportunity whenever the artist she is seeing plays her favorite song.
"I take a video because I want to preserve the memory and moment forever," Ochs said. "The video is never good because I am not paying much attention to what I am filming." 
Ochs admits that regardless of the quality, she watches her plentiful supply of concert videos pretty often right after the show, but the videos begin to collect dust after a while. 
"It declines as time goes on," said Ochs. "However, I do like to revisit the videos and pictures when I want to feel that joy again." 
EHS senior Abi Tedros can relate to Ochs and her feelings surrounding taking photos and videos at a concert but is skeptical about how effective the process is. 
"I think that logging a memory is a very important part of a concert, but also I would say that even though I have recorded a lot of songs, I cannot say how often I have gone and rewatched them," Tedros said. "I do not know how effective the recording process is and  I feel like people just [record] because everyone is doing it."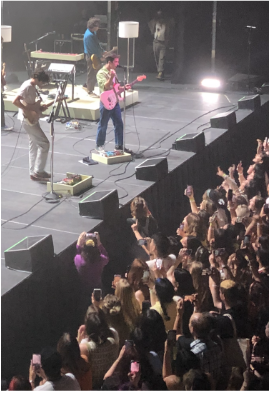 Vigil often observes the distinct difference between capturing a moment and being distracted by your phone while at a show.
"I go to a ton of concerts. I have been to concerts where people are on their phone while the concert is happening and doing other things," Vigil said. "The last concert I attended was the Foo Fighters, and the [phone usage] was not terrible. I think mostly because the Foo Fighters have an older crowd. There were people taking selfies or videos, but it was not like people were preoccupied with their phones." 
When it comes to why people choose to record a large majority of a concert, social media plays a big role in that decision. 
Ochs described Taylor Swift's Eras Tour as her favorite concert she has ever been to but recognized how intense phone usage was during the show and how social media contributed to that. 
"I would say this is due to how going to the Eras Tour became a popular thing in regards to social media and the attention that things relating to it were getting on various platforms," said Ochs. 
Ochs is referring to the large population of people who chose to live-stream the Eras Tour, guaranteeing viewers and followers by revealing what surprise song Taylor Swift chose to play that night that she wouldn't play in another city (at least, in most cases). Other parts of experiencing the tour, like trading friendship bracelets and showing off deeply thought-out outfits, were blasted all across social media.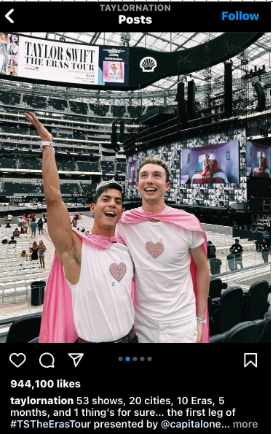 Outside of the Eras Tour, some concert-goers also make it a priority to document their experience through their social media. Vigil is not one of those concert-goers. 
"I'm not a big like 'Take my selfie!' or 'Let's post this on Instagram!' person, but I have friends that are," said Vigil. "For me, it doesn't do anything. I'm kind of wanting to capture every moment [mentally] instead of on my phone."
With all of this in mind, the question becomes how do phones ultimately affect people's overall enjoyment of a concert? For Tedros, phones have little to no impact on how much fun she has, unless there are specific circumstances.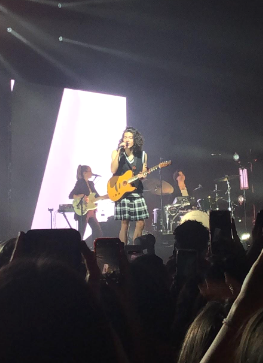 "I feel like you can enjoy [a concert] while you have your phone or while others have their phones unless it is like a moment where the artist wants people to put them away," Tedros said. 
Vigil has a similar, neutral view on how much phones affect her enjoyment at a concert and usually only pulls her phone out with other people in mind. 
"If I'm taking pictures or video, that is usually to send them to other people that are not there that I think would like the artist I am going to see," said Vigil. "So for me, [phones do not] add to the experience at all."
Ochs, on the other hand, feels that phones play a major role in the concert experience and believes phones can act as a limitation to crowd engagement. 
"It can completely change the experience. When the people around me are simply engaged in the music and what the artist is doing, it makes it way more fun and shows that they care just as much as me," Ochs said. "When I'm not using my phone to film or take pictures, I'm much more engaged and can fully live in the moment with no restrictions." 
Overall, it appears that phones do hold some power in the overall concert experience, but the extent to which it affects concert-goers is in the eye of the beholder. The next time the lights begin to dim at a show, see if your first instinct is to reach for your phone and pull up your camera. If it is, that is an indicator that your phone certainly has an impact on how you experience a concert.