Raptor Bracket Challenge: Fast Food
What is Eaglecrest's favorite Fast Food place?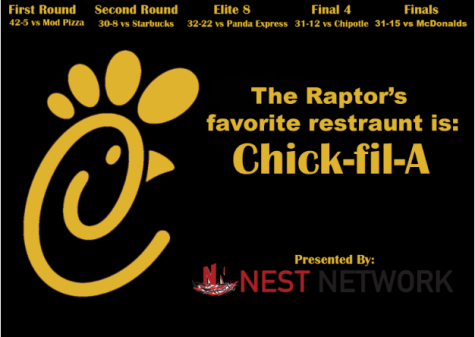 Nest Network compiled many of the popular fast-food restaurants in Colorado into a single bracket, to determine which one is the best. The votes are in, and the winner is… Chick-Fil-A!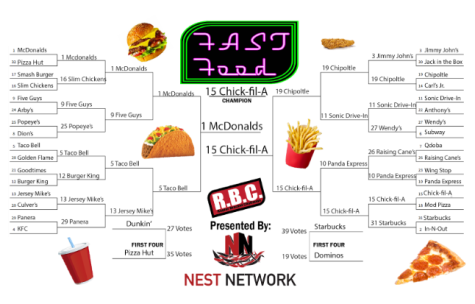 The First Four Recap:

In the first four rounds, Starbucks ran away with the win against Dominos by  a score of 39-19 beating the shorthanded pizza restaurant and further proving why Dominos is the worst of the pizza places in Colorado.
In contrast to the one sided affair, Pizza Hut and Dunkin' squared off in a duel of the ages, and Pizza Hut would claim the final spot in the bracket with a vote score of 35-27. Nobody out-pizzas the hut, not even the most popular donut place in the United States.
Round 1 Day 1 Recap:

Remember in the previous recap when I said "Nobody out-pizzas the hut"? Well McDonalds did that and a bit more beating the hut by a vote score of 32-9. Pizza Hut is a lot like the Chicago Bulls, it was relevant and good in the 80s and 90s but now it lives in the past and can't even make it past the first round. 

Slim Chickens smashed Smash Burger to move on by a score of 27-15. From the very start, Smash Burger has been considered one of the most overrated restaurants in the whole tournament, now they don't need to be talked about with that title anymore, because it was true.

Nobody predicted Arby's to get past the first round, and everyone was right to make that assumption as they were blown out 33-5 against Five Guys. Arby's is the worst restaurant in the whole bracket and it doesn't take a genius to realize that. Nothing more needs to be said.

The first upset of the tournament was a good one. Popeye's beat Dion's soundly 25-16. One factor for the defeat may be because of Dion's somewhat unknown location; it has 3 locations in Colorado compared to Popeye's 33. Another factor could be the sheer dominance of the Chicken market in the USA compared to pizza restaurants. Either way, a deserved win for Popeye's sending a favorite home early. Guess that Chicken Sandwich really is to die for. 
Round 1 Day 2 Recap:

We just keep seeing shake ups in round 1, so many in fact that one may wonder, will there be any left for the remaining 4 rounds?
Golden Flame. Very underrated team, who many would think could pull off an upset any day, yet they clearly couldn't beat the very overrated Taco Bell. In fact they didn't even put up a fight, losing 33-13. Ring-Ding-Dong, Taco Bell just did you wrong.

Burger King and Goodtimes squared off in what has so far been the closest matchup of the whole tournament. Ultimately though, Burger King won by a score of 23-22 in a great first round matchup, no matter the way it went, a good restaurant would've won it, that restaurant just happened to be named Burger King.

Towards the start of the Jersey Mike's v Culvers match, it was very back and forth, Jersey Mike's eventually pulled ahead, and would eventually win it by a score of 32-12 Culvers happens to be one of the more unheard of restaurants among the bracket, and it isn't much of a surprise that they lost, but it took effort for them to get in the bracket, and it took effort to stay with Jersey Mike's for 3 quarters, but one slip-up can unfortunately result in disaster, and for Culvers that is just what happened.

We here at the RBC are firm believers in the script meme, and even if it is a joke, this year's is crazy because we have potential for THE UPSET OF THE TOURNAMENT!! Number 29 seeded Panera, not only upset Number 4 KFC, they beat them with a steady lead! By a score of 27-19. The bakery demoralized the 2nd most profitable chicken restaurant in America. Imagine how disappointed Colonel Sanders would be right now.
Round 1 Day 3 Recap:
Out of the 8 matchups fought on the final day of round 1, 7 of them can be considered blowouts, and very surprisingly, even though we claimed the upset of the tournament was Panera beating KFC, there has now been one that IS the official upset of the tournament.

To start off the day, Jimmy John's beat Jack in the Box in a very one-sided match, winning 41-5, kind of expected from the sandwich shop, because one-product type companies usually do better at selling than the companies trying to sell everything. Go back to the box Jack, you have no purpose in this tournament anymore.

Chipotle's slogan is "food with integrity" and they showed in this matchup that they can pull off upsets with integrity as well, they destroyed Carl's Jr. 44-4 and proved why 6-dollar burgers are not good. Sorry to be that person, but Carl's Jr. is literally the Krogers of burger restaurants, a store that has been a complement to the top 4 and will never be anything more.

Sonic Drive-In beat Anthony's by a score of 37-9 Proving Drive-ins are still cool, at least cool enough to get past the first against a somewhat mid opponent. Sonic should be a team to watch the next couple of rounds considering the amount they won by.

In the closest match of the day, Wendy's vs. Subway by a score of 26-21. Similar to the last matchup a good team would've won either way, despite the seeding. Subway is a team that was ranked way too high, and that showed in the matchup as they lost to a restaurant with some of the worst restrooms on the planet. But this isn't a bracket ranking restaurants, it's a bracket about which food is the best, so Wendy's is moving on.
Upsetting another favorite was Raising Cane's beating #7 Qdoba, 33-13 again proving why Chipotle is the superior of the two restaurants, and hey, they made their slogan of "Making the World a More Flavorful Place" untrue, cause the last thing we needed was another chicken restaurant moving to the next round. 

The duel of Quincy and Buckley had Panda Express beating Wing Stop 33-13 and now we finally have a bit of variety in the bracket. The two share a building off of Quincy road and rivalry has been brewing for a while now, we now finally see it kickoff in the bracket and this should be a good matchup for years to come. 

Through the years, Mod Pizza has never been considered great. Which becomes very true after realizing that they just lost to Chick-Fil-A. The popular restaurant beat Mod Pizza 42-5. Not much else to be said. Mod lost and will probably go back to the years of failure in the bottom of the South-Southland Division that fans are so used to.

After round 1 day 2 we thought we had seen the biggest upset yet when KFC was struck down by Panera. But we were all wrong. STARBUCKS HAS JUST BEAT NUMBER 2 IN-N-OUT!!!!! In a result that NOBODY saw coming, the coffee joint destroyed the popular burger place 31-15 In what is an upset similar to the 2018 UMBC upset of Virginia. Now Starbucks goes onto round 2 to face off against Chick-fil-A, be on high alert, we've got a potential Cinderella story brewing.
Round 2 Day 1 Recap:
We have finally moved into the 2nd round of this bracket and to kick it off, many low-scoring but fun-to-watch matchups took place, and four restaurants moved on to the Elite Eight round.

McDonalds started off the day by just barely beating Slim Chickens, 12-9. Not a good look for the double arch, nearly losing to the 16th seed, but people don't look at stats when they win, they just look at the win. Be on high alert though, there is a chance McDonalds goes home in the next round.

In the lone blowout of round 2 day 1, Five Guy's beat Popeyes by a score of 15-6. I am beginning to notice a common theme that people love overpriced food, but hey, it knocks another chicken restaurant out and keeps narrowing the options for the breadcrumb-coated food.

In the battle of two bottom tier restaurants each ranking well below first in their respective food categories, Taco Bell beat Burger King 13-8. Taco Bell very much should not have made it this far in the tournament, and there really are two options. On one hand they could go on to win the whole thing, but on the other hand, they lose in a blowout next round, really no in-between.

In a back and forth match between Panera and Jersey Mike's, the sub shop pulled ahead within the final minutes of voting to win 12-9, definitely one of the most exciting finishes for a game that came down to the wire.
Round 2 Day 2 Recap:
Matchups got back to the scores there were prior to last time. Many high-scoring games, but no close ones surprisingly this time though.

Chipotle beat no. 3 and tourney favorite Jimmy John's 30-9. Pretty surprising considering that Chipotle was sort of an afterthought during the selection process. But hey, they deserved to win. Good game.

In the closest game of the matchups, Sonic Drive-In beat Wendy's 23-15. You've got to have a pretty clean and balanced team to win, and Wendy's shows all of those traits, except for the end of a visit when you go to the restroom to wash your hands before leaving. Wendy's is the team that has 3 great quarters of play, and then bombs in the final quarter.

Panda Express beat Raising Cane's 24-14 to extend their stay and keep variety in the bracket. Towards the start Raising Cane's was leading but they would collapse before the 3/14 school day was even over. Look out for Panda Express, they should be near the top of the teams to make the finals.

Spirits were high for Starbucks fans after they beat In-N-Out in the upset of the tournament and I previously remarked that we could have a Cinderella story brewing. Unfortunately, Chick-fil-A would send them home early in a 30-8 blowout. To everyone who voted for Starbucks don't cry because it's over, be happy that it happened.
Now we move into the Elite Eight round, get ready to see some action because this is arguably the most important round of the whole tournament, and it will show who truly wants this thing.
Elite Eight Recap:
As we come back from Spring Break, and the dust settles on the first one-day round of the tournament, we see a very similar situation to the real March Madness, with some teams who were maybe expected to make it in the final four, and many who were longshots to make it to the final rounds.

To start, no surprise that McDonalds would be in the final four, the number one seed, and widely considered the most recognizable restaurant in the USA, they beat Five Guys by a score of 37-17 and have proved that they still are dominant. Even in bracket play.

In a thriller of a matchup, Taco Bell would beat Jersey Mike's by a close score of 29-25. This match has had by far the most lead changes and it is only right that it ended as close as it did. Well played Taco Bell, well played.

Chipotle keeps adding to the pile beating Sonic Drive-In 38-15 and we should expect to see a Final Four thriller with Chipotle in it, they've given every team they've faced a challenge, we'll see how they can hold up.

Chick-fil-A in surprising fashion beat Panda Express by a score of 32-22 and we've got a thriller in Chipotle v Chick-fil-A. Kind of reminds us of an old Russell Wilson vs Aaron Rodgers match, should make for a good game.
Final Four Recap:
After a long wait, we are finally down to the final match, McDonalds vs Chick-fil-A, an American icon vs. the underdog. Here is a recap of the final four round. 

McDonalds has held opponents to below 20 votes in every match they've been in, and they did it again on the way to a 35-6 blowout against Taco Bell. In the Cinderella story that never was, it is a shame to see Taco Bell go after all of the criticism they proved wrong. Making the final four is still a great achievement and they should not be sad, but more looking forward to what the future holds, because it could be good.

Chick-Fil-A, after having a somewhat surprising victory over Starbucks, stepped up to the challenge and beat Chipotle 31-12. Now they face an even bigger challenge in the juggernaut that is McDonalds. Fortunately for them though, they do have the stats to compete with McDonalds. This  should be a fun final. Chipotle goes into the offseason pondering, wondering about what the future holds, expect to see them dip quite a bit in bracket seeding next time.
Chick-fil-A vs. Mcdonalds' is a big match, and one that many people have not expected. Whatever the result, it sure will be fun to watch.
The Championship Recap:
At the end of the bracket, we saw a matchup of the underdog, vs. the juggernaut, the man vs the machine… Chick-fil-A vs. Mcdonalds'. With a final score of 31-15, every Juggernaut meets its demise at some point, and Chick-fil-A would do just that. Though it wasn't evident before the match started, Chick-fil-A had a fire of some sort burning and after a small fight, they would seize the lead and wouldn't look back, defeating McDonald's in the same fashion which the Burger Icon would demolish all of there opponents. "Old McDonald had a Chicken and that Chicken stole his game, with a 31 here to a 15 there, Old McDonald was perfect, there's a reason I said was." Chick-fil-A wins it all and we now know the preference of students when it comes to Fast Food.

Leave a Comment
About the Writer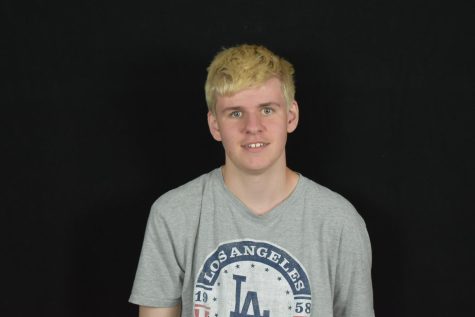 Caleb Barnett, Reporter
Caleb Barnett is is sophomore entering his first year on the Nest Network staff. Despite not being able to hear out of his left ear, Caleb certainly has...