Swim Captains Tell All
Eaglecrest's swim team captains discuss the roles, responsibilities, and benefits of being a captain.
When I imagine a pool – I typically imagine a quiet, peaceful environment. However, the atmosphere of the girl's swim meet was the opposite. Between the genuine praises for their teammates and the sound of freestyle strokes slicing the water, the girls swim team is a sport to look out for. 
On January 12, Eaglecrest hosted an all-levels swim meet against Arapahoe High School. Both the swim team and dive team competed against the school in multiple races and levels right before the Smoky Hill invitational. With multiple participants in the lead, the team showed amazing success and strength throughout the whole meet.
And who is behind the success of this team? The captains. Seniors Manzi Venter, Abigail Goodwin, and Evelyn Gustin are determined to make the 2022-2023 season the best yet.   
 "This season has been so amazing," says Gustin. "I've had a blast at every meet and it's been really fun to see my teammates succeed and hit the times they want to. It's also fun to see the growth of our team over the past four years I've been a part of." 
Just like any sport, swimming begins its meets with warmups. The lanes get opened up and swimmers complete freestyles. They also use various stretching techniques and exercises to get prepared for the meet ahead of them. This is an important process to participate in throughout a sport in order to perform safely and at your best. 
Swimmers each have their own event they participate in. Some of these include the butterfly, backstroke, and freestyle. Even though every swimmer has their own event, swimming is a team sport and they always support each other.  The captains are a big part of boosting the support they have for one another. 
"As captains, our main role is to be a good teammate and a leader to everyone on the team," says Gustin. 
In addition to encouragement, captains have other responsibilities. They work together to plan and run team bonding events and exercises, help coaches throughout the season and even get together to create paper plate awards for everyone at the end of the season. 
While there is a lot of responsibility and stress put onto the plate of a captain, all three captains agree on how fulfilling and worth it the experience is. "I feel confident," says Venter. "I  think that the three of us have been doing a good job so far and we all work so well together that it's super fun." 
Venter, Gustin, and Goodwin have all been teammates since freshman year. Getting to know each other and grow together over the years and seasons has helped make their bond as captains even stronger and form a greater connection to the team. 
"For me, the most memorable moments I've been a part of as a captain are just seeing the team bondings go well and people having fun," Gustin says. "It is really satisfying and fun to see because we spend a lot of time thinking about and planning them."
Team bonding takes place at multiple points throughout the season. In the past, girls swimming has been to the Parade of Lights, went ice skating at Southlands ice rink, and have held several pasta parties at team members' houses. These bonding experiences allow a stable relationship to be formed in the team.  It also helps members make new friends beyond just swim practices and meets.
Around halfway through the meet, the swimmers walked over to the other pool where the divers were on deck. There are far fewer members of the dive team than their swim counterparts. Yet, the team is just as powerful. 
"This team has given me so much and I really enjoy being a part of it," says senior dive member Taylor Browning. 
Members are called up one by one to participate in specialized dives. Two referees sit on one side of the pool while one sits across from them making a perfect view of the diver's set up and graceful entrance into the water. After the athlete completes their dive, each referee scores and then reports a number on a scale of 1-10.  Scores are then multiplied by the degree of difficulty, which varies from dive to dive. This final score is out of one hundred. Diving stands out and is impressive on its own, but it's also impressive moving from one sport and jumping to another, as Browning did. 
"I did gymnastics for nine years," said Browning. "My sister actually was on the swim team when I was a freshman. She told me that she thought diving would be a really good idea, especially because of my gymnastics background, so I gave it a try and stuck with it." 
Her previous gymnastics experience allowed her to be successful on the diving team. All of her dives range in difficulty and skills required to complete the dive.
 "I'm trying to do some of the harder ones, where you do more somersaults with them instead of just the dive," she explained. 
Browning has been a part of the dive team all four years at Eaglecrest. During this time, she has gotten a chance to participate in and learn several different types of dives. Being able to try new things during practice is Browning's greatest accomplishment. 
"Honestly, I [just enjoy] trying new things. Being able to push myself both mentally and physically is definitely a really huge mental sport," said Browning. Browning successfully pushed herself and was able to complete several dives throughout Thursday's meet. 
For all four captains, the second semester of their senior year has already started. Senior year also means the end of these sports athletes have been doing for a while. 
"I'm so bittersweet about it being our last season," said Gustin. "I've had such an amazing experience on the team these past four years and this sport has been a really big part of my life, so I'm really sad to see it go. At the same time, I know that it's my time to go and I know the team is in amazing hands with our amazing coaches and future captains."
Browning, being a consistent athlete, is experiencing the same kind of emotions as Gustin, "I kind of try not to think about it. It makes me a little bit sad because this team has given me so much and I really enjoy being a part of it. But ultimately, some things do have to end and I'm proud of the things that I've done."  
Coming up on February 3rd and 4th is the team's all-level A league championship. Come stop in one last time to see the class of '23 end their run with a bang…or splash.
Leave a Comment
About the Writer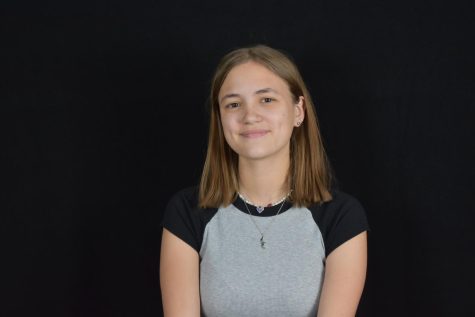 Emmi van Zoest, Reporter
Emmi van Zoest is a senior entering her second year in Nest Network, as the Queen of album reviews and the main Swifite in the class. If you're ever wondering...