Spring Senior Signing
18 EHS student-athletes took over the East Gym on April 13th to celebrate their collegiate signings — a remarkable feat for any athlete.
Graduating from high school is a monumental moment in any person's life, but for select student-athletes, it marks a decided shift from the trial run of high school sports to the real deal: college athletics. And signing to play a sport in college is a feat worthy of celebration. This semester's celebration, Spring Signing Day, fell on Wednesday, April 13th, and saw 18 students officially sign to their respective colleges. Of the 18, six of Eaglecrest's sports were represented: football, softball, girls and boys volleyball, girls and boys wrestling, baseball, and track and field. 
"These kids are opening another door for their athletic careers, and it's hard to find a fit, and it's hard to find a place where you can feel comfortable, so we're really proud of all the kids and what they've accomplished," said Athletic Director Vincent Orlando. It is a sign of a good athletic program to produce so many students bound for college athletics, but for the athletes themselves, signing is incredibly meaningful.
"As an athlete signing was like a breath of fresh air," said track and field signee Addie Knighton. "Everything I worked for was finally confirmed." Indeed, many of the signers have put years of their lives into their sports.
"To be able to sign to a school means to me that my hard work and determination has paid off," said Kylie Martin, who signed to University of Redlands for volleyball. "The countless hours and long practices I have been a part of have had a purpose and have all driven me to the point of being able to play at the next level." For many, including CSU Pueblo football signee Mason Harris, playing at the next level is a long-held dream finally realized.
"It means the world to me to sign to a college to play a sport I love. It's something I've wanted ever since I've been playing football and when I was 9 years old," said Harris, who also competes in track and field. For him, playing football in college is something he has spent at least half his lifetime working toward, which undoubtedly makes for an incredible sense of accomplishment. But as Harris himself noted, it would not have been possible without his support system of family and coaching staff.
"Our coaches deserve a lot of credit because they've developed [these athletes] and that progress they've made year after year has gotten to the point where they have the opportunity to play at the next level," said Orlando. "But also the kids themselves they're invested in it. They're dedicated and committed to getting better and better each year, and to see it come to fruition is really cool." Having seen many of these athletes grow from their freshman year to senior year on the field, court, track, and mat, Orlando has the unique privilege of having seen the tenacity of Eaglecrest athletes across the board. And their senior signings are made sweeter by the hard times athletes had to see through.
"My experience was great and also hard," said Harris of high school athletics. "There were arguments and good times. But overall it was a time that was exciting, scary, funny and truly a Raptor experience." He attributes some of his success to his high school experience and the role models it afforded him, all of whom allowed him to give his all to the sport in both practice and play. The most valuable thing he learned from high school athletics? Patience and understanding. Though toughness and a 'suck-it-up' attitude is often associated with high-level athletics, Harris brings up a good point. Often, being an excellent athlete and person is not defined by physical toughness, but by mental fortitude. 
"Playing high school volleyball helped me develop as a mentally and physically stronger athlete. Playing multiple matches a week showed me how to be physically tough and play all out all the time. Playing high school allowed me to focus on my competitiveness and drive to win which translated into my club season and now into my upcoming college season," said Martin. In her case, both club and school volleyball experiences have supported her in her college pursuits.
Like Martin, Knighton notes the mental strength her athletic experiences have taught her too. "I think it helped me adapt to unseen obstacles and problems and I think it's a great life skill," said Knighton of her track and field experience as a triple jumper and runner. Yet some of the most valuable lessons sports taught athletes like Martin are off the court. 
"The most valuable thing I have learned as a student-athlete is time management and work ethic," said Martin. "Being a student-athlete involves a lot of juggling between time in the gym, academics, and trying to have a social life. Athletics taught me that I can still do all the things I love outside of volleyball. Athletics also taught me that having a good work ethic is what makes someone successful in the classroom and on the court." This label of 'student-athlete' is far from one-sided. Athletics go hand in hand with academics in many sports — ineligibility is no joke — and for A.P. students like Martin, the commitment to both athletics and academics is very much a juggling act. And according to Orlando, the stakes are only raised in college.
"You have to be 100% invested and committed to competing in college because it's not easy," advised Orlando, who competed at the collegiate level himself. "But I think if you do some of those things that are going to help you develop and be invested and continue to work hard every day, the reward is fantastic to compete at the college level." Yet despite additional pressure — which our signees are conditioned to take in stride — there is much to look forward to for these college-bound athletes.
"In college, I am looking forward to playing at a competitive level and continuing the sport I love for another 4 years," said Martin. "I am thankful for the opportunity to continue playing the sport I have dedicated most of my life to." While she eagerly anticipates the sport and competition itself, Harris takes a slightly different approach. 
"I am looking forward to the team aspect of the game and all of the brotherhoods and athletic development I will create and make there, along with helping my team win a national championship," said Harris. The ceiling is soaring for each of the signees, their hopes and dreams for collegiate athletics now free to take flight. Yet their support systems remain to ground them — and for Martin and Harris, their support systems are a wide net of people.
"I attribute my athletic success to my family, teammates, and coaches," said Martin. "My family has always been there to support my love of volleyball and be there with me to support me at all tournaments and games. My teammates are the ones that always have my back and push me to perform my best. My high school Coach Morgan and my current club coaches at CVA have always pushed me to perform and develop into the best athlete I can be. Their confidence and support of me have driven me to be the player I am today." From coaches to teammates to friends to family, a support system is arguably a key factor to success. And at the spring signing day, it was clear just how dedicated each athlete's support system was — it was an emotional moment even more so for them than for their athletes, in many cases.
"Just wanted to say thank you to all the people that have touched me in my life," said Harris, who named his mother, father, brother, aunties and uncle, coaches Chase Vaughn and Matt McHesney, and friends all by name. "I wouldn't be in the position I am today without them." For Harris and his fellow signees, their college careers are set to begin, but getting there has been a long road full of hard work and determination. 
"It just makes us really proud because it's kind of a culmination of a lot of hard work and dedication over the years," said Orlando.
Leave a Comment
About the Writer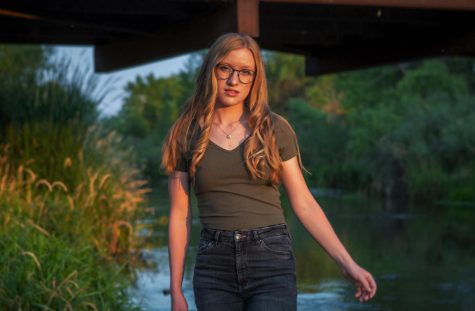 Simone Beauchamp, Editor in Chief
Simone Beauchamp is a Senior at Eaglecrest and, as she will let you know, she graduated from Challenge Middle School. She has many talents - photography,...