Coach Removed During Eaglecrest's Senior Night Loss to Mullen
Raptors fall short 1-4, head coach removed over controversial call in Thursday matchup.
It was a windy Thursday afternoon at Eaglecrest as the Raptors took on the Mullen Mustangs in a girls' soccer match. The match was expected to be close, with the Raptors up just one draw over Mullen in the pre-game standings.
Mullen aimed to level these standings early in the game with a goal midway through the first half and a second coming towards the end of the half. Despite several big chances, the Raptors failed to put in the net through the first half; the Mustangs, meanwhile, made big on their small number of chances to take a deep lead at halftime.
It was in the second half, however, that things started getting messy. The match started with technical difficulties in the scoreboard, postponing the start to the half by a few minutes. An injury on the pitch occurred a few minutes in, resulting in an Eaglecrest player being taken off the pitch.
After several more minutes of play, the Raptors received a penalty kick midway through the second and officially put themselves on the board. Things got more intense after that, with another Mullen goal coming before the biggest moment of the game.
Towards the final minutes, an Eaglecrest ball went past the goal line about ten yards from the left corner. The officials placed the ball for a kick-in at that spot, which led to a fourth goal for the Mustangs. Naturally, there was some dissent from the Eaglecrest bench, arguing that the call should have been a corner kick, the more typical call in that situation.
The officials didn't budge, and before the Raptors kicked the ball off to start play again, Eaglecrest head coach Ashley McKillips received a red card and was removed from the game for what would later be called 'dissent on the pitch.' While McKillips was indeed on the pitch during her dissent, it appeared not to interfere with any players on either side of the ball.
Regardless, the scoring ended there. There weren't many more big chances in the final minutes, and Eaglecrest ultimately recorded a 1-4 loss against the visitors. 
Nevertheless, the night was not a complete loss. The senior members of the Eaglecrest team were recognized as a part of senior night festivities at the end of the game. Eaglecrest is set to visit Cherry Creek on Tuesday, and then close their season with a visit to Rangeview of the East Metro League on Thursday.
Leave a Comment
About the Writer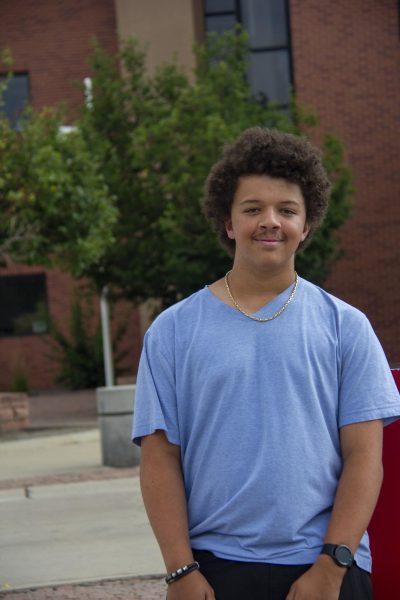 Marcus Turner, Copy Editor
Marcus Turner is a Senior at Eaglecrest High School he has been on the Nest Network team for 3 years. While being on the Nest Network he enjoys writing...