"Song Machine, Season One: Strange Timez"
Gorillaz does not disappoint; the band continues to defy elements of mainstream pop/rock while still making music that anyone can enjoy.
In true Gorillaz fashion, they have once again managed to push past musical norms and the boundaries of the entertainment industry. On the 10 year anniversary of their most critically acclaimed album "Plastic Beach", Song Machine has proven that the band still has much to say and do, even after more than twenty years of being together. 
In the two years between the release of their last album "The Now Now" and their latest release, the band has been dedicated to working on this album, and that clearly shines through in the production and lyricism of Song Machine. The culmination of this hard work and outside-the-box thinking is a sound unlike anything they've done before. While the band is notoriously genre-bending, the main components of this album take influence from pop punk and alternative music in general. However, for those who want an idea of the overall sounds and vibe of Song Machine, I can offer little to no information. Each song is unique in its own way and all you can do is listen for yourself. 
The distinctiveness of this project stems mainly from the unusually large number of artists featured (24 in total). Each song has at least one feature, if not more. As Jon Dolan of Rolling Stone puts it, "the number of guests could violate a nightclub fire code." It's likely that even if you don't listen to Gorillaz, an artist that you do listen to is featured on this album. For rap fans, 6lack and Schoolboy Q are featured on "The Pink Phantom" and "Pac-Man", respectively. For those who prefer punk and alternative, The Cure's Robert Smith is featured on the album's first track, "Strange Timez". However the most significant guest appearance on Song Machine comes from Elton John himself, who adorns "The Pink Phantom" with his legendary vocals.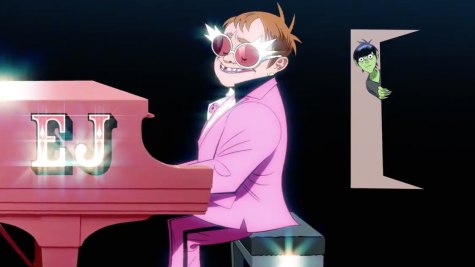 And such legendary vocals, paired with 6lack's rapping, create my personal favorite track on Song Machine. Giving off a dreamy and mellow vibe, "The Pink Phantom" is one of the more laid-back, relaxed tracks on this project. Elton John's combination of slow piano and smooth vocals truly eases the listener. However, what puts this dreamy pop song so high in my rankings is the second feature from 6lack. His sharp lyrics and rapping are a wonderful juxtaposition to Elton's calmer bit. And with this very contrast, the song is placed in a realm entirely of its own. Only Gorillaz could bring together two completely different artists and create such an amazing work of art.
Another track I found myself coming back to was "Aries", which employs Georgia from Joy Division on drums and Peter Hook from New Order on bass. The post-punk backgrounds of these artists clearly had an effect on this song, with synthesizers abounding. Beginning with a sharp, fierce guitar riff that jolts the listener, "Aries" then descends into a smooth, synth-filled beat. A truly perfect sound for fans of more alternative and punk music.
My only criticism of this album lies in its lack of a theme and message. While the musical and visual components of the album are near perfect, as one would expect from a Gorillaz project, they lack a common meaning or message. Each track is independent and entirely different from the rest. Song Machine is more comparable to a group of songs jammed together into an album as opposed to something more coherent. While this may seem like a minor complaint, as a longtime Gorillaz fan, I have to say I'm disappointed.  In past albums such as "The Now Now", the band tied in political and social commentary with every song that added an entirely new level to the music. This isn't to say that "Song Machine" is entirely devoid of meaning, just that I think the band could have done more in that regard. 
Aside from my minor complaint though, this album is wonderful. Every element, from the production to the vocals, was executed perfectly. Even more so when you take into account that much of this was done under strict COVID-19 restrictions. I have no doubt this album will go down as a success for not only the band, but the music industry as a whole. In persisting through all the challenges this year threw at them, Gorillaz has proven that art will always find a way.
About the Writer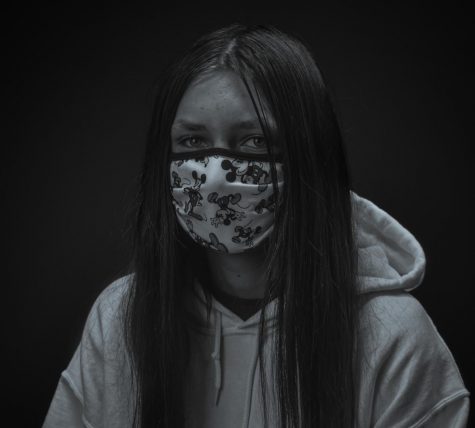 Demir Mikulin, Reporter
Demir Mikulin is a sophomore here at Eaglecrest and this is his first year on staff! He prefers the written content side of advanced media, and loves to...