Senior Sunrise
Class of 2021 starts an abnormal year with a familiar tradition.
August 17th, 2020, I officially started my senior year of high school. Since freshman year, I have tried to imagine what it would be like to be a top dog. Yesterday I woke up, looked in the mirror but I could not process how I am already a senior in high school. To be fair, I did not spend much time contemplating that while I hastily got ready early that morning, but it had been on my mind as the long summer faded away.
Sanaa Sodhi, Eaglecrest's Vice President, encapsulated this foreign feeling, "It's kind of surreal! I've always looked up so much to the seniors before and have watched all the previous years of seniors go through these traditions," she said. "So it's very strange to now finally be a part of these events being a senior myself."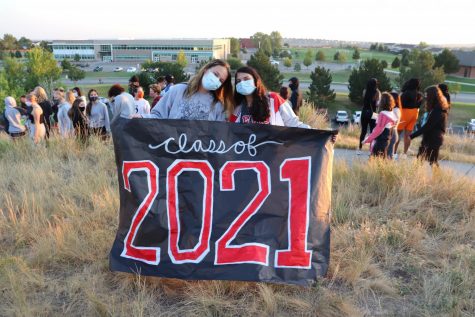 The rumor that these four years of high school fly by fast turned out to be true. With no formal ending to our junior year, it almost feels as if we transitioned to be seniors overnight. 
Sodhi continues to explain how we were not simply thrown into being seniors. "We've all been working hard the last few years to have a great senior year so I'm really excited!" 
The excitement was fluttering in my stomach minutes before arriving and I was not the only one. "I'm really excited to get back to school. I think a sense of normalcy will be so good to experience again," Riley McMillen, our Student body President, said, "I'm looking forward to seeing everyone again and creating the senior memories we all deserve!" 
It seems as if we collectively and genuinely want to be back at school. I had never witnessed a desire to go back to school in such majority until yesterday morning.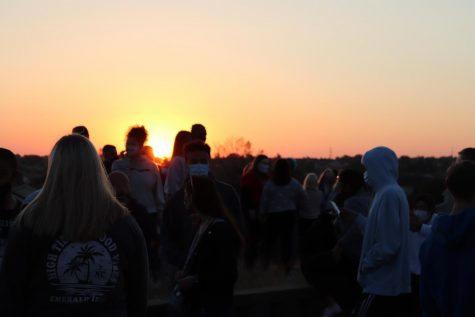 As McMillen mentioned, seeing our classmates is a colossal role in our high school experience. I walked up to the top of Lookout at 5:50 with my best friend and, even with masks on, saw all those familiar faces. Senior sunrise was the first time I got to see my peers gathered together as seniors. Not only was this debut the first time I was a senior, but the first time I saw my friends as seniors.
"I didn't even realize how much I had missed everyone until I was able to see and talk to them again," Courtney Menefee ('21) said. Menefee was not alone in missing her fellow classmates.
Throughout high school, we have gained many unexpected friendships. From nothing but one class together to sharing essentially your whole schedule together, Eaglecrest has created an atmosphere where relationships flourish. 
"My friends had to stay in most of quarantine, including me, so it was amazing seeing all of them," said Kevin Agnigbakou ('21). 
I was overjoyed to be surrounded by my graduating class after our extensive break. Coming back to school, even with precautions, is more than I expected for this year. I think masks and distancing is a more than reasonable trade-off for interacting with everybody in person, but it's something we have to get used to. 
"It was nice, just kinda weird seeing people in masks and social distancing," said Dasha Strakhanovich.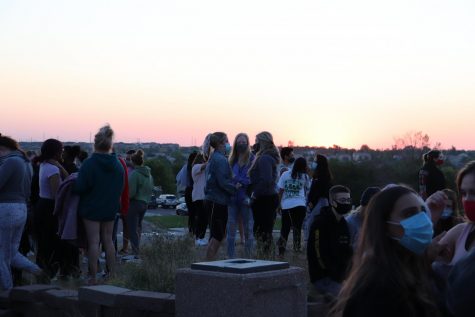 It is natural to focus on what is different and what we are missing from our senior year. Social distancing, however, does not indicate giving up plans for an amazing experience.
 "I thought kids were going to give up on their senior year," McMillen said, "but seeing everyone gave me faith that this senior year is still going to be memorable," 
Having our senior year in the middle of a pandemic is notably the most difficult challenge to overcome this year; however, Student Council's visions to involve senior traditions regardless of our unconventional year is giving many hope.
"My biggest goal is to not let this year pass me by! I hope that at the end of senior year I don't feel as though I've wasted an entire school year," Sodhi expresses. "And I hope to spread that mentality to the whole student body: this year will definitely be unlike any other but let's look at that as a positive, historic opportunity instead of a burden!"
This urge for a positive mindset has sparked in many of us, seniors. Taking on this year, we should be as hopeful as we can. For students with plans of participating in senior activities and sports seasons, we have to hold onto this optimism. 
"There was a big chance it was going to get canceled, so I want to take full advantage," Bushara talks about his last soccer season. "I want to get 1st Team All-Conference for soccer and finish in the top 50 for my class in weighted GPA."
As Bushara said, we want to take full advantage of the opportunities our senior year brings. The class of 2021 has a variety of goals to accomplish this year. 
"My goal is to lead with the students' needs. I never want students to feel as though I'm telling them what to do," McMillen says as Student Council President. "I just want to have a fun year and create the environment Eaglecrest so deserves. No worries, just fun events, activities, and a more unified student body."
Our senior year might look different than we expected, but it is not destined to be terrible. Senior sunrise was the dawn of an incomparable year.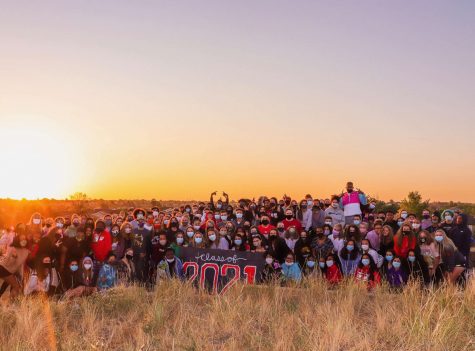 About the Writer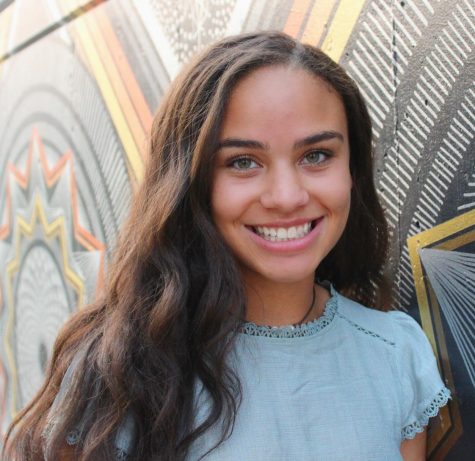 Jessica McMillian, Editor In Chief
Jessica McMillian is a senior this year and is so excited to be Editor in Chief. She loves making features and original stories. Jessi usually makes videos,...