Fine Line Album Review
Harry Styles grieves over lost love and decides to find closure on his sophomore solo album.
Harry Styles has been singing to the world for a decade with originality and integrity. After One Direction broke up in 2015, Styles released his first solo album, Harry Styles, in 2017. The album was the first insight of who Styles was and would become. The self-titled album was only a taste of what was to come.
Fine Line, released in late 2019, is a further look into Styles' individual sound. He has grown as a songwriter, and his growth can be heard in each of the twelve songs on the album. Styles writes effortlessly on the cycles of love. And sings each of them perfectly.
Each song on Fine Line tells an intricate tale of woe. The album as a whole tells a love story that blooms into his world as quickly as it leaves him. Each song explains apart of his relationship.
"Golden": The opening track on the album captures Styles' growth in 3.5 minutes. This song feels happy and upbeat but speaks of a deeper meaning. Styles' made the typical pop song to mean more. The lyrics of this song talk about the fears of a new relationship and foreshadows the pain that Styles is about to endure.
"
I know you were too bright for me. I'm hopeless, broken."
"Watermelon Sugar": Styles is known to use symbolism in his songwriting and has largely left "Watermelon Sugar" to the interpretation of his audience. The song yearns for summer love and all the taste of that feeling. He sings about not being able to live without his watermelon sugar high. In an intense game of remembering, Styles sings about the sweetness of summer love.
"
Breathe me in, breathe me out. I don't know if I could ever go without watermelon sugar high."
"Adore You": This song describes the feeling of pure ecstasy at the beginning of a relationship that further develops the lyrics of "Watermelon Sugar". Styles sings about willing to endure any pain to adore his partner. This song highlights the pleasure of being with them. Even with his feelings, he still doubts himself and his romance. Styles doesn't know what will become of this romance and doesn't know if he's ready to learn.
"
You don't have to say you love me. You don't have to say nothing. You don't have to say you're mine."
"Lights Up": Harry Styles continues to doubt and question himself on this track. The first single released from this album pleads for consistency and apologizes for this request. He sings about darkness and stepping into a metaphorical light of truth. He is scared to face and accept this truth about his relationship that has been daunting him.
"
Step into the light, so bright sometimes. I'm not ever going back."
"Cherry": This song develops the ending of the bond Styles once had. He gets jealous and petty in lyrics that feel like an aggressive text. He talks about his continuous contact with this ex-lover's friends. The language is definite and abrupt. Styles' songwriting and tone of voice combine to create a powerful track that displays the phase of almost being ready to move on after the relationship.
"
Don't you call him baby. We're not talking lately. Don't you call him what you used to call me."
"Falling": Just as the title of this track suggests, Styles describes his feelings and life going into a downward spiral. He sings about the baggage that was left with him and the drinking that followed his loneliness. He questions loyalties and how he will be remembered. Styles leaves listeners questioning their own relationships and reputation with his insightful word choice and agonizing tone.
"
What am I now? What if I'm someone I don't want around? I'm falling again."
"To Be So Lonely": Following the emotional drain Styles creates with "Falling", he moves into finally moving on from heartbreak and his pain. He is now unapologetic and no longer questions himself. He admits his faults and insecurities with strength in his voice. After the first half of the album finds him full of lust and angst, he is finally ready to move on.
"
You can't blame me, darling, not even a little bit. I was away. And I'm just an arrogant son of a ***** who can't admit when he's sorry."
"She": After admitting his faults and striving to find his way, Styles puts in a story about a lover. "She" could embody his desire for something new or he could just be talking about the same person he's trying to move on from. Styles is telling the story of love and resentment, and even he doesn't know how he feels or how he should be acting.
"
She lives in daydreams with me. She's the first one that I see, and I don't know why. I don't know who she is."
"Sunflower, Vol 6": Styles' next move is not to fight for the love that no longer lives. He understands that love is gone, he now accepts it. He reminisces what was once there and is actively trying to distance himself from the dead relationship. He remembers the love and thinks about what his next relationship will create.
"
I don't wanna make you feel bad. But I've been trying hard not to talk to you."
"Canyon Moon": To finish the love story tale, Styles says he just wants to go home. He wants to return to being comfortable and being himself. The sky is blue and it's hard for him to leave, but it's time. After lust, love, and loss, he knows that it is time to return to himself.
"
I'm going, oh, I'm going home."
"Treat People With Kindness": After the rise and fall of his love story, Styles calls for a change. He sings with newfound hope in himself and for society. Styles finds it in himself to tell his audience to be better for the world. He discusses his dream of finding a safe haven of good with childlike faith.
"
Maybe, we can (all together now, one more time) find a place to feel good and we can treat people with kindness."
"Fine Line": In the title track of Styles' album, he explains the meaning of the work as a whole. He connects the unspoken connections between the tracks of Fine Line. He says that he doesn't want to fight anymore but also doesn't want to give in. He just wants to be alright.
"
I don't want to fight you and I don't want to sleep in the dirt."
Harry Styles tells his story with no walls or boundaries. His audience hears the truth in his words and tone. The fine line he named this album off of represents the slim divide between love and hate. Styles dances around this figurative line throughout his journey told on this album.
Fine Line is meant to be listened to in order. Styles wants listeners to follow along on this painful tale and learn valuable lessons about experimenting and wonder.
About the Writer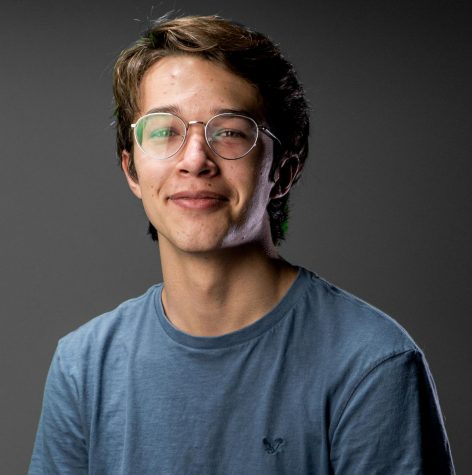 Jeremy Garza, Editor in Chief
Jeremy Garza is returning to Nest Network for his second year. He was Written Content Editor last year and is excited to be back as Editor in Chief his...