Clean Sweep at Creek
Boys volleyball makes redemption after losing to CCHS earlier in the season.
The April 14th boys volleyball game was packed with anticipation. The Raptors got swept by the Bruins in late March, which broke their seven game winning streak. The Raptors were ready to bump-set-spike their way to vengeance. Led by captains Alfred Maiava and Ayden Shaw, the Eaglecrest team won the game in three sets.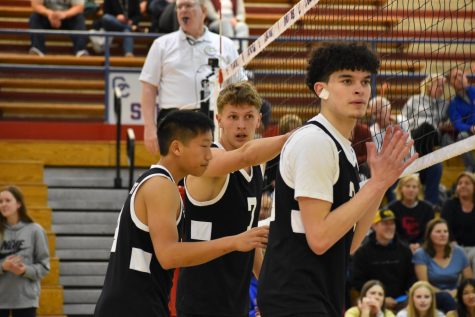 "I think the game went perfect today. It is exactly how we game-planned, and we executed perfectly," Shaw said. "We had a bumpy game last Tuesday, but I think this game bounced us back and proved that we're one of the top teams in the state. We want to win the state title by playing together, trusting each other — as long as we trust each other, I don't think there is a team in Colorado that can beat us." This team-oriented mentality carries throughout the team. Volleyball is, obviously, a team sport, and to win, the team must play together. 
"We all played great; it was so fun. We all bonded at Coach's house last night. We watched a movie. I also think losing to Valor [Christian High School], which we shouldn't have lost, was really motivating to everybody," Andrew White, an outside hitter, said. "We all just came together as a team. We really had each other's backs. We want to play like this every single night. If we do play like this every single night, things will take care of themselves. Hopefully, we will win a state championship."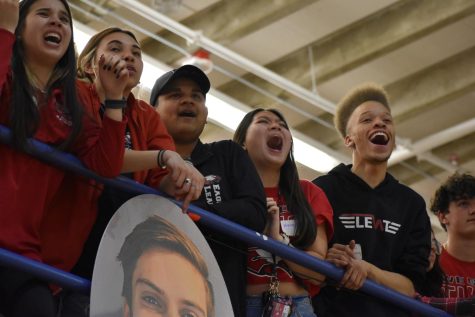 Not only did the team play beautifully — the Eaglecrest student section supported the team to victory. Notably, Hanna Barrios led the coalition: before every single Cherry Creek serve, she yelled at the top of her lungs. This gut-wrenching scream is, as Barrios describes, supposed to mildly shake up the Bruin player. 
"Even though there were times that we were behind, we still kept the same spirit and energy throughout the whole game," Barrios said. "I yell during the game because I think it helps distract the other team, and helps us get a leg up." Barrios, and the rest of the student section, just want to see the Raptors do well, and that is exactly what happened yesterday night.
Leave a Comment
About the Writer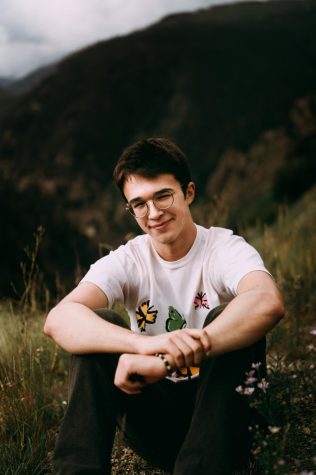 Jeremy Garza, Editor in Chief
Jeremy Garza is a senior, and not a Challenge Middle School graduate, a fact which he laments. However, his remarkable memory, obsession with the Times...