Tragedy Strikes Once More
The 145th and deadliest school shooting of the year occurred in Oakland County, Michigan on the final day of November this year.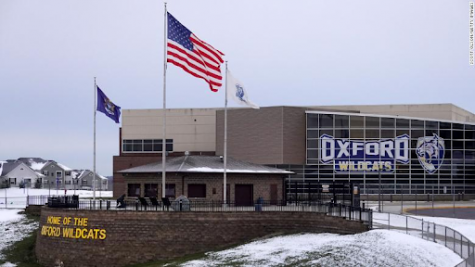 On November 30th, the deadliest shooting since Santa Fe's in 2018 occurred in Oakland County, Michigan. Four students died at the hands of perpetrator Ethan Crumbley — Hana St. Juliana, 14; Justin Shilling, 17; Madisyn Baldwin, 17; and Tate Myre, 16.
Juliana, a freshman, was jersey No. 9 on the Oxford volleyball team, and she played the sport since middle school. She was also a part of the school's basketball team, making her debut the night before the shooting. 
Shilling was co-captain of his bowling team, as well as "an exemplary employee" at Antia's Kitchen in Lake Orion. 
Baldwin, soon after the shooting, was reported missing by her grandmother on Facebook. She stated that her other grandchildren were safe, but Madisyn was still missing, and that her family were searching for her on foot. They soon found out that, unfortunately, Baldwin's life was taken. Her grandmother described her as a "beautiful, smart, sweet, loving girl." Her family say that she loved to draw, read and write. They also stated that she had been accepted into several colleges before her death, some even with full scholarships. 
Myre was a junior who loved to play football. He was dedicated to his sport, being on the varsity team since his freshman year. Along with football, he excelled in school and took honors classes. Myre had passed away in the back of a patrol car shortly after the shooting. Due to the quick response of the police department, the tragedy only lasted a total of five minutes, Police dispatched at 12:52pm, just two minutes after the shooting began. They received over one-hundred 911 calls.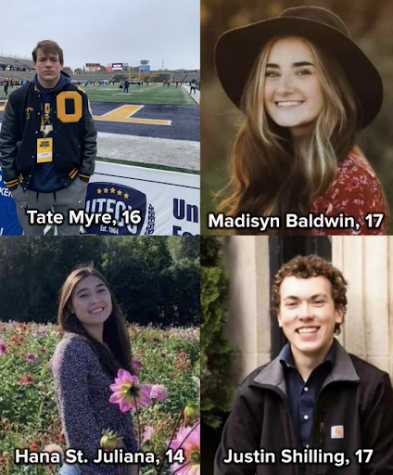 As with most school shootings, student Ethan Crumbley planned his attack. On Friday, November 26th, Crumbley's parents had bought him a Sig Sauer 9mm pistol as a Christmas present. On the same day, Crumbley had posted photos of the weapon on Instagram, with the caption: "Just got my new beauty today [Heart-Eye Emoji] SIG SAUER 9mm. Ask any questions, I will answer." 
Over the weekend, he and his mother went to a shooting range to test out the weapon. On Monday, November 29th, Crumbley's teacher saw him researching ammunition on his phone. The teacher told school officials, who contacted his parents. They never responded. Later that day, his mother sent Crumbley a message about the calls: "LOL I'm not mad at you. You have to learn not to get caught." That night, Crumbley recorded two videos on his phone detailing his threats against the school. Along with these videos, officials found threats in his journals.
On Tuesday, the day of the shooting, another one of his teachers found a paper on Crumbley's desk with drawings. The drawings included depressing and suicidal phrases, with pictures of guns and people shot and bleeding. Crumbley's parents were contacted once again, this time with a response, and Crumbley, his parents, and a school counselor discussed the drawing. While waiting for his parents to arrive, Crumbley worked on science homework that he was concerned about completing, appearing to have an eerily calm demeanor in response to the conversation with the counselor.
After his parents had arrived, they discussed Crumbley's behavior. During this, Crumbley insisted that "the drawing was part of a video game he was designing and informed counselors that he planned to pursue video game design as a career." They asked questions about his intent to harm himself or others; his answers satisfied them enough to let Crumbley return to class. The counselor instructed that the parents find counseling for Crumbley within 48 hours, or they would contact Child Protective Services.
On his way back to class, Crumbley had stopped at a bathroom, entering with a backpack, and exiting with the pistol he had gotten just four days earlier. Authorities say he moved "methodically and deliberately" through the halls, shooting students who had not managed to escape. 
"Before the shooter was able to walk a short distance to enter the main hallway, students and staff had already entered classrooms, locked doors, erected makeshift barricades and locked down, or fled according to their training. The suspect was not able to gain access to a single classroom," said superintendent Tim Thorpe. Three minutes after he began shooting, six students and one teacher had been injured, police arrived and Crumbley dropped his weapon.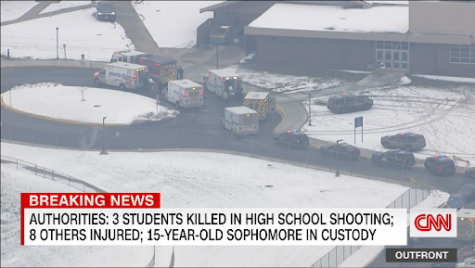 He was arrested and is being charged as an adult with one count of terrorism causing death, four counts of first-degree murder, seven counts of assault with intent to murder and 12 counts of possession of a firearm during the commission of a felony. Crumbley has pleaded not guilty, and no bond has yet been set. His parents have also been charged with involuntary manslaughter because they bought a gun for their 15-year-old child. After not arriving to court on Friday, a manhunt began, with $10,000 to anyone who could provide information on their whereabouts. On Saturday, they were found and arrested in a warehouse in Detroit. During their arraignment, they pleaded not guilty and were set with a $500,000 bail for each of them.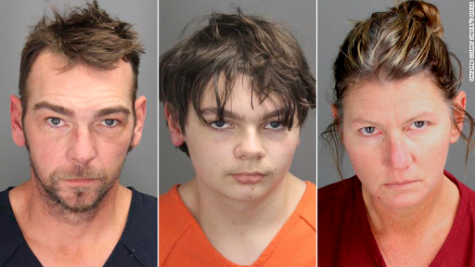 Many vigils and memorial services were held for the four students whose lives were taken that day. Along with these services is a change.org petition, asking the school to change their stadium name to memorialize Tate Myre. A similar remembrance was put in place with a softball field at Columbine, named after Dave Sanders, the teacher who died in the 1999 tragedy. People on social media have been saying that Myre risked his life in an attempt to stop the shooter, just as Dave Sanders did. If this is true, they argued, he deserves his legacy to be maintained via the sport he cherished and played. Sign the petition here: https://bit.ly/31yEHPY
Leave a Comment
About the Writer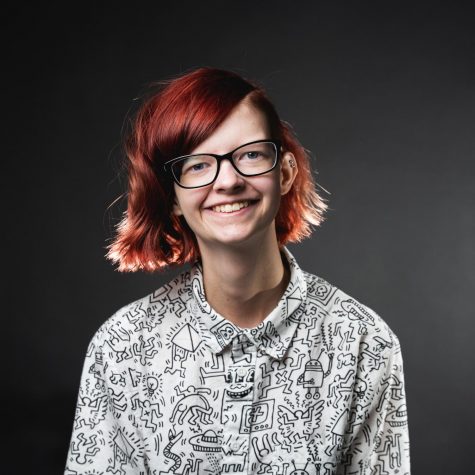 Ren Hotzfeld, Reporter
Ren is a junior and a new member to the Nest Network. She wants to become a writer or editor for the Nest Network. Ren is a very creative individual participating...