Astroworld Fest Was An Astroworld Mess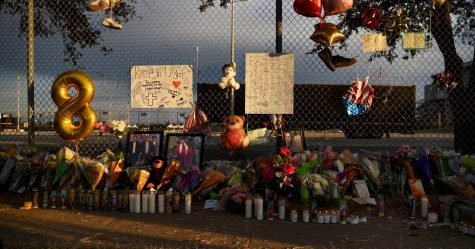 Think of your favorite artist– Doja Cat, Oliva Rodrigo, Drake or whoever it may be. How would you feel if you paid hundreds of dollars to see them perform, only to find that the venue was crowded to the point where you were barely able to breathe? When you look around, you see people around you passed out on the floor while that artist is still performing. Then, after the audience begs them to stop performing, they still do not bother to help. This nightmare is exactly what happened at Travis Scott's Astroworld Festival.
It all started off normal. The festival opened at 1:00– people checked in and enjoyed food & drinks. Festival-goers began heading over to find a good spot for Scott's performance around 4:30, waiting for him to come on stage.
Later in the evening, around 8:00, the crowd was dense –people were unable to move. At 8:15, a countdown to Scott's performance was displayed on stage. As the timer got closer to zero, the people got closer together. They were being pulled and shoved, and many fans had found it hard to breathe and felt very uneasy; some even testified that they did not think they would make it out alive. Countless people fainted, and the concert's medical staff, as well as audience members, were desperately trying to get unconscious people to safety.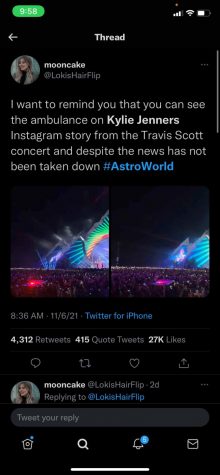 "[The event security] was not prepared enough at all. Everyone knows mosh-pits and concerts like that get insane. They should have laid clear rules and they should have made sure everyone was safe," said junior Ashley Morales. There was not at all enough security. Ambulances may their way through the middle of the crowd. Meanwhile, there were people climbing the gates and trees, adding to the chaos and injuries.
The morning after the festival, countless people took to Tiktok and Twitter, sharing their experiences and telling stories about what happened. They posted footage of people getting medical attention and Travis Scott continuing the show like nothing was happening. People, even those who did not attend Astrofest, are furious. 
"I am truly saddened about the deaths that happened [that] night because those were people's family members that they won't ever get back," said freshman Raina Stephens. "It was demonic of him to sit there singing. He definitely knew what was going on, and he should have stopped the show as soon as he realized something was wrong." 
The whole thing seems like a truly traumatic experience for the audience to go through. Especially for those who expected to have a good time, but instead witnessed brutal injuries and deaths. 
"It is so sad that everyone went there to have fun and party and instead some were left in body bags and others left with trauma and injuries," said Morales. "The worst part is that Travis Scott saw it all happen and did nothing but perform. This sheds light on how cold-hearted celebrities can be, especially to their own fans. Some see their fans, who are the biggest part of their success, as a dollar sign, instead of as a human being." 
23-year-old Nadeline Eskins, one of the concertgoers who happens to be a certified nurse, said, "I am disappointed that the medical staff that was there was not trained staff. Some had little to no experience, and It was unfair to them that they are the ones that are responsible for doing this. Everyone looked up to them to provide medical care when they had not a lot of experience in this field." 
After Travis Scott had heard about and seen the immense backlash he received, he posted an apology video to his Instagram story, saying: "My fans really mean the world [to me], and I always just wanna leave them with a positive experience." With a very stressed look on his face, he explained, "I could just never imagine the severity of the situation. We've been working closely to try to get to the bottom of this." He also mentioned that he was working with the police to try to identify the families of the victims from that night.
Not too long after, people placed blame on Kylie Jenner, Scott's girlfriend and father to their daughter, Stormi, for ignorantly posting about the Festival, ignoring the ambulance and not bothering to help stop the show.
She, too, posted a lengthy apology on her Instagram, sending out her prayers to all of the victims that night.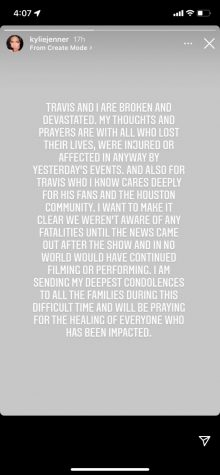 Rapper Travis Scott had not been arrested for the lives that were lost, but he is facing multiple lawsuits over the event. Houston-based Lawyer, Tony Buzbee, is seeking a temporary lawsuit against the rapper that would make it mandatory for Travis and anyone else involved in the Astroworld event to make it mandatory to preserve evidence including texts and emails about the event.
In response, people posted their reactions to Scott's apology video. Some people think the apology is insincere. Others think that he and his security share the responsibility. Regardless, people are upset and they are not holding back any emotions. Countless people have posted about all of the loved ones they lost due to the Incident.
Leave a Comment