To Vax Or Not To Vax?
Eaglecrest students struggle with making the decision of whether or not to get the Covid-19 vaccine.
The Eaglecrest hallways have now been divided into two invisible groups: the vaccinated  and the unvaccinated. During the six months since vaccines became available to everyone 16 and older, the delta variant has been introduced and Covid cases are back on the rise; as of September 10th, Eaglecrest has nine active Covid-19 cases- the most in the entire district. In August, the CDC gave full approval to the Pfizer vaccine. This begs the question: Why NOT get vaccinated?
"I'm just a little unsure about it," says sophomore Andrew McMillin. "I have issues [with] high executive functioning, so I can't really focus, and I was afraid that [the vaccine] could affect that."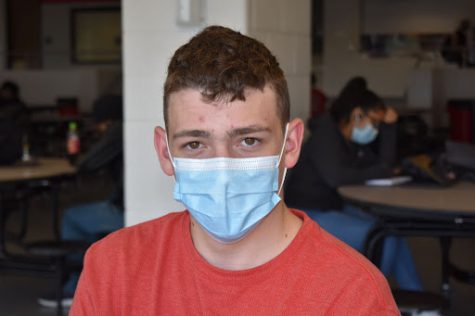 It is completely reasonable to be skeptical about the vaccine, considering it was given full FDA approval in less than four months– typical vaccines take about eight months. Health officials hope that the complete approval will encourage people to get vaccinated – and it seems to be working. Junior Reagan Haworth is not currently vaccinated, but Pfizer's FDA approval may have changed her mind.
"I first decided not to get vaccinated because I heard that it could cause fertility issues, and that was still when it was kind of new. I really want to have kids, so I didn't want to make that decision yet," Haworth said. "But, I have been thinking about it more and more, and I think I'm probably going to do it soon."
Many people, like McMillin and Haworth, haven't gotten vaccinated because of how frantic its initial emergency authorization was, but, for others, their reluctance to get vaccinated is rooted in politics. But why did the vaccine, and even the pandemic, become politicized in the first place?
"It's kind of surprising to me that it became political so quickly… I think a lot of it probably comes from misconceptions about vaccines and about what they do to you," says Senior Amy Hendricks. "I don't think I'm worried about [the long term effects]. I'm just trying to get through right now… I'm trying to just live till tomorrow, and help everyone else live to tomorrow."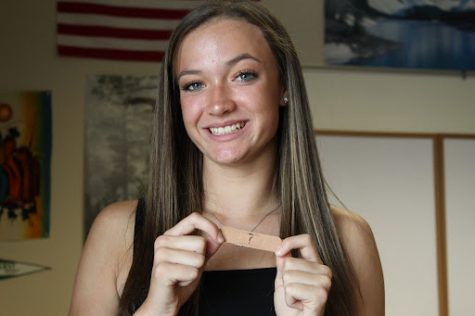 It's true that we really don't know how the Covid-19 vaccine will affect us in the long-run, but we also don't know the long term effects of a lot of other things, like staring at computer screens all day or vaping. 
When thousands of people are dying from a disease that is preventable at this point, it becomes everyone's responsibility to stop the spread – even if you and your family are healthy. It boils down to the simple fact that in March 2020, people were dying from Covid. 18 months later, people are still dying from Covid-19. Numbers are lower, but how much longer do we really have before the Delta variant or another shuts the world down again. How many more lives must be sacrificed for this to be over?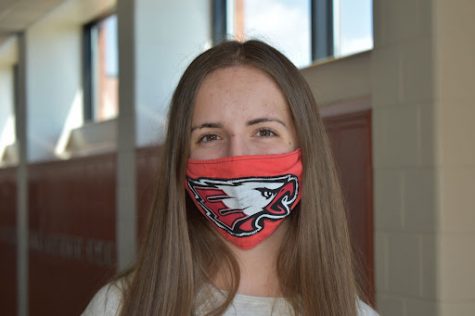 Obviously, people have differing attitudes towards the vaccine, but the general consensus is that every individual should be able to make their own choice in the matter. 
"I think it should be up to people. I don't think it should be forced or required… If you want to get vaccinated and you're at risk, then you can get vaccinated. But if you don't want to get vaccinated, you shouldn't have to be vaccinated," says McMillin.
At the end of the day, it is a personal choice; that is the idealistic nature of living in America. Unfortunately, your personal choice is one that is affecting everyone around you in this situation. Our country is running into a paradox of making a personal choice based on a very public problem. 
"I think we should start using vaccination cards more," Hendricks argued. "People should be able to know whether you're vaccinated or not so that they can take the proper measures for themselves. I'm not going to judge you either way. I just need to know the proper precautions for me, and for the other people around me."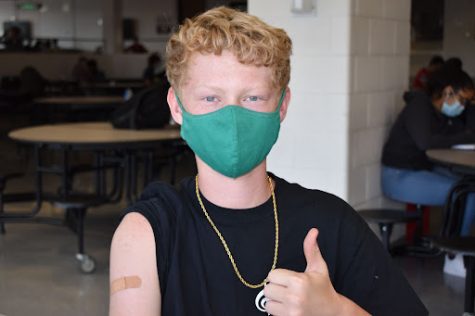 Gavin Scott (sophomore), encourages people to get vaccinated so that everyone can get back to doing what they love. (Trisha Balani)
Leave a Comment
About the Writer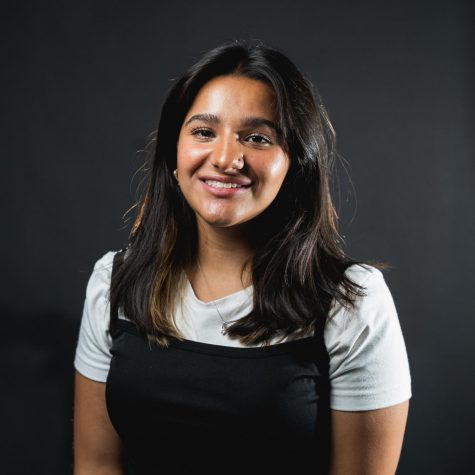 Trisha Balani, Magazine Editor
Trisha is so excited to return to Nest Network for her second year. She is a junior and Magazine Editor, also working with multimedia, opinion and entertainment...