TikTok Stars Releasing Songs
Dixie D'Amelio and Bella Poarch both released their song around the same time and the debate is getting real.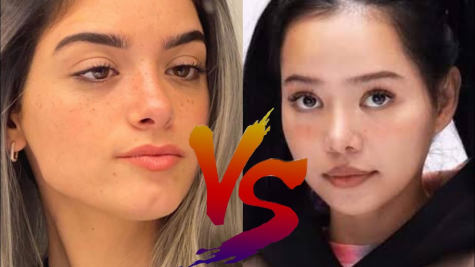 Tiktok stars are trying everything possible to get more recognition, from clothing lines and brand names to releasing songs. Social media platforms are blowing up with newly released songs that are getting quite popular. Two verified and well-known Tiktok stars, Dixie D'Amelio and Bella Poarch, recently each released a song on May 14th, 2021. The feud has begun between fans as to which song is better.
Dixie D'Amelio released her first single, "Be Happy", last year in early November. It was recognized for its meaningful lyrics that related to a lot of her fans. Her song quickly became popular as it was meant to help others realize that they don't need to pretend that life is always perfect and that it's always okay to have bad days. The lyrics of the song are focused on depression and mental illnesses, which only boosted it more. Teens across the globe found personal connections to her song. But it doesn't end there.
Dixie D'Amelio's' songs were doing great as they have relatable lyrics that her audience was drawn to. The personal connection made the songs so much more relatable and realistic despite her "famous" lifestyle. From mental health to boy problems, she only became stronger in her music career and as an influencer. Multiple of her songs went viral for helping females around the world relate and become aware of their worth in songs such as, "One Whole Day", or, "Looking Forward". For each of these songs, Dixie makes statements revolving around helping people and bringing awareness to the subjects. 
"The song ["One whole day"] does mean a lot to me because I've spent a lot of my life being upset about things for too long," D'Amelio explained to J-14 News. "If a person cannot treat me with respect then I don't want them in my life, and I will not be upset about it for more than one whole day".  Once this song became more popular, she had then released a second and explained her reason as to why she is working towards this music career. 
"My ultimate goal with music going forward is to definitely share my struggles with mental health, how I deal with it, how I move past it, and how I work with it every day. For me right now it's about finding a way to get that across to people since I don't like actually talking about it, and I don't like sharing it on the internet". After this statement, it seems pretty hard to top that. Though that's not the case.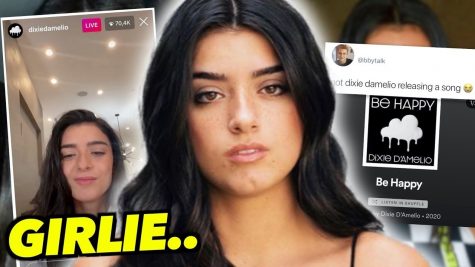 Though her songs may have good intentions and meanings, many seem to think her only capability is writing songs they describe by viewers as childish or superficial. As she continues her career, her songs are getting labeled as childish and dry. Shortly after uploading one of her songs, fans began with hateful comments suggesting that her lyrics are "dry" and repetitive. As soon as the hatred hit her page, Dixie quickly took down the clip of the song. After releasing her most recent song, "F***Boy", she didn't prove anyone wrong. The song was played over and over on her alternative account, only getting recognized for its backstory. Most people believe it is about her ex and began to lose interest as it didn't exactly have a storyline of meaningful intentions. 
"On 'F***boy,' Dixie D'Amelio touches on issues that develop from her toxic relationship, claiming that her boyfriend is at fault, according to Genius. The song was not doing as well as she may have hoped and become irrelevant for the present-day as fans lost interest in the drama.
Aside from the D'Amelio family, multiple other influencers are releasing songs left and right across social media platforms. Millions of people have been talking about a specific influencer who is only beginning her music career. The same day Dixie released "F***Boy", Tiktok star Bella Poarch has released her long-awaited song, "Build a B****". There was instantly a discussion across social media platforms comparing the singer and songs to each other. Fans on Tiktok have stated that Bella Poarch is one of the only Tiktok influencers that is genuinely talented in the music industry. Surprisingly, this was Bella's first song she wrote to be released.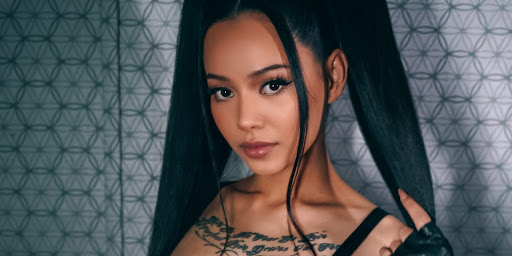 "I've always wanted to be a singer, an artist. It's always been my dream since I was little. I wanted my first song to have a good meaning to it and to help a lot of people just to be like, more confident about themselves," said Porch in an interview with Dexerto.com. Bella Poarch has recently released a song she explains is about bullying for appearance and stereotypes. From personal experiences of getting put down and judged for her appearance as a kid and even now on TikTok, her goal was to not just publish any song but to send a powerful message. 
The song quickly became popular as she posted short clips of it all over her page with multiple other influencers. The comment section was blowing up with positive feedback, especially from the females on the platform. Many people instantly related to the lyrics and meaning. 
"This song isn't just any song. It means the world to me. My whole life no one has ever believed in me. I just had to believe in myself. But now I have you guys and I'm so grateful –more than you'll ever know. And that's why I wanted to share it with you. Thanks for believing in me," Bella posted on her Twitter page. With the number of good responses to her song, Bella quickly began to rise above Dixie D'Amelio and a few other influencers. 
Not only was her song a hit, but so was the music video she filmed. The video includes floating heads and body parts as if she was assembling a doll. The single's video and lyrics were made in a way to show the criticism that women –or people in general– receive about their bodies in the age of picture-perfect models and social media standards. She involved different-bodied models in the video to expand from just stereotypical bodies. The title was inspired by the shop "Build-a-bear", as customers put together a stuffed animal to their liking.
As her song continues to blow up, the feud is coming to an end between the two as to which song is better. After hatred of Tiktok for her facial expressions, Poarch has taken a stand for women across the globe and inspired others to stand with her. Those who face similar challenges were drawn to the storyline and her support group just continues to grow bigger. Although this is Bella's first song, there seems to be a big future for her. Fans can't wait to see what may come in the future.
Leave a Comment
About the Writer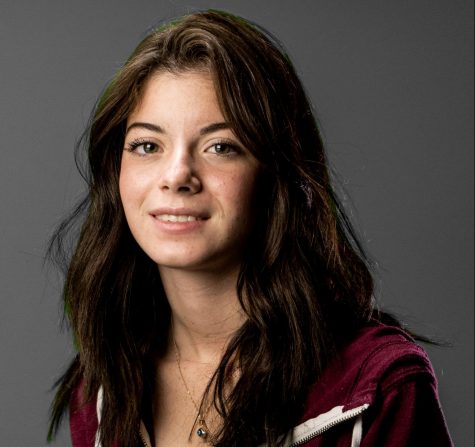 Karina Gofsheyn, Reporter
Karina Gofshteyn is currently a Junior at Eaglecrest and this is her third semester on staff. Karina enjoys working with opinion stories with a wide range...