Are You Really Welcomed in America
How the U.S. immigration system has changed in recent years
America is known for being the homeland of immigrants and refugees as we have welcomed and accepted people from all walks of life and all types of countries, but the behind the scene of what really goes on in the American immigration process is very intricate and complex, with many confusions on how it works and what will be provided.
With immigration laws in the United States being centralized on the principles of, "reunifying families, admitting immigrants into work with skills that are valuable to the U.S. economy, protecting refugees, and promoting diversity in this country" according to American Immigration Council. America still lacks the individualism and fair opportunities provided to these people as they come from different countries with different languages, policies, laws and lifestyles. 
The Immigration and Nationality Act (INA) is the current U.S. immigration policy established by President Lyndon B. Johnson back in 1964. According to the American Immigration Council, the INA allows the United States to grant up to 675,000 permanent immigrant visas each year across different visa categories such as a tourist visa (pleasure travel visas), immigration and naturalization visas, student visas (for studying abroad), and a business or work visas (for working, which includes both non-immigrant and immigrant types). On top of those 675,000 visas distributed amongst immigrants, the INA also sets no limit on the annual admission of U.S. citizens' spouses, parents, and children under the age of 21. 
Each year the president is required to consult with Congress and set an annual number of refugees that can be admitted to the United States through the U.S. Refugee Resettlement Process. The Center for American Progress states "the U.S. refugee resettlement system has been decimated by the Trump administration since it took office in 2017." After starting with the Muslim ban the January elected into office, the administration suspended all refugee arrivals for 120 days and banned Syrian refugees all together. It has since targeted key elements of the U.S. Refugee Admissions Program (USRAP). From 2016 to 2020, the number of refugees admitted to the United States dropped by nearly 90 percent.
The American Immigration Council states that, "once a person obtains an immigrant visa and comes to the United States, they become a lawful permanent resident (LPR)….In some circumstances, noncitizens already inside the United States can obtain LPR status through a process known as "adjustment of status.""
LPRs are eligible to apply for most all jobs in the U.S and can remain in the country permanently, even if they are unemployed. After living in the United States for 3-5 years based on some circumstances, LPRs are eligible to apply for U.S. citizenship.
With it being nearly impossible to apply for citizenship through the normal immigration process without first becoming an LPR, each and every year the United States does also admit a large number of noncitizens on a temporary basis. Temporary basis is known as "non-immigrant" visas are granted to everyone such as tourists, foreign students, and also temporary workers permitted to remain in the U.S. for a year or more.  While certain employment-based visas have various restrictions and regulations, other non-immigrant visas (including tourist and student visas) have no numerical limits and can be granted to anyone who meets/satisfies the criteria for obtaining the visa. 
Former president Donald Trump had a singular focus on restricting immigration, and his administration had issued over 400 executive actions that reshaped the U.S. immigration system. With all its efforts, the administration's success in these 400+ executive actions decreasing the number of legal immigrants admitted to the United States has been limited. 
"The overall number of admissions—both on a permanent and temporary basis—declined only somewhat during most of the Trump years, remaining largely in line with broader trends that predated it," according to the Migration Policy Institute. The Trump administration was known for a  policy of intentionally separating thousands of children from their parents at the U.S.-Mexico border. "Kids in cages" was a globally known issues that spiralled centrally around immigration and played a huge role in the recent election of 2020 and Donald Trump not being reelected.
The Marshall Project  —a nonprofit online journalism organization focusing on issues related to criminal justice in the United States— states, "New data shows that over the last four years, detention times lengthened as the number of children held at the border soared to almost half a million." In detentions, both unaccompanied children and children with their families, peaked in 2019 at over 300,000, with 40 percent held longer than the 72-hour limit set by a patchwork of legislation and a court settlement.
For the last five years, Trump controlled the immigration policy discussion nationally, mainly through lies, and misinformation. As a candidate and as a president, he convinced many Americans that the majority of immigrants from Mexico were undocumented individuals and that there were "terrorist organizations" invading Central America and entering the United States.
Undocumented individuals were portrayed as rapists, murderers, and drug dealers, with Trump stating that immigrants contributed nothing to the American economy. Each claim was entirely wrong.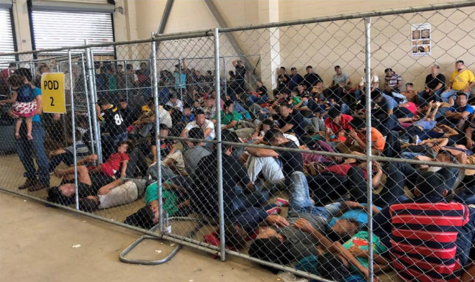 The COVID-19 pandemic brought enormous amounts of change, which dramatically reduced immigration unlike anything seen in years. While the pandemic led to the suspension of many immigration court hearings in admitting them into the U.S. for work, Congress left millions of immigrants and their families already here in American either on the first few years of their visa or on a temporary visa was out of legislative relief, leaving many people struggling to stay afloat in a time of economic uncertainty, resulting in high homelessness, lack of food security and so much more.
Having just recently passed the 100th day of Joe Biden being sworn into office, he dedicated the first few weeks to reshaping the nation's immigration policy. According to Brookings, the new president offered an outline of comprehensive immigration reform by issuing no fewer than eight separate executive actions related to immigration.
Biden's immigration policies are among the most progressive and developed than any other president in past years. As everyone expected him to make a huge change on the hardline policies, inefficiently spent funds, and inhumane endeavors of the most recent predecessor, Biden is not only reversing Trump's policies, but the policies created and put into place by previous presidents. (Brookings).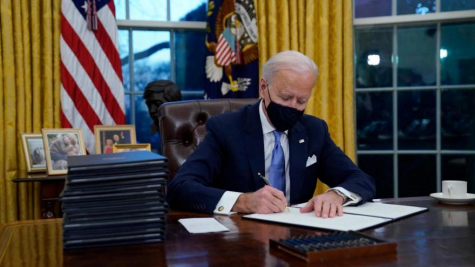 Rikil Poudel was just 11 years old back in 2015 when he came to America from Nepal to achieve the American Dream, which was always described to him as a better lifestyle.
"If you go to America, you are set up to become successful by getting a better education and being provided with new and unique opportunities," Rikil stated. 
While America is seen as a top country from people all over the world, Rikil has yet to really frame his opinion on America as he hasn't viewed the outside world to determine if it really meets the "American dream" so many people seek. America is built for opportunities and experiences but there one thing main thing Rikil and other people from different countries have noticed to be an issue. With American being racially separated and having many issues on inequality, Rikil has seen this to be one of the most detrimental issues surrounding race and ethnicity, as he is a part of  the minority group category. Coming from another country, language barriers and having an accent was always the biggest struggle for Rikil.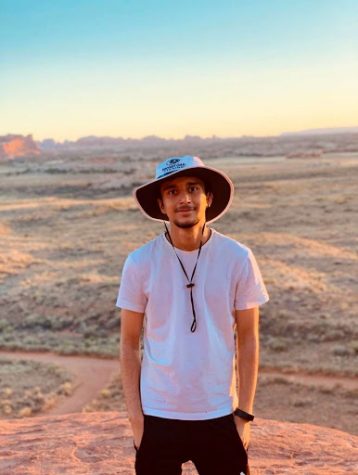 With family still in Nepal, relatives of Rikil's would prefer to come to America but haven't made any plans to do so, as the process is long and draining. While missing many friendships from Nepal and the feeling of security and safety, Rikil has yet to go back to Nepal since he's come to America. 
"You have to look at it through both sides and Americans wish to keep it this beautiful and safe place, while people from other countries just wished to have a better life," said Rikil of current immigration laws. " The immigration process is made to take time to ensure that the people coming will benefit and make America a better place for all." 
Being first generation in his family, Rikil has noticed that being in such a diverse community has allowed him to learn and grow in new ways, from learning from others and teaching others about himself. "When I first came to the states I was very shy and quiet but as the years have gone on, being able to talk to people made me feel welcome and safe with who I was and were I was at in life." Rikil is hopeful that things will get better for generations to come as America develops and becomes more accepting to all people from different countries and different walks of life.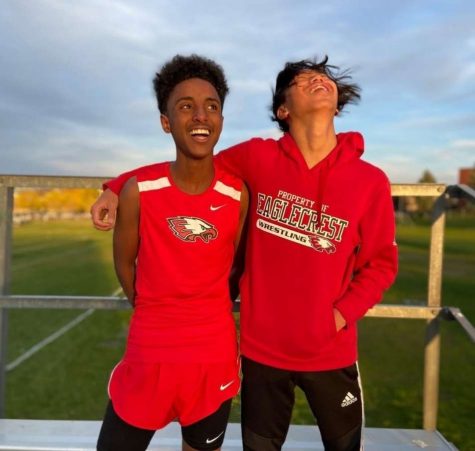 Coming from Ethiopia to America was a major shift in life and holded a different type of experience for Esayas Embayea. Going back every summer since he came here, Esayas has noticed the difference in the American lifestyle he lives on a daily basis compared to the ethiopian lifestyle he once lives. 
"From living in a rural area most of my life where there are no concrete road, electricity and water was sectioned off by days and weeks, only giving us a certain amount, at a time, the american lifestyle is definitely new opportunity, bringing grater advantages for me to become successful" Esayas stated. While his parents did come to America in 1996, Esayas was born and raised in Ethiopia most of his childhood. 
"As  a first generation, I am expected to get a post-secondary education, become successful, stick with my culture, and eventually marry into my culture," said Esayas. The American dream in his parents eyes was always seen as building a life here in America and then to go back to Ethiopia and live an easy life. But the American dream for him was getting here, becoming successful, and living a happy life. 
"You have an opportunity here: use it," is a phrase Esayas's parents express to him often as a first generation.  
"Feeling a sense of community with family that may not be blood relatives and connections with other first generation kids in highschool that have the same struggle." Before coming here, Esayas's parents saw America as a promised land. 
"Personally, I don't know if it has met this expectation since you have to work for everything you get and still may have hardships along the way and lack happiness," Esayas said. "It's not so much of an "American dream" or "promised land", but rather a "reap what you sow" kind of deal. You have to be willing to put in the work to be successful rather than just expecting it from being here."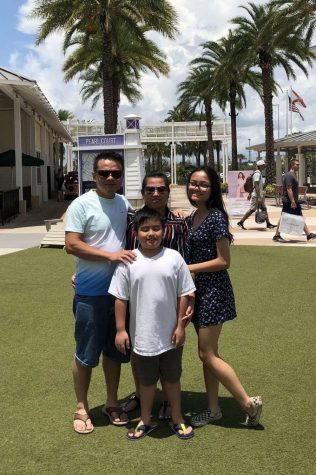 Anh Tran came to America in 2012 from Vietnam, and viewed America as a place of opportunity when she first came here. But throughout the years of living here and traveling back to Vietnam, her whole perspective on America has shifted. Before coming here, Anh's parents viewed America as a country of opportunity and were eager to come here to provide Anh with better opportunities for success.
"A lot has changed my views of America, as I was and still am so used to the culture and way things run in Vietnam compared to here; America is fancy and modern," Anh expressed. "The opportunities that are provided to American born students rather than immigrants and first generations makes it harder and less accessible for us as we have to work on our own as are parents have never been through this."
 As a first generation, Anh's parents hold her to a higher standard with expectations that exceed the average child in America on being successful. 
Cultural communities in America through Anh's eyes show incredible amounts of diversity, but have recently been at a pitfall in America as minority groups are still fighting battles for equality and for an end of violence. Since Anh first came to America, she has seen how different races and ethnicities get treated differently than white americans. She herself was bullied at a young age for her accent, the food she ate, and so many more things that make Anh who she is.
Over this past year Anh has strived to spread her knowledge and life experience on being a young asian women living in America by participating and creating community based events to bring awareness to the recent movement Stop Asian Hate.
From once, having high expectations for America and seeing it as a country with no flaws, Anh believes that "America isn't living up to the "dream" I once thought it was, when we -immigrants and first generation Americans- have to work 10 times harder to get anywhere in life."
As immigrations policies in America are on the move to positive developments, there is still a long way America has to go for citizens from other countries to feel welcomed again. In hopes that these next few years bring peace to the hardships immigrants have faced in the past years, the future is still undetermined. With obstacles having no single solution, a series of integrated paths forward should provide immigrant parents and children with pathways to success and a better life.
About the Writer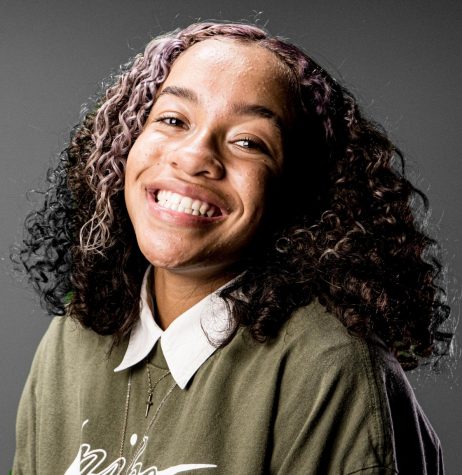 Rhyan Herrera, Reporter
Rhyan Herrera is a 10th grader in her first year of nest network. She is a journalist and will focus on social issues. She is also a varsity softball player.