The Revue: A Reintroduction
11 soloists, 11 songs, 11 shows: this year's performance wasn't your typical musical. Yet, it still held a unique power of its own. Despite being composed of a collection of performances pulled from various productions, the show remained cohesive and enjoyable. The idea for such a unique show likewise has a unique origin story.
"I don't remember how but I was just scrolling through some stuff and I found a video from the National Theatre, where the soloist was singing the song "I'm still here"," said the Revue's Creative Director and co-creator, Stephanie Swenson. "In the song, she keeps saying, 'I'm still here, I have survived it all, and I've been through everything and I'm still here.' And with that line, a light bulb went off in my brain, and the idea took off, and Swenson, along with Coire Geare, who directed the orchestra and arranged the music, 'I've been through all of last year and I'm still here.'" With that spark, the idea of music began to form the line-up of songs, actors, and musicians that would come together for The Broadway Musical Revue.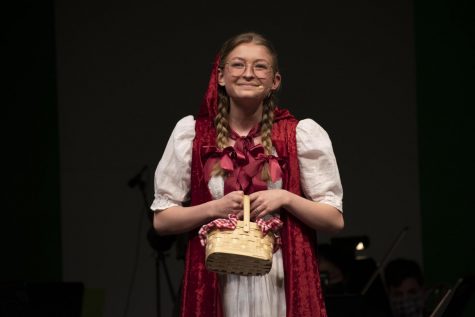 "We wanted to go with a theme of songs that was sort of related to, not necessarily the pandemic itself, but redemption and being heard," said Geare. Not only did they want an assortment of musical numbers tied by a common theme but they wanted it to also be representative of the many different struggles and backgrounds of our community. 
"I tried to find a variety of shows that represented different people from different backgrounds and different shows from different eras," said Swenson. "We all need to see musical theater at its best when it's really stripped down to the essence of storytelling and compelling characters and lifting us up and having empathy with the people on stage. That's what it's all about." The storytelling of The Broadway Revue was absolutely emphasized, and it's what made the performances that much more impressive.
"To me, this show was about showing the world that through trials, we can overcome obstacles. We've all been through so much during this pandemic, and I think most of us can say that through those trials we have grown stronger," said performer Tori Peterson- who sang, the song that initially inspired the show, "I'm Still Here" from the musical Follies. "Every single character that was portrayed had faced some sort of obstacle, and each one showed the audience that anyone can come out of those trials stronger and better. This show was meant to be a beacon of light to others." For many in the audience, the show provided a sort of healing experience –a feeling affected the performers and directors as well. As a performer and musician, Mx. Geare felt a particular joy and relief through the show.
"I haven't performed for an audience in over a year," said Geare. "For me, it's this moment where it's marking the point where things are beginning to go back –to some degree– the way it was before." They explain how not performing for a year has truly made them miss the thrill, the adrenaline rush, and even the threat of little embarrassments that come with performing. And both Swenson and Geare note the importance of the musical for so many Eaglecrest students.
"It's like the highlight of people's year for a lot of people, and I did not want to let that slide. And so I wanted to figure out something we could do that I would be absolutely certain people would be safe doing, but that we could still do something," said Swenson. This year's show was not the traditional musical, but it was something. And that, according to those involved, is what really mattered.
"So many things have been taken away from us that I felt like this was a place where I could use the talents that I have to make sure that this remained and that this wasn't something else that got lost in the noise of the pandemic," said Geare. Of course, there were plenty of differences, yet it was precisely those differences that made this year's show stand out even more.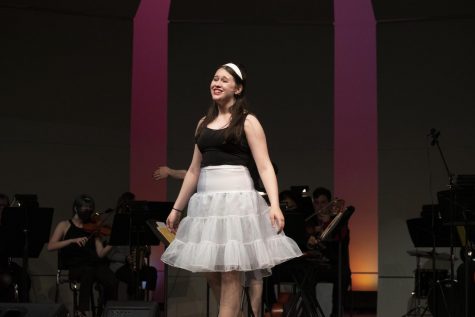 "It was so different this year because the cast size was smaller than it would be on a normal school year," Peterson said. "But this was awesome because it allowed the cast to really grow together." Aside from a smaller cast, there were quite a few tricky technicalities to overcome in order to put the show together. The cast had to rehearse in waves, with four soloists rehearsing for three weeks at a time before rotating to the next group of soloists. Each performer also got their own one-on-one rehearsal times, complete with extra social distancing, COVID symptom checks, and, of course, masks. 
"It was an amazing experience this year to see everyone really put aside a lot of things in order to make sure this could be a reality," Geare said. "I also know how much this meant to some of our kids and our seniors. Everyone kind of came together and were willing to do what was necessary to make it happen." According to Peterson, perseverance is what really brought the show together. Perseverance despite isolation, perseverance despite extra regulations, and perseverance despite the challenging times everyone was attempting to navigate: this shone through in each performance, creating a tangible atmosphere of connection and of mutual understanding within the theater. 
"I would hope that people see the value of live theater again, and really come to treasure it more deeply than they ever have before," said Swenson. The compelling performances certainly helped with that.
From Peterson's stirring opening number of "I'm Still Here" –which speaks of continuing through "good times and bum times"– to William Hnatik's passionate rendition of "Not My Fathers Son" to the cast's joint performance of "Seasons of Love" from Rent, the show was a patchwork of stories that, strung together, told the story of the feelings of loss and sacrifice of the past year. It also gave a glimpse into the very sacrifices that made the show possible.
"There's an element of sacrifice that you make for everything that you do that's worthwhile. And on a personal level, I put a lot into this show to make it happen," Geare said. "And with every single one of the students who participated also, people sacrificed a sense of safety and took risks being here, and people sacrificed time that they would otherwise spend doing homework or taking care of themselves outside of school."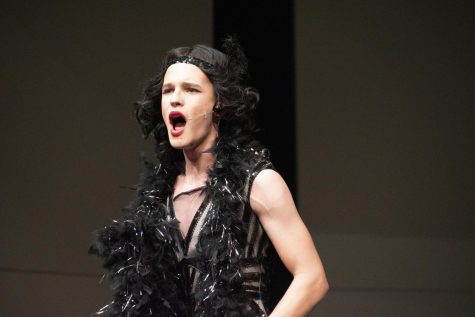 Yet in the same vein, songs like "I Know Things Now", sung by Aspen McCart as Red Riding Hood from Into the Woods, Anton Karabushin's performance of "I Am What I Am", and "I'm Here" by Chelsea Asibbey as Celie from The Color Purple all stood out as messages of resilience, tenacity, and overcoming obstacles and coming out stronger for it. It was a powerful message emphasized by emotionally-charged, relevant performances by a group of undeniably talented students.
"Whether it's a vocalist who didn't think they could hit that high note, or whether it's a first-time actor, seeing them gain that confidence to be able to get on stage and perform and to do it with all their heart and to grow from that first rehearsal to when you see them on their final night of the show is 180 degrees. It's so wild to see the growth," Swenson said. She notes the personal growth that occurs because of the real-world consequences of the show preparation, whether it's learning more personal responsibility, extra empathy, or encouraging others. For her, like many of the cast and crew members, it was a joy to even have a show this year. Yet it was also tinged with sadness. 
"It's a weird thing for me because I did not expect the last time I would be directing a musical, it would be not a true classic musical," said Swenson, who will no longer be teaching at Eaglecrest as a theatre teacher after this year. "And in some ways, that was a little bit heartbreaking but in other ways, there are so many cool different things about this show. I got to work with kids one-on-one in a way that I never usually get to do. And I got to work on a whole bunch of shows that I never thought I would get a chance to work on. So, in one show, I really got to dip my hands into a little bit of 11 different shows."
The medley of shows and solos again provided a unique opportunity, not only for the director, for the audience as well. Like any musical, it allowed the human spirit to shine through, but in this case, the message was amplified because of the variety of backgrounds and variety of stories represented. The final product was one that displayed the power of connection.
"Above all, the audience should take away from our show that they are not alone," Peterson said. "We've all been through "good times and bum times" throughout the past year or so, and we're still here. While the pandemic has changed many of us, it has also brought us closer together as we experience and help each other through hardships." Each of us are human beings, noted Swenson, and we are struggling through many of the same things. Like many challenges presented this past year, The Broadway Revue allowed us to seek out the positives and find growth amid despair.
 "I think that's something that everyone has really started to see really clearly in the last year," said Swenson. "And I hope that this gave the audience a tangible way to grasp on to that feeling."
Leave a Comment
About the Writer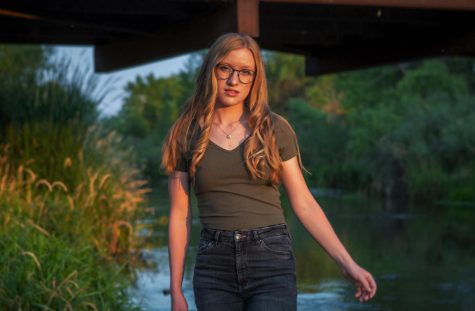 Simone Beauchamp, Editor in Chief
Simone Beauchamp is a Senior at Eaglecrest and, as she will let you know, she graduated from Challenge Middle School. She has many talents - photography,...