Coach Green: Mentor, Friend, and Legacy
Remembering and celebrating the incredible life of one of Eaglecrest's founders, teachers, coaches, and leaders.
The name John Green carries considerable weight at Eaglecrest. A part of our community since the very beginning of the school, Coach Green was integral to the Eaglecrest track and field team as well as the entire district. The week of  March 21, Mr. Green, unfortunately, passed away at 69 years old after 5 years of living with colon cancer. More than an inductee into the Eaglecrest Hall of Fame, Green was an unforgettable presence.
"When you talk about Coach Green, you talk about a friend and a mentor to me and a lot of people," said Stan Adams, a P.E. and Health teacher who has known Green for over 30 years. "He was a man of integrity and honor. And he was very humble. He cared about others and had a good sense of humor."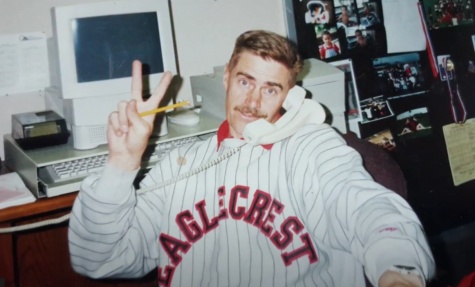 Green was someone who excelled in any position, according to assistant principal and former track and field coach, Jim Roome, and current head boys track and field coach, Thomas Southall, both of whom worked alongside Green for around three decades. 
"He was born and raised in a small town in Nebraska, and I think he brought that small-town feeling," Southall said. "I think one of his greatest additions to the Eaglecrest community was helping to foster that tight-knit community, and setting the traditions." The Snickers Invitational meet, an inter-team tradition that Eaglecrest track and field holds each year –in which the prizes are Snickers bars– was one such tradition begun by Green that has held on to this day.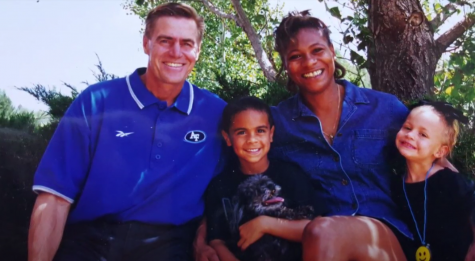 Beyond being a notable head track and field coach at Eaglecrest, Green held positions as a science teacher, dean, and athletic director at Eaglecrest, and as the CCSD athletic director for over 16 years. The husband of current CHSAA Commissioner Rhonda Blanford-Green, Mr. Green also worked for USA Track and Field as Men's Development Committee chair and Heptathlon/Decathlon Development Committee chair. And Green's administrative and coaching expertise came from experience: he was an accomplished athlete himself.
"He played for the Green Bay Packers- when the Packers originally were really this awesome team. And then he played for the Broncos for a time as well," Roome explained. "He was also right on the cusp of becoming a decathlete for the United States in the 1980 Olympics, but that was the Olympics that were boycotted." Despite his lengthy list of accomplishments, Green is consistently described as humble and incredibly giving, and his strength of character is what truly stood out to everyone he met.
"Here at Eaglecrest, we had a distance runner, Tara Mendoza, who was a four-time state champion in the mile, and he would work with athletes like that. And then he would turn around and give as much energy and as much focus and as much love to a kid who might never run in a varsity meet," Roome said. "And that was Coach Green. He took care of everybody." Southall said the same, describing the ease with which Green spoke to high school athletes before speaking with the same ease to an Olympic-caliber athlete a day later. His specialty, according to those who knew him, was a genuine care for his students, athletes, fellow coaches, and friends.
"He always put full effort into everyone he had met. I only got to spend a year with him but he truly made me a better runner and person," said former Eaglecrest track runner Tatianna Dixon. She described him not only as a mentor but as a friend –someone she could go to for advice or just to talk to. 
"One of my favorite memories is when we were doing the Cold Stone fundraiser and all the coaches had to do the ice cream scooping," detailed Dixon. "All I just remembered is Coach Green dancing and singing while struggling to scoop the ice cream in the cup. He had everyone cracking up and he was just enjoying the moment." Coach Green, according to both coaches and athletes, could always lighten a moment and make –or take– a joke. He was able to build a team and a community among kids and adults alike with infectious and inspiring positivity and perseverance. And his generosity knew no bounds.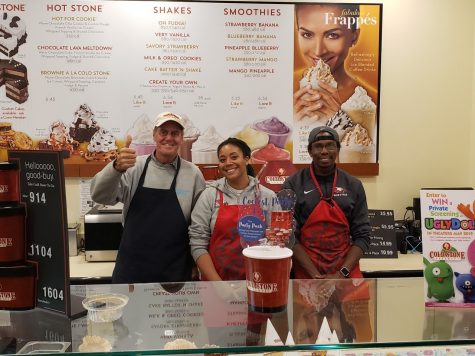 "He'll take his coat off him and he'll loan it to the athletes. He's taken off his shoes so a kid could wear them in practice –if they were the same size," Southall said. "So he literally would give up himself to help other people….he was probably the most giving person I'd ever met and worked with." Often described as selfless, Green was someone who did his best to help others learn and improve. 
"He came in and made us the best versions of ourselves," Dixon said. She calls him "an OG," an apt description because of his sheer expertise and knowledge, which was a bottomless tap that he was seemingly always willing to share. 
"Coach Green was probably one of the most knowledgeable track coaches, definitely in the state of Colorado and probably in the country," Southall said, a statement echoed threefold by Adams, Roome, and Dixon. Coupled with his knowledgeability was Green's notable work ethic, adding to his effectiveness as a leader.
"He was one of the hardest workers. He'd be the first one at practice, fixing hurdles, shoveling sand, whatever it took. He was usually the first one there and the last one to leave," said Southall. Green was everything one could hope for in a coach, an administrator, and a friend: Knowledgeable, hard-working, caring, and funny. Nearly everyone he interacted with seems to have a memorable story associated with Coach Green, from his fashion sense to his choice of transportation. 
"He had an old Ford truck that was a 1969 Chevy and the paint was coming off. He would take the pole vault poles and he would kind of bungee cord them onto the side of the truck and drive the track meets," Adams said. "And that truck was kind of iconic; Of course, he could have bought a new truck, but he liked it. He called it "top truck" and everyone knew that truck…he was loyal to that truck like he was loyal to a lot of his colleagues and athletes." 
Southall too recalls "Top Truck", explaining that Green would bring his own pole vault stands to stadiums so that his athlete Pat Manson, the state record holder for pole vault who just recently lost his title to his own son, could vault higher than the standard stadium stands would allow for. It was a testament to his dedication to his athletes, explained Southall. Southall, whose son was part of the Little Raptors program at Eaglecrest alongside Green's son, describes a long legacy of fun and friendship with Coach Green. 
"He a found a tail of…I don't know if it was a squirrel or a fox, but he found it somewhere around the school, and he just hooked that onto the back of his baseball cap and wore it like a raccoon hat that Daniel Boone or a pioneer would have. And so he's walking around the practice with an animal tail sticking out of his hat," Southall said. It's an unforgettable story of an unforgettable man. Green, from the very start of Eaglecrest itself, was an inextricable influence on its students and staff.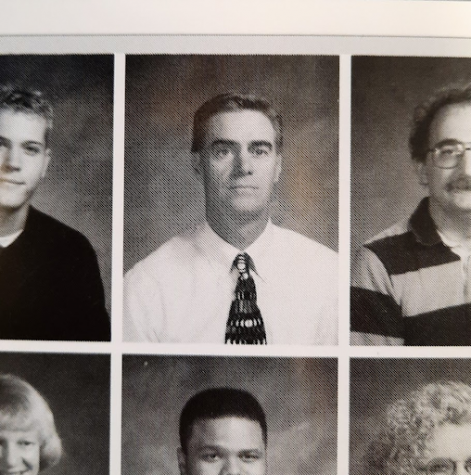 "He was a mentor for an awful lot of us," said Roome simply. A mentor,  teacher, a coach, an accomplished athlete, and an excellent administrator: Coach Green was all of these, and made room for each student, athlete, coach, friend, and even stranger in his life. 
"Coach is someone that will be missed dearly, but he'll never be forgotten just because of the connections he had with people and kids," Adams said. "If you met him, you would remember him. And you'd want to remember him because he was a great guy." Able to step up into the spotlight as well as blend into the background, according to Southall, Green was a driving force in every position he held and in every life he touched. 
"If the term 'larger than life' makes sense to you," said Roome. "That was Coach Green."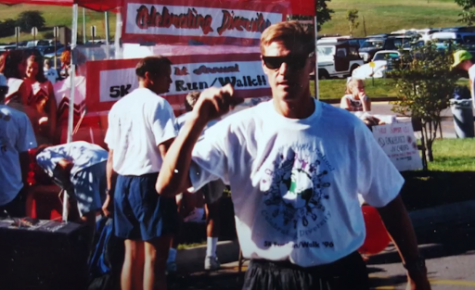 View Comments (1)
About the Writer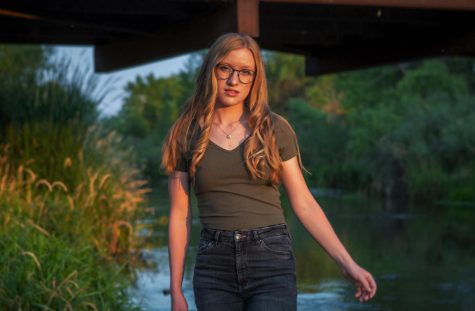 Simone Beauchamp, Editor in Chief
Simone Beauchamp is a Senior at Eaglecrest and, as she will let you know, she graduated from Challenge Middle School. She has many talents - photography,...