An Explorer and a Teacher
Nalini Jewett shares her story and her love for traveling.
Sometimes, we as students tend to believe that teachers have no life outside of school, and their classrooms are where they live. However, it turns out that teachers do have their own life, and occasionally, it's much more interesting than students' lives. Nalini Jewett, an English Language Support (ELS) teacher at Eaglecrest is one of the many teachers that prove students' beliefs wrong.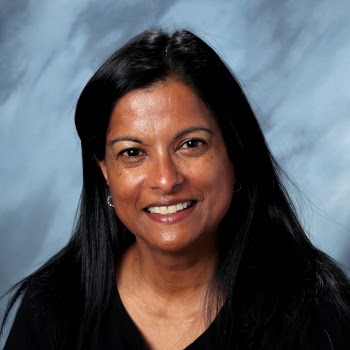 For now, a big part of her life is teaching for the Eaglecrest's ELS program. The English Language Support program at Eaglecrest is a program designed to help students who don't speak English as a first language to learn English. The program used to be called English as Second Language (ESL), but now for many of the students in the program, English for them isn't their second language. It could range from being their third language to their sixth language that they are learning. 
As an ELS teacher, she helps students ranging from freshmen to seniors learn English. The students are also known as the English Language Learners (ELL). This class isn't like the typical English class most students take. Instead, the class consists of students who are from all over the world who are learning how to improve their fluency in English. 
"I love my job. I feel like I teach in a mini-United Nations because we have students from all over the world," said Jewett. She enjoys learning about the different cultures that her students bring to the classroom. She loves working with high school students more than at any other grade.
Jewett herself is not originally from the United States and understands the challenges of learning English as a non-native speaker. She was born in India, and her parents adopted her. She moved to the States when she was five years old. When she grew up learning English, there weren't any stable ELS programs to support her learning, so instead of going to programs to help her learn the language, she learned English through watching Sesame Street. Because Jewett was young, she was able to pick up the language much easier.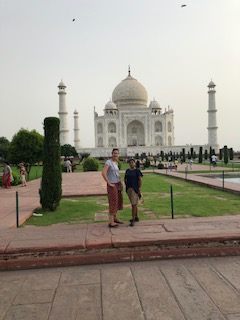 Jewett decided to choose to teach ELS as a career because she was someone who first-handedly experienced the struggle of learning English. When Jewett went back to India for high school, she had met a teacher from New York who went to India to run the ELS program there. Jewett implored him to teach her Spanish, and he did end up being her Spanish teacher while continuing his work in the program. By the time Jewett was a junior in high school, she knew she wanted to be an ELS teacher. Jewett also taught Spanish Levels I and II at EHS for some time before becoming an ELS teacher. In the end, her teacher had a big influence on her because she ended up going on the same career path as him.
There was only one thing that Jewett regretted when she was learning a new language. "A teacher told my parents to only speak English at home," Jewett said. "The biggest mistake that they ever made was listening to the teacher." Because her parents took the teacher's advice and only spoke English at home, Jewett, unfortunately, lost her native tongue. 
"It's really embarrassing when I go to Indian cultural events, and I don't know my own national language. It's sad because it's part of your culture and heritage," said Jewett. Jewett finds it embarrassing when she is part of a conversation because when they are speaking in Hindi, they have to switch over to English so that she can participate in the conversation. This event in her life inspired her to encourage her students to keep their native tongue. She believes that if students are strong in their first language, then learning another language will be much easier. It's also important for Jewett that her students are literate in both their native tongue and English. Some of the things she encourages her students to do are to read books in their native language and write to their friends and family in their mother country with their native tongue.
Along with teaching, Jewett has a passion for traveling. She also loves being able to tell her students that she has been to their mother country and experienced their culture. She has been to India, Australia, Mexico, Japan, all over Europe – just to name a few. Throughout her travels, she has learned quite a few things. She learned that a smile goes a long way and that there are more good in the world than there are bad.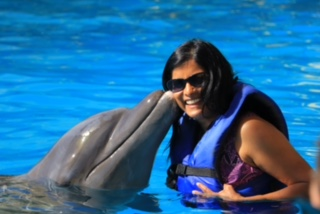 One of her favorite trips was to New Zealand. Lord Of The Rings was filmed in New Zealand so Jewett was able to visit Hobbiton, the place where the Hobbits lived in the movie. "I loved going there and I loved just seeing where the Hobbits lived," Jewett said.
During her visit to Hobbiton, Jewett states that she "met three random strangers on a bus in the middle of New Zealand, in this tiny town, who happened to know [her] cousin's wife because she's their boss. That's how small the world can be." This small event was shocking and made her trip memorable. 
Another memorable trip for Jewett was when she got a job off the internet to teach in São Paulo, Brazil. "I was scared half to death because I left everything. I sold my car, got rid of my apartment, gave my cat to my brother. And packed my bags and took a leap of faith and everything was gonna work out and it did," said Jewett. "I would do it all over again." In the end, everything did work out for her, and it was a remarkable experience. Jewett uses this story to encourage her students to do things they are afraid of.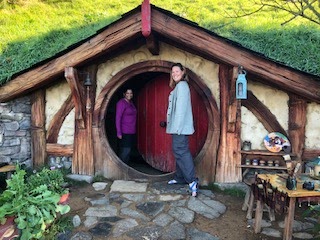 Jewett's students can learn a lot from her travel stories, but throughout her teaching career, Jewett learned many different things from her students. Her students are her source of inspiration and motivation. If she could give one piece of advice to her students it would be for her students to travel. "Go out and see the world. You think the world is a big scary place, but once you start traveling you realize it's really a small fun place," Jewett said. "If there's a will, there's a way." 
Jewett experienced what the statement "if there's a will, there's a way" really meant. When Jewett began her teaching career, she knew she wanted to travel, but she didn't have enough money. "I had the opportunity to join this program in which I could take students around the world. They didn't pay me, but I got to travel for 'free.' Everything was paid for, but I worked my butt off for that. It was a lot of work when you're taking teenagers traveling," said Jewett. Even though it was a lot of work, Jewett decided to do this program because it was something she wanted to do and was able to travel for free. 
Jewett's students also prove the statement to be true. She is proud of her students because they have a strong will to learn a new language. She admires their courage and strength that her students have when it comes to learning English. Jewett already knows that it's hard to learn another language and that it's even more difficult for them to learn due to the situation COVID-19 had implanted. 
"Not one of my students ever said 'I quit' or 'I can't do this'. They just persevere. They keep going," said Jewett. For future ELS teachers, she encourages them to make connections with the students because they aren't just teaching English. "You are advocating for their rights to equal educational opportunities across the curriculum," said Jewett. 
Jewett continues to love her job and shares her travel stories to make class a little bit more fun. She has learned so much from her students and continues to learn from them every single day. Likewise, many people can learn from Jewett's story. Whether that's being a little braver or just being spontaneous in life, her story is truly inspiring.
About the Writer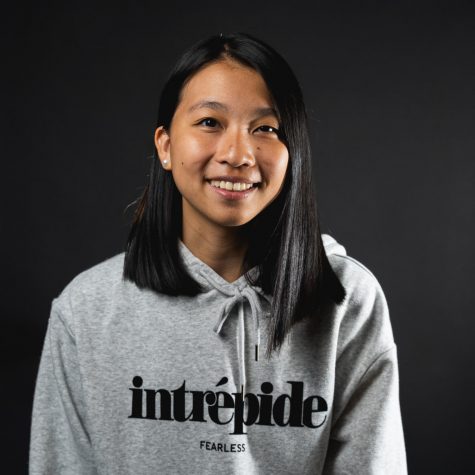 Crystal Li, Reporter



Crystal Li is a junior at EHS, returning for her second year on the Nest Network staff. In this class, she enjoys writing feature stories and interacting...