On the Frontlines
A close look at the pandemic and the people protecting us from it.
There are people who, even in the midst of the pandemic, go to work every day, risking their own health for others. These are our frontline workers -a term which encompasses all those who must remain working despite the pandemic because their work is on the frontline or otherwise essential. These individuals have been working overtime since March by helping those who need it while simultaneously putting their own health at risk. 
"It's pretty much pure craziness,"  said Katherine Cohrs, a registered nurse at the University of Colorado Anschutz Medical Campus, describing her experience working during the pandemic. "For a while there, we weren't getting beds in the hospital, so we had 30 patients sitting down in the ER just waiting for their rooms." With the sheer number of cases and people who need medical help right now, frontline worker's work has been critical in the past nine months, especially considering that there really isn't anyone else who can take over for our doctors and nurses. But the relentless pace of the pandemic has taken its toll on them. 
"Doctors and nurses face tremendous pressure. They are getting sick, dealing with mental health issues, and trying to protect patients and family members alike," Mr. Proctor, an Eaglecrest English teacher, said. "We owe them so much for all they are doing." His spouse is one of those doctors and as such, he sees the pandemic from a unique, firsthand perspective. He is not alone, however, in his concerns for them.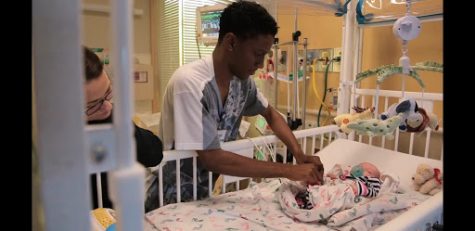 "Frontline workers have definitely gone through great lengths to aid the community to the best of their abilities," said junior Donci Kanyinda, who is currently an intern at the Children's Hospital Colorado. "For one, the staff at Children's Hospital have all been working ridiculous hours and putting their own health and wellbeing behind them in order to secure our prolong our own health." Although he and his fellow interns aren't allowed into the hospital as frequently due to the pandemic, he has noticed some significant changes the hospital has made to adapt to the pandemic and consequent influx of patients, particularly a redesign of the Intensive Care Unit to accommodate COVID patients. Hospitals and their employees have already done so much to adapt to the pandemic, but that's not to say it's been easy. 
"It's really hard for us to keep doing what we're doing for such an extended amount of time. We're doing what we love, so we keep doing it. But it's getting harder to keep doing it at this pace," Cohrs said. Considering the fact that no one can accurately predict exactly when the virus will ease up or a vaccine will become widely available, the pace frontline workers are working at may not be sustainable. While vaccines may be on track to be distributed to the public, there still isn't a sure answer to when the pandemic will end or when the pressure on our medical system and frontline workers will let up. The entire system is, in essence, overworked and overwhelmed, without a definite end in sight. 
For the frontlines, along with the entire community, COVID-19 is something all of us are tired of hearing about. It has taken over our lives for over nine months and now has come back with a vengeance in a so-called second wave. Yet however tired we may be of seeing COVID in the news and in our lives, COVID fatigue itself might be a significant factor in the recent rise in case numbers. 
"I think COVID fatigue has set in and in the past few months people have been less careful," said Dr. Leslie Proctor, a physician who specializes in Internal Medicine at St. Joseph Hospital in Denver. She notes that Colorado has been better than some states about adhering to COVID precautions. But the state has still seen an increase in cases since the beginning of November -which has a fairly straightforward explanation.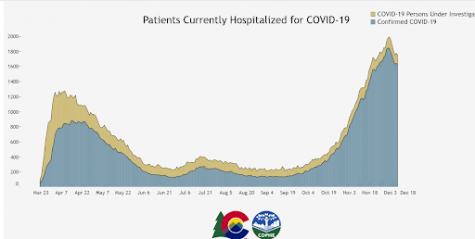 "What we saw in November, it was actually the result of Halloween," said Cohrs. "And so I think that we'll see a big wave in two weeks after Thanksgiving and I'm sure we'll see one after Christmas too." Thus, as we head into the holiday season, we are urged to remain vigilant about keeping up with preventative measures, if only to help out our frontline workers. 
The recent "second wave" has put additional strain on the already overworked frontline and essential workers, particularly first responders and those in the medical field. The strain on hospitals and frontline workers in general is causing larger issues as well, including a lack of resources. 
"We still do not have adequate PPE," Dr. Proctor said. "The supply is much better than it was because not too long ago we could only get an N95 if the patient was undergoing some types of procedures when we were seeing them. At my hospital, we can easily make more beds for more patients, but we can not easily get new doctors and nurses to take care of these patients, and that is the real scarce resource." Cohrs, too, noted how understaffed hospitals are right now, and how much that could become an issue, particularly as we head into not only the holiday season but also flu season.
"We've been doing this for the past eight or nine months now and we're understaffed. So, when you hear stuff on the news telling you to stay home and wear masks and wash your hands: listen," Cohrs urges. The safety measures that we have been hearing about for the past nine months are, in fact, helpful in preventing the spread of COVID, according to national and local data –and it may be helping reduce the severity of our flu season as well.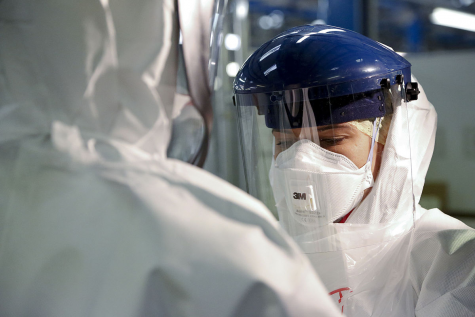 "I think a lot of people are a lot more willing to get the flu vaccine this year. Because that is something that they can do. You know, with COVID there's not a lot that they can do to prevent themselves from catching it, but with the flu they can," Ms. Cohrs said. While there is some controversy over whether to get the flu vaccine this year, both Kanyinda and Cohrs recommend it. Not only does it give an individual some sense of control over their own health –a feeling which carries much more weight in this time of uncertainty– but like any other year, it may be a beneficial preventative measure. Getting vaccinated isn't the only thing helping to keep flu numbers nearly non-existent, though. 
"In Australia, -who has their flu season during our summer- their flu season was nearly non-existent due to mask-wearing and social distancing," said Dr. Proctor. A study entitled Decreased Influenza Activity During the COVID-19 Pandemic, published by the CDC on September 18, essentially upheld this conclusion, outlining the lack of flu cases in the Southern Hemisphere during the summer and noting a potential connection to increased precautions for COVID-19. 
So while we may still be coping with the COVID-19 pandemic, it seems that, at the very least, we can be optimistic that we will have a mild flu season this year –that is, if we continue wearing our masks, social distancing, and getting vaccinated, according to Cohrs and the study. 
Flu season is not the only concern we've encountered during the pandemic, however. Inequality of access and general inequity between different populations has become startlingly apparent.
"Something that they don't talk about in the media and I really wish that they would focus on more is a lot of the poverty that's associated with [the pandemic]," Cohrs said. "What happens a lot is people who are day laborers, or people who can't afford to take off work will continue to work when they're symptomatic because they can't deal with the loss of income." Thus, inequalities that have already been present in our society are exacerbated through the pandemic. 
"African American and Latinx populations are impacted more than other populations," said Mr. Proctor. "Taking preventative measures helps individuals and communities." There are many issues of equality and access that we have seen arise as a result of the pandemic. This can be severely problematic -particularly when it leads to loss of life, and it's something Ms. Cohrs encourages us to consider. But the virus itself does not appear to discriminate.
"I think the most important thing for the public to know that this disease can affect different people in very different ways. While some get mild symptoms like a cold, others can get very sick with pneumonia and some will die," Dr. Proctor said. "It is impossible to know for sure which group any one person would be in beforehand, so everyone should do whatever they can to protect themselves and those around them." Since we cannot be certain how COVID may affect us, it becomes more pressing, according to both Dr. Proctor and Ms. Cohrs, to take precautions against the virus. And anything we can do to ease their workload -including taking precautions to reduce the spread- will also ease the strain on hospitals and front line workers. In turn, it will also ease the strain on our community as a whole. 
 Nine months later, nearly everyone now knows someone who contracted COVID, some with better outcomes than others. There are many lives in our very own county that have been lost as a result of the pandemic, and many more cases to come. Both Dr. Proctor and Ms. Cohrs described heart-wrenching cases of COVID within our community. 
Parents, spouses, siblings, and even children have been torn from their families, leaving behind tears and tragedy too close to home. "It's very scary because they're alone. Their family members can't come into the hospital with them if they potentially either have COVID or think they might have COVID," said Ms. Cohrs. "It takes a little piece of your soul every time you're taking care of a patient who is deathly sick and alone. And nobody is safe from this." 
Often, the media talks about the physical toll on frontline workers: the overflowing ERs, the understaffed hospitals, the 20-hour shifts. And while those physical demands are undoubtedly difficult, there is a mental toll that this pandemic has had on all of us –but particularly on frontline workers. They are the ones working every day and taking the most risks, treating the worst cases, and watching as some of the more distressing stories unfold. Again, it's not easy. 
"We are all going through the same thing together. There's not one of us living their best life in quarantine, and we're all struggling," said Cohrs. "I would just tell people to try to be as safe as you possibly can, but also find new and different ways to take care of your mental health at home. And don't be afraid to use a counselor and don't be afraid to call a friend." The emotional expense this pandemic is taking out of us is undeniable for most. Taking care of our mental health -along with physical health- is critical; it keeps patients out of hospitals and safer at home. Yet despite the very grave implications of COVID-19 and its side effects on mental health, flat-out fear can be counterproductive. 
"The endocrinologists, immunologists, and staff at Children's Hospital have made it clear that you should not be afraid," said Kanyinda. "Rather, one should try to be informed about the nations' current situation and how COVID is evolving. Fear and worry lead to panic and uneducated decisions, so the best we could do is to not be worried but to be informed." Understandably, it can be difficult to not feel afraid in such uncertain, strained times. But the best thing to combat feelings of helplessness and fear, it seems, is to keep yourself informed, aware and safe. In turn, this once again helps out our frontline workers. 
"The best thing the public can do to help hospital workers is to stay out of the hospital if they can. That can be done by not getting sick," said Dr. Proctor. "But people should also not delay care if they need it as that can make problems worse," she adds. It's well established that hospitals across the country -even across the world- are overworked, as are their staffs. And keeping up our physical and mental health is something that our community has control over, something that we can do something about. 
"Everyone needs to wear masks, wash hands, and stay socially distant. Quarantine fatigue is real, but we need to remember that the more we are careful, the better our situation will be." Mr. Proctor said. And if you are concerned you may have COVID, Ms. Cohrs has a couple of suggestions. 
She recommends virtual doctor visits, which you can set up online so you can speak directly to your doctor and your doctor can order you an outpatient COVID test. Additionally, there are COVID testing sites set up at various public places. The closest one to Eaglecrest is on the other side of Thunderridge in the parking lot of the Instructional Support Facility, offering quick, fairly painless COVID tests which are a great resource if you're worried you may have been exposed.
"Another good thing that I would recommend for people to do is to buy a pulse oximeter," said Ms. Cohrs. "You can get them on Amazon, and they're less than 20 bucks. That way you can monitor your oxygen level at home." Oxygen levels are a good indicator of whether you have COVID, so if your oxygen levels do drop too low, it could be an indicator that you need to see a medical professional. And when uncertain about whether you're experiencing COVID symptoms, Ms. Cohrs says it's best to be safe and quarantine as much as possible until you can be sure that you aren't COVID positive. 
One of the themes of the past nine months seems to be uncertainty. And though we are learning to adapt, it can still be challenging. At the moment, we as a global community still do not know for certain the long-term effects of this virus. And that, compiled with the shortage of staff and supplies in many places, is a recipe for greater problems, pain, and uncertainty. Doctors and nurses, EMTs and first responders, and so many other essential workers are putting their own lives at risk in order to keep our community safe: a fact we cannot overlook. 
"Without our teachers, nurses, doctors, delivery workers, and all essential workers, the transition into a pandemic environment would have been intolerable," said Kanyinda. According to some of those frontline and hospital workers, the best way to support them is to stay safe and, quite honestly, to stay out of their hospitals. 
Recognizing them in other ways can be meaningful as well, whether that's a sign in your yard or merely a thank you to any frontline or essential workers -nurses, doctors, paramedics, first responders, teachers, delivery people, and so many more. "Every time somebody tells me 'thank you', it helps," said Cohrs. "That means the world to us, just to know that as hard as we're working, there are people who care."
Leave a Comment
About the Writer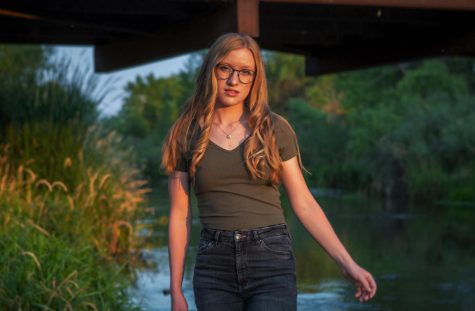 Simone Beauchamp, Editor in Chief
Simone Beauchamp is a Senior at Eaglecrest and, as she will let you know, she graduated from Challenge Middle School. She has many talents - photography,...