Lucas Fadem: Tennis at the Nest
The boys' 2020 tennis season is over after a loss at regionals on Wednesday, September 16th. "I feel like I could have done a little bit better at regionals, but I was satisfied with the positive mindset my team had at the end of the season," Lucas Fadem, a junior at EHS and three-year varsity tennis player, said about his experience playing tennis this fall. Although they did not make it to state, "the team's still learning," said Fadem. "We're just trying to work out a few kinks but actually we have the chance to be really good."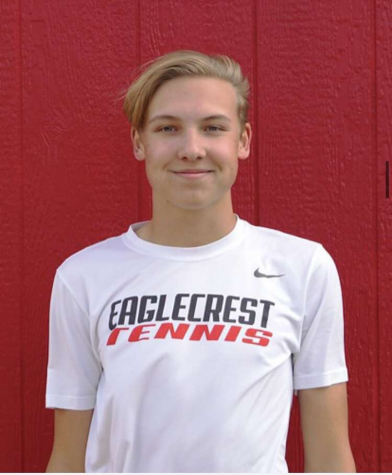 Sports are a fundamental part of the culture at Eaglecrest. As a school and a community, we value strong relationships between teammates and coaches, as well as working hard to perform at matches, games, and competitions.  
"The coaches are dedicated and strive to make sure that the players are sound not only one personal levels, but also in the sport. Regarding the players, I could not be more honored to have a team that is as tightly knit as ours. We recognize our differences, embrace diversity, and ensure the well being of one another," added Fadem.
When it came to this season, the coronavirus had a major impact on all sports. In tennis, "there was a lot more time spent on checking temperatures and making sure that [players] didn't have any symptoms… And it was a lot more expensive too because it required more tennis balls,  since each person had to have their own set of balls for every match, so it was expensive and it was just more time spent." This loss of practice time also had a large impact on their performance at matches this season, according to Lucas. And even though there were major setbacks this year, his love for the sport persists. 
He started out playing tennis when he was nine years old because of his mom, who also played when she was younger. She did not have a private coach, so she wanted Lucas to have "more opportunity than she did in the sport." Because of her similar experiences growing up playing tennis, Lucas says that his mom is his biggest supporter, "because she used to play tennis and she understands… how it works and stuff. She's [always] there."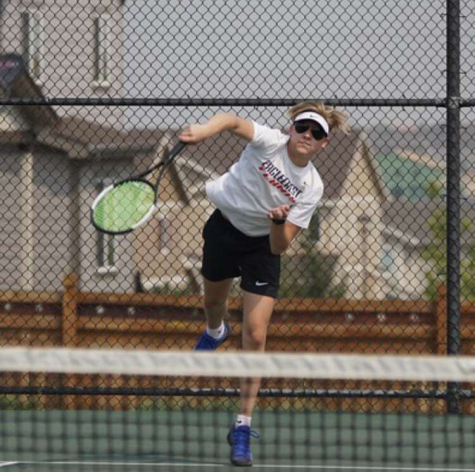 His biggest inspiration as a professional tennis player is Serena Williams, "because she had a really hard time growing up like she didn't have as many luxuries that we have nowadays and just the fact that she was able to become successful even with a really hard like upbringing is really impressive." A close second is Roger Federer.
In Lucas' tennis career so far, his biggest accomplishment is making varsity all three of the years that he's played for Eaglecrest. His goal for his senior season is to make singles, which consists of the top three varsity players on our team. A challenge for him is staying active with tennis during the off season. "I don't play as much as I would like to, so I think it's hard to keep the same skills and the same habits throughout [the year]."
Tennis can be played one-on-one, called singles, or in partners, called doubles. Fadem enjoys doubles because he has more experience playing it, and "because you have somebody else there with you, and if you're in the wrong headspace it's good to cheer each other up." Everyone can find a place for themselves in tennis, whether they enjoy team or individual sports, because there are aspects of both. 
"I like tennis because it offers time for me to get exercise, meet new people, and distract my mind from anxiety," says Lucas. As the team wraps up the 2020 season, they have a strong foundation for future years. We're excited to see what's in store for EHS tennis and Lucas' final season with us.
About the Writer
Trisha Balani, Reporter
Trisha is a sophomore at EHS and this is her first year on Nest Network. She enjoys tennis, speech and debate, and spending time with friends and family.