Ap Online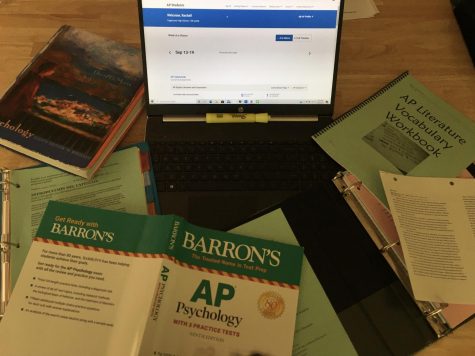 For many students returning to Eaglecrest High School for the 2020-2021 school year, each day has been taken with a grain of salt. Due to the ever menacing presence of coronavirus, our school has been forced to adopt a blended schedule, hosting two days of in-school education while maintaining virtual learning the other three days of the week. 
Teachers are working around the clock to offer as much support as they can, providing office hours to students with questions, implementing a prolonged grace period for students to adjust, and some even taking a few minutes in class to check up on their students' physical and mental well-being. 
And yet despite the extra coddling we as students have been bestowed thus far, the average student here at Eaglecrest feels more stressed and worried this year than any year before. And what better to serve as the cherry on top of a school year in the unknown than the never ending pressures of AP classes.
Last year's abrupt switch to online schooling induced a drastic shift in the world of AP, throwing many students into a testing environment they neither expected nor prepared for. And though we would all like to keep an open mind, the possibility for the same methods to be implemented this year, are very real.
But with a better understanding of what might be to come, many students taking AP classes feel they are better equipped to prepare themselves for whatever testing format they meet in May.
Juliette Sabre, a senior here at Eaglecrest, says, "Make sure you get all your assignments in on time. Because we see our teachers so much less, you need to make sure you're understanding the class content during remote learning. Go to office hours and don't be afraid to ask questions in class or ask other students. Don't stress out too much over any one thing or class. Work hard in and outside of class but don't be afraid to do what you need to do to keep yourself afloat."
"The key tip is really to not procrastinate," says Krirana Preeyanphanich, another senior here, "Always stay on top of your work, especially because of the limited time you have to learn the mass workload and content you need to prepare for the AP test."
"Learn to say no. Don't be dumb and decide to take six plus APs and be in honors societies and do volunteer work all at once," says Tiffany Li, " One bad grade isn't gonna kill you in the future. Be sure to take breaks when you're studying and make time for your mental health."
Many other AP students have taken it upon themselves to form study groups, watch course lectures online, and even divide their schedules between remote days, dedicating good work time to one or two AP classes, as opposed to doing them all at once. The college board website has also offered various resources to aid the understanding of the way AP is running itself this year and is even helping seniors figure out the best classes to take for their intended career path.
But what most students here at Eaglecrest really live by in these times of pressure and uncertainty is that we're all just doing our best. Nobody knows what the future will hold or how things will turn out for this year or beyond. But we do know that we are diligent, we are strong, and we have each other. 
In times of adversity, our raptor nation can persist, even if we're only together for two days of the week.