Unified Football Wins State
The team took home the title for Eaglecrest with the support of staff and administration.
Unified Football won state for the Raptors this winter. They won the title for the sport with hard work and dedication to the team. 
"It's kind of too good to be true, because our team has had to work hard through adversity, but we pushed through it and then we won," Lucas Ingrahm said. "It's a great time to see those kids happy. I think our relationship is like a family. We're just really close."
Lucas and his brother, Jake, have been crucial members of the Unified program at Eaglecrest. Last year they both received the Golden Heart for their involvement in the program. 
"I've been involved with [Unified] since I was in fifth grade. And it's a community. It's really fun just seeing those kids and they're just having fun. It really honestly just puts a big smile on your face, watching them just have fun," Jake Ingrahm said. "It's just amazing to watch, and they're such good players. People think they're probably not that good when they really are talented."
Kelly Zimmerman is a Unified sports coach and student achievement services (SAS) teacher. She is excited to see the growth that has happened in the past few years and the growth that she sees could happen in the future. 
"It was really cool to be able to see that growth in their skill sets over the past few years or even the new students doing it. I hope that we can continue to increase how many Unified sports we offer, but also how many partners we get," Zimmerman said. "Everybody who's been involved in Unified has left with a wonderful experience. So it's just great to be able to share that with people."
The administration was very excited when they heard the news that Unified Football won the big game. Activities directors, athletic directors, and assistant principals spoke very highly of the team.
"I would describe [the win] as inspiring. It's special. It's moving. Those kids give it their all out there. It's really neat to see their partners here at Eaglecrest working with them. The games are a lot of fun they're high energy, especially their bigger games," Melissa Laferrara said. "I finally see [the program] coming around. It has a name for itself and [students] want to be a part of it. It's definitely evolved over the years and I hope it continues to do that."
Unified sports and activities are growing and Raptors are excited about generating opportunities for a group of people.
"I think it's about creating opportunities for kids, you know and I think that's the best thing we can do is, and Kelly Zimmerman does such a fantastic job about creating those opportunities for kids," Vincent Orlando said. "It's really enjoyable seeing those kids have success at hand and being able to participate in every way possible."
Jim Roome is another face making success possible for the Unified program. He is the administrative liaison to SAS. He loves the support and respects the student body has for Unified sports.
"The fact that there are things about our school that I'm so proud of. When you get into that gymnasium you have 3100 different views of the world," Roome said. "And we can be pin-drop silent. When we have students who have special needs, in this case, and we can be absolutely silent. And we can hear what's going on."
Eaglecrest is proud to have this program and is excited to see growth.
About the Writer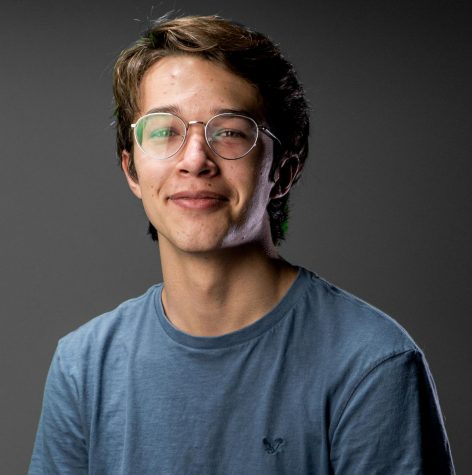 Jeremy Garza, Editor in Chief
Jeremy Garza is returning to Nest Network for his second year. He was Written Content Editor last year and is excited to be back as Editor in Chief his...