Hirsch's Hobby: Training Service Dogs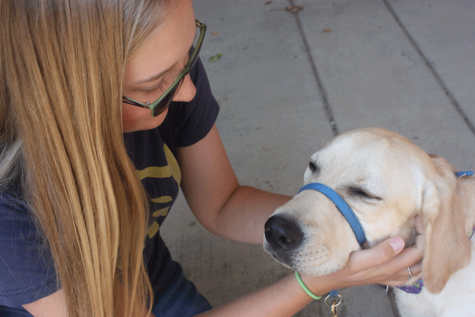 Half-asleep in their first hour class, a student feels something brush across their leg. A sharp scuffle erupts from underneath their desk. For only a moment, they are alarmed, but a quick glance at the floor reveals there is no reason to be afraid.
    Heidi VIII, a retriever puppy at the age of nine months old, is scratching at the blue leash wrapped around her snout. Her yellow and blue clad harness tells anyone curious that she is part of a "Volunteer Puppy Raising Program." She is one of many dogs like her bred to be trained for services. Heidi is being co-trained by two families in the program, and one of those is the family of junior Kendra Hirsch.
    In order to train Heidi at school, Hirsch "needed to have the backing of an established service dog training organization,"  Assistant Principal Jim Roome said, "she needed to have a plan for getting Heidi home should the need arise, she needed to work with her teachers to see that there were not issues which would prevent Heidi from being in the class, and [Hirsch] needed to meet with me to discuss her training and preparation for training a service dog."
    Kendra Hirsch has been training dogs since she was six months old, and has grown up raising them. Heidi VIII is the thirteenth dog Hirsch has trained through the Canine Companions for Independence, also known as CCI, a nonprofit organization which provides assistance dogs for all types of training except blindness. The four assistance dogs offered are Service Dogs, Facility Dogs, Skilled Companions, and Hearing Dogs.
    Hirsch admitted that it is odd to be getting so much attention at Heidi's expense, but such attention was expected when she decided to bring her to school. Dogs are popular, and this exposure has been good for Heidi's social development.
    Given that Heidi VIII is only nine months old, right now she knows commands such as "Sit," "Down," "Stay," "(Come) Here," and commands to go to the bathroom. Hirsch will ask teachers before class if she may take Heidi outside during the day, and she will also go outside during lunch or study periods. Eventually, Heidi will learn commands that assist with the cognitively impaired; she will learn how to bring objects such as keys or dropped pencils, or commands to sit on the lap of a wheelchair-bound owner.
    Assistance dogs must be trained differently depending on their purpose. This differentiates them from house pets because they are not intended for impressive tricks, but rather to help their owner. Assistance dogs are discouraged from barking or being overwhelmingly energetic when meeting others.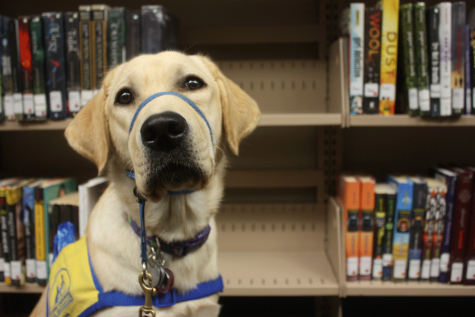 Fortunately, Heidi VIII is very calm, and rarely barks unless she is in her kennel and needs to go to the bathroom. When the fire alarm went off, Heidi was unfazed despite being exposed to such an abrupt new noise. Despite being a well-behaved dog for her age, she still has a cute babyish curiosity leading her to seek out floor-cookies, and she loves to lick people.
    Dogs trained through CCI are picked up at the airport to begin training at eight weeks old and are kept for about eighteen months. In addition to Heidi VIII, Hirsch is also training a ten-week-old back at home. The trainers are not permitted to name the dogs, lest they become too attached, and Heidi VIII came with her name.
    CCI is short on volunteers. To volunteer to train dogs, go to CCI.org for information on signing up and getting a dog to train. It is important to note that CCI does not train dogs from outside their program to be assistance dogs, and they use selectively bred Golden Retrievers, Labrador Retrievers, and crosses of those two breeds. However, donated puppies are accepted if they meet the strict qualification requirements.
Leave a Comment