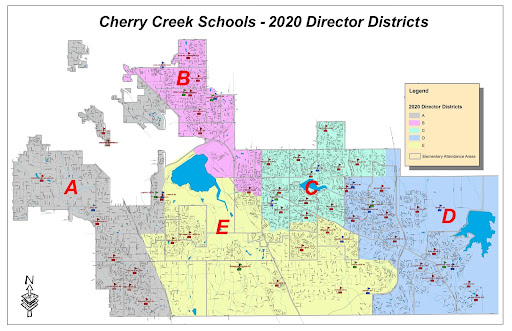 Director, District A (Cherry Creek & Overland)
Steve McKenna is challenging incumbent board member Anne Egan to represent District A, which accounts for about half of Cherry Creek's territory and a small portion of Overland's territory.
Egan was first elected in 2019, and has served roles at various schools across the district since 2000. Her stated goals are to "continue to prioritize the critical mental health policies this District has put into place [and] remain committed to the critical safety and security upgrades in our buildings." 
McKenna is a Navy veteran who previously served as an attorney in the private and public sectors. He is running due to his concerns "about slipping academic performance, safety and
security, and a lack of partnership with parents in our schools." 
Director, District B (Overland & Smoky Hill)
Ruthie Knowles is running uncontested to represent District B. She is set to represent most of Overland's territory and a small portion of Smoky Hill's territory.
Incumbent Janice McDonald will not run for reelection, being term limited after serving her second term.
Director, District C (Smoky Hill, Eaglecrest, & Grandview)
Scott Graves is challenging incumbent Angela Garland to represent District C, which accounts for most of Smoky Hill's territory, about half of Eaglecrest's territory, and a small portion of Grandview's territory.
Districts D and E will be contested in the 2025 election. They are currently represented by Kelly Bates and Kristin Allan, respectively.
Garland was first elected in 2019, and has served various roles within the district since 2011 and previously served on the Omaha Public Library Board in Nebraska from 2002 to 2005. Her stated goals are to "prioritize creating and updating policies that implement, support and uplift our core values, academic excellence, student's pathway to purpose and our newly announced strategic plan.
Graves has been a financial advisor since 2013, and previously was a music teacher in Aurora, JeffCo, and various districts in Texas from 2007 to 2011. His stated goals are "to free teachers to be their best selves and create positive outcomes academically for students" by emphasizing "the  importance of academic achievement, provide a safe and welcoming learning environment for kids, and foster the parent-teacher-student partnerships that are crucial to a child's success. 
Polls for the 2023 election close at 7:00 p.m. on Tuesday, November 7, 2023. You can drop off your ballot at the Smoky Hill Library, Saddle Rock Golf Course, Arapahoe County Fairgrounds, Tallyn's Reach Library, and many other locations throughout Aurora and Centennial. For the full list of locations, visit the Colorado Secretary of State website.