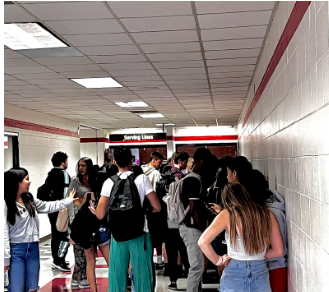 During the 2022 midterm elections, one bill that came up had to do with lunches served during the school day in Colorado schools. Proposition FF promised to help pay for school meals by limiting state tax deductions for those who made more than 300k a year. Those taxes would go directly into paying for lunches for any student who wants food; a taxation that would benefit the youth in need.
The final poll approved the bill with a 55.1% majority, with a solid 1,011,114 saying 'yes, I voted for free lunches.' One junior commented, "With the way the area is controlled, it is surprising that it wasn't more of 65-35% with the way Denver and Boulder control most of the state."
With Denver and Boulder controlling most of the state, it leaves other districts, mainly the valley areas, to be the ones to try and turn the vote in their favor. While it is unclear who voted in which way in those districts, the final count was 55% in favor, so it likely was a mixed result.

At Eaglecrest, many students believe the law is helpful to people who either can't afford school lunch, or those who sometimes don't get to eat meals everyday. Senior Sivan-Dante Jones believes, "The situations people have going on, there are sometimes where people can't get food at home so it's a great idea to have free lunches."
Despite all of the good this law brings, it inevitably brings some bad, and in the case of a law promising free food, that bad takes the form of the long lines it brings to people wanting lunch with no financial restriction. Junior Sam Davenport describes a sort of race to the line, saying "the long lines are a problem if I don't hurry."
Considering that running or 'racing' can put some in danger, especially with the newly crowded halls, it can make lunch either a little or a lot shorter for many students in the middle and back sectors of the school. Regardless of all the ups and downs of proposition FF, it has now passed and kids from elementary, middle, and high schools can now enjoy a free school lunch. Parents of these kids can stop worrying about if they will have enough money for their kid to get lunch, which comes in handy especially in today's economy.