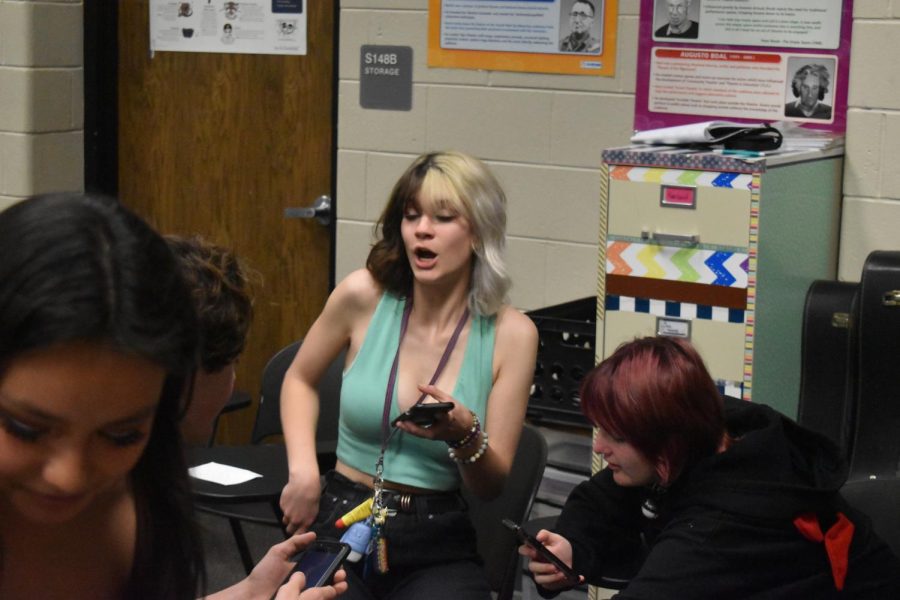 Hello From the Other Side
As Adele said on 25, this class has entered the next stage of youth.
The freshman this year did not get a middle school experience as the rest of us did. They were virtual. No whispering across the aisle in between desks. No petty drama on the field during lunch. And no planned hugs to solidify the "it" couple's fame. Just zoom calls and family dinners.
This lack of normalcy made the transition to high school more drastic. Confused sixth graders now find themselves as confused ninth graders. Moving down the hill from TRMS, down the street from SVMS or even across town from Challenge Middle school has looked a lot different for class of '25. Or from another middle school, like Natalie Replogie.
"I went to infinity middle school, so I was supposed to go to CT. I'm happy I came here, though. I think it was really a struggle to transition because I didn't know many people when I came in," Replogie said. "And with Covid and everything, it was really rough trying to get back into the groove of things. But everybody here was super helpful with that." Getting into the groove can be hard, but finding a group to get you acclimated will make it a lot easier.
"I'm incredibly honored to be a freshman and to be a part of the varsity cheer community. I made a whole bunch of bonds with upperclassmen and people in different grades." Aubrey Fritz said. "That has been great. I've learned that it's good to pay attention and value what you learn from older people. Cheer has helped me see how high school works, and knowing older people has helped me mature." The class of '25 had to either get in the fast track of assimilating into high school, or they would have a difficult road ahead of them. Many of them found their spot in the community like Fritz.
"I think theatre has been something I have always loved — in middle school and my siblings did it too. It is really good to have something to do at school. It's not just going to class or doing homework," Grace Anderson said. "This has helped my transition that has been a little more drastic than usual for freshmen."
The class of '25 has entered their final stage of adolescence. They are saying goodbye to the other side. The pre-high-school side has less freedom to choose. That side has less individuality. Now in high school they get the luxury of deciding how they want their path to look.
"I volunteer sometimes after school, if I can get a spot at the library. My biggest priority is speech and debate. I am also on the robotics team," Saicharith Koppisetty said. "I guess they are just passions of mine. I just want to experiment to see what I am good at, especially speech and debate because I want to be a lawyer." Maybe Koppisetty will go on to study law at Harvard, or maybe he will study engineering at Mines. But he has time to decide. The class of '25 is excited about anything they can get involved in.
"I'm involved in volleyball and student council. I like just getting involved with clubs and after school stuff," Austin Wells said. " My next three years? Well, I'm hoping to do more things in sports and clubs. I'll be doing basketball and hopefully going out for football. And just getting to know more people — I just want to meet as many people as I can."
My brother, a freshman, interjected as I was telling him about this story. Not all freshmen are heavily involved, and that is okay. But the members of '25 who are involved are very involved in the Raptor community. Hopefully this excitement becomes contagious, and in a few years, they will be the rowdiest raptors yet.
2024K Magic
Sophomore year may not seem so magical, but the class of '24 is embracing it before the storm comes.
Sophomore year is like the middle child: overlooked and underestimated — yet completely free. You go into tenth grade with a grip on high school, at least knowing where all your classes are (no matter how confusing the South hallway is). Without the responsibility of menacing AP classes or the SAT, you get the year to kick back a little and really dive into who you are. It is the time to find your niche at school, whether that is a club, sport or activity. 
Sophomores can find salvation in being forgotten–there is no defined "role" for tenth grade like there is for other grades, which can make it feel like an insignificant grade. But being a sophomore is a time everyone should absolutely take advantage of: have fun, make friends and find ways to enjoy school, because you are in it for the long haul.
The class of '24 is certainly relishing in their sophomore-ness, making the most of moments and opportunities they missed out on last year. 
"I know a lot of outgoing people who have just made this year their year," Mandalena Peou said. "They're going out volunteering, getting opportunities [and there are] lots of officer positions going around. And I think it's really nice to see that the pandemic didn't bring down the spirits of a lot of high achievers."
Though (generally) very goal oriented, not all sophomores are on the same page. But that is what makes sophomore year so wonderful: everyone is in different places. Some are prioritizing preparations for the rest of high school, and others are just making time to start their journey of self-discovery. 
"I feel like sophomore year has really helped me just grow as a person and get to know the school better," Isaac Lutalo said. "Our class had a really weird freshman year, and during quarantine and the times we went remote, we had that time to just do self reflection. Then, coming back into school, we had a fresh start."
The class of 2024 has come a long way since Covid made space for itself in all of our lives, but they are pretty much all over the place. They are not freshmen, but they also did not have a real freshman year. So they got to use this year to try new things and find their people while also looking at the rest of high school on the horizon as the underclassman sun sets. 
"We're just kind of figuring it out," Peou said. "It's awkward. It's clunky." After two years of limited opportunity, '24 is redefining what it means to be a sophomore, taking the "chill year" by storm, whether that means finding what they love or growing into their potential. 
Yet, even as they are all on different steps of their experience, there is an incredible level of support among the class. Diverse in many ways, the class of '24 is a family within the greater Raptor community. 
"It's just like — we get each other," Lutalo said. 
'23 and Going Through a Mid-Life Crisis
As Drake sings, the juniors are truly going through it.
Class of 2023 consists of students who sort of lost their way in life. We were the students who lost half of their freshman year to Covid. We were the students who experienced all the schedule changes during their sophomore year. These unfortunate events could have messed up our sense of direction, but we still manage to find our place in the community.
Junior Lindsey Troftgruben is extremely passionate about all the activities she is involved in. During school hours, she is involved in Speech and Debate, and she also has an officer position in National Honors Society. Even though these school activities take up a lot of time, Troftgruben is still involved with other activities outside of school.
"Outside of school, I play two sports: softball and crew. I have been playing soft ball since I was eight, and for crew I started a year ago. Other than the two sports I play, I have two jobs. I am a model, and I volunteer in a lab pharmacokinetics laboratory," Troftgruben said. Through all the craziness in school, Troftgruben still finds time to destress with activities that she enjoys.
"Whenever I have free time, I like to work out. I like to watch Marvel movies. I also like to play video games. My dad and I also do drag racing, which I really enjoy," Troftgruben said.
Like Troftgruben, junior Brady Yamanaka has also dedicated his share of time to school. Yamanaka is a part of National Honors Society, Science National Honors Society, Vaccine Champions, Blue Sky Scholars Club – just to name a few.
"I decided to be a part of the extracurricular activities because it is a way for me to give back to my community, build relationships with my peers, and it is a way for me to dive deeper into a subject area that I am interested in. It also does not hurt to help my academic pursuit into college," Yamanaka said. "I want to study Japanese and I am not sure what other major I want to study but I think that it will probably be international studies or business."
During his free time, Yamanaka supports the school's basketball and volleyball teams. He, like most teens, destress by hanging out with friends. He also likes to play all types of sports for fun.
Just like the rest of the juniors, Estub Worku is dedicated to all the extracurricular activities. A few clubs that Worku is a part of include Rho Kappa, Team R.E.D, Habesha, and National Honors Society. 
"I try to be involved as much as possible in and outside of the classroom because I feel like if I do not make relationships with my peers or teachers, I am not going to do the best I can. The relationships that I form with others provides me with support as I grow," Worku said.
With all the extracurriculars that Worku is a part of, she hardly has time to fully rest. When she does have time to rest, she enjoys reading and watching YouTube.
"Lately, I have gotten back to reading — which is great. I have not done that in a while, so it is nice to not have anything on my mind and just read. I like to read romance and thriller. I am currently reading Verity by Colleen Hoover.  I also like to nap during my free time because your girl needs to rest," Worku said with a smile. 
Not only is Class of 2023 involved in all the extracurricular activities, they are also trying their best to succeed academically. They are dedicating their time and energy to become the better version of themselves, so that they can create a brighter future for themselves.
"Class of 2023 is determined and resilient. Whatever we set our minds to, I know we can accomplish it. We dedicate so much of our time and energy to school just to make sure that there will be a better future waiting for us. Our class is truly a hard-working class," Worku said.
This class has faced many challenges throughout the course of two years. Even though these students could have easily given up, they persevered and were determined to create a better school environment for themselves and each other. The similarities that these students found within each other were the stress and anxieties of being a junior.
"Because junior year is so stressful, we all like to help each other out as much as possible. In classes, we will have group chats, share notes, and keep people updated if they miss class. And it is really the only way we can succeed," Troftgruben said. Having similar struggles and desires has allowed relationships to be formed within the class.
"We are really close because we all just want to help one another be successful and reach our goals. Our class is a very close-knit community," Worku said. 
Having these little ways of helping each other out has shown how tight of a class bond these students share. Even though juniors share some similarities with each other, they are still their own individual selves.
"Class of 2023 is very diverse. From what I see in my classes to the hallways, there is a wide variety of students. I see our class as hard-working and deeply devoted to the school spirit from sports to clubs and even academics. I think our class has come a long way and matured a lot as we faced junior year together," Yamanaka said.
Not only have juniors matured through the year, but they are preparing themselves for life after high school. Because there are so many different personalities incorporated into Class of 2023, there will be many career paths that these students will choose. 
"We definitely have a wide variety of people who are going to do very different things in life and just go on their different ways. But wherever we end up, I know we will achieve many things. I have a lot of hope for our class," Troftgruben said. Because there are many different personalities in Class of 2023, competition between the juniors is inevitable. They all want to be the best that they can be and accomplish many great things. 
"Class of 2023 is definitely a competitive class. We all strive to improve ourselves so that we can ensure our success in the future. Our class consists of really really smart people.  I think having a competitive class is kind of beneficial because it makes people motivated to do better. They want to work harder so they can be at the same level as someone else who is really successful in our class," Worku said. Having the drive to succeed is not the only thing allowing '23 to achieve great things. There are many tools and opportunities that high school has provided for them. 
"I believe our class has all the tools we need to succeed. We just need to take advantage of all the opportunities we are given," Troftgruben said. And juniors do take advantage of all the opportunities they receive from the school. They are not afraid to try new things and fail.  
On very rare occasions, the competitive atmosphere that Class of 2023 has can be intense. Nevertheless, juniors are still proud to be a part of this dedicated class. 
"Whenever someone mentions Class of '23, I feel proud to be a part of it. I would not have it any other way. These are the people who can relate to the struggles that I experienced because we all faced those struggles," Yamanaka said.
Being able to understand each other has allowed juniors to find their place in the community. It has also provided them opportunities to get to know each other and help each other become the best version of themselves.
"Class of '23 is the best! We are going to be the most successful in life, and that is on period!" Worku said.
I don't know about you…
But Raptors are feeling '22 spirit amidst graduation.
The last class standing with one normal year, and, from my senior eyes, freshman year now feels like a blur. It seems so distant. It sounds cliche, but high school changed after March, 2020. Duh, Jeremy that is a given — but, more than just the fact that mask mandates have come and gone. And come and gone…again. High school has shifted beyond the obvious online-school-woes and the unnecessarily-controversial decision to vax or not. School does not feel like school anymore.
Even to this day, a late night in April, 2022, I do not feel like a true Raptor anymore. We have finally gotten our assemblies back, but it seems like most students do not fully understand them. School spirit has gone out the window as swabs entered our noses. I remember the class of '20, and even '21, so vividly. They were rambunctious and filled stadiums with What is a Raptor. Yet, the pandemic changed all of that and this year's senior's outlook on high school.  
"I think, especially with senior year, I've just decided to go all out. Knowing that for the past two years that we haven't really had time to feel the spirit of things, it makes this year even more important to do even more," Katelyn Urbanski said. "I just want to show underclassmen you can have so much fun and there's so much potential with the spirit in high school for four years." Like Urbanski, many seniors felt a new sense of community getting back into The Nest.
"I think, on one hand, [Covid] kind of made us appreciate the value of what we do as a community more. Since we had those years where we were very isolated and not really connected as a school, you can tell this year that people want to be part of that community," Tess Rosen said. "When we came back there was a higher participation rate in events and I think that really shows how desperate people are to be part of that community again."
Yet, the class feels divided; those whose spirit was suppressed for too long in quarantine or those whose Raptor pride flame fizzled out. Those who sat front row at the last few assemblies. Or those who dipped out after the second period attendance. 
"I honestly think it's split. I think a lot of people kind of lost it all during Covid, but there's still some people, like me, who are like, 'let's get back into it,'" Urbanski said.Deciding which half each individual senior falls under is a subconscious decision. 
Along with this decision, seniors had the difficult task this year of going head first into their various activities. Urbanski is theatre president. Tess is involved in every honor society imaginable, among a plethora of other activities. And Braden Miller is committed to a D1 school for football, but has some advice for incoming seniors and underclassmen. 
"The transition to high school sports has been relatively easy. Coaches here are always very welcoming, especially football coaches. I'm gonna go to Michigan State to play football there. I'm not sure what I want to major in, but I'll figure it out when I'm there," Miller said. "To the other classes: I'd say to just try, honestly. High school is not that terrible. It's not very difficult, unless you make it insanely difficult on yourself. So I would just say just try."
Trying is possibly the most difficult part of high school. Trying in the things that you really just do not care about. The class of '22 now gets to worry about the things that they care about; and that they are not split on.