The Uprising of Pure Hate
The racially motivated hate groups rooted in the white supremacy ideology are on the rise. So when will this battle for equality and hate for each other truly be over?
Over the years, modern white supremacist ideology has been centered on the contention that the white race is in danger of extinction.  As a full-fledged ideology, white supremacy is far more encompassing than simple racism or bigotry. 
According to ADL Fighting Hate For Good, "White supremacy is a term used to characterize various belief systems central to which are one or more of the following key tenets: 1) whites should have dominance over people of other backgrounds, especially where they may co-exist; 2) whites should live by themselves in a whites-only society; 3) white people have their own "culture" that is superior to other cultures; 4) white people are genetically superior to other people." With this ideology, white supremasicts have been seen wearing swastikas to represent the Nazi and their hate for Jewish people, along with confederate flags, representing the oppressive system that kept African Americans as slaves, to describe their hate and demise for people of color. The language of white supremacy has become increasingly essential to understanding racial conflict over the span of Donald Trump's ascendancy into office back in 2017 and since Joe Biden has recently been elected into office in November of 2020. 
According to PBS Learning, "segregated public facilities were one of many tools of white supremacy, which systematically denied constitutionally guaranteed rights to African Americans during the twentieth century." While many people are uncomfortable using the term white supremacy, except when discussing extreme forms of physical violence such as lynching, cross burning, or other activities associated with the Ku Klux Klan and similar hate groups, white supremacy refers to an entire system designed to maintain white economic, legal, political, and social privilege, not just violence or hate groups like the K.K.K. or the Proudboys. 
The Ku Klux Klan's primary targets are African Americans as well as Jews, immigrants, leftists, homosexuals, Catholics, people of color and Muslims.The first Klan was established during the wake of the Civil War and was a defining organization of the Reconstruction era. As for the Proudboys, they are a far-right, neo-fascist, and male-only white nationalist organization that promotes and engages in political violence in the United States and Canada, established in the midst of the 2016 presidential election.
White supremacy ideology has spread all over the country as years have gone on. The first KKK white supremacist group was created in Tennessee in 1863 but was not yet active in Colorado. These groups were not established in the Centennial State until 1915, after the group's second nationwide establishment. 
"By the mid-1920s, the KKK had risen to power in Colorado, where it gained control of the state legislature, the governor's office, the Denver mayor's office, the Denver police department, and many members of the statewide Protestant community," explained Colorado Encyclopedia Newspaper. Going on to state that "the KKK did this by exploiting local ethnic divisions and prejudice with its message of '100% Americanism.'"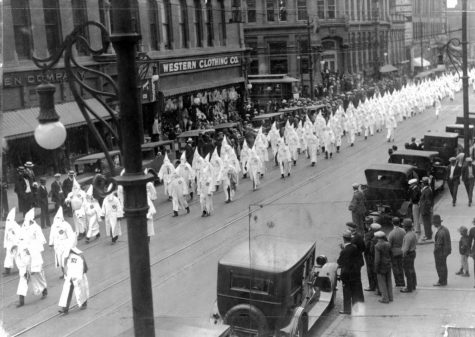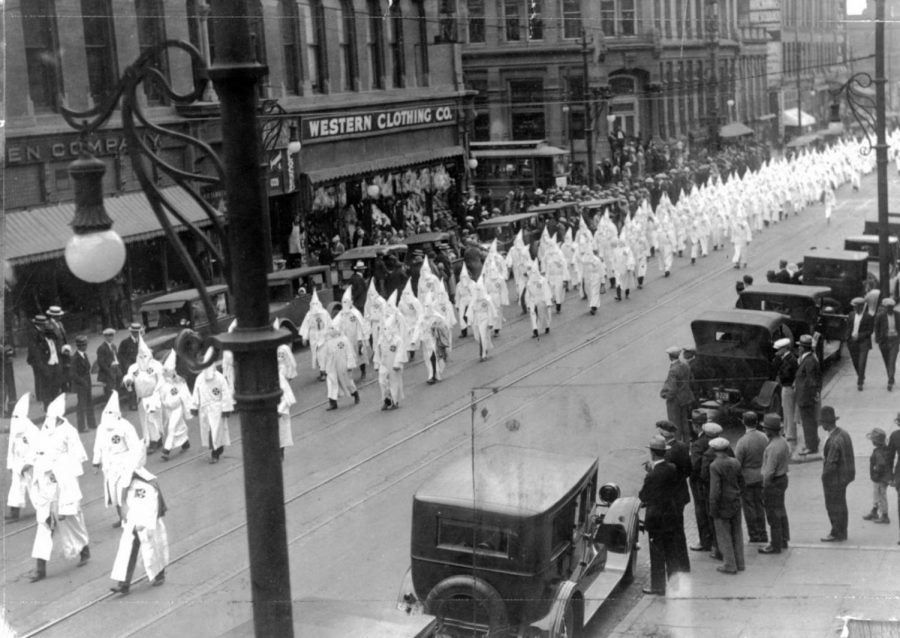 Sydney Herrera, a young, 21-year-old, African-American activist in Portland, Oregon stated, "White supremacy is everywhere. It's the root of everything in America. From blatant racism on the streets to the subtlety of microaggressions to the systems this country is built on to keep black and brown people down." American culture from the beginning has viewed black and brown people as less than the average white person. This type of culture is shown from past and recent events such as slavery, the civil rights movement, white supremacy and so much more, as this is what the American system is built on, revealing true systematic racism.
As white supremacy ideology is rooted in American culture, it is inevitably rooted in younger generations to come. Inside Higher ED stated that, "Colleges nationwide have seen a surge in white supremacist communication that is primarily used to influence an audience, showing up on campuses, but most of that activity has not involved in-person appearances." Rather, various groups appear to be putting up posters and distributing hateful literature in the night without identifying themselves. Meanwhile, other groups are striving to unteach racist ideologies that are born into children and instead educate them about their families history, taking the steps to putting an end to this race war. 
"In order to see white supremacy come to an end, everything in America has to end as well," Herrera said. "You can only reform so much but as long as things are still rooted in this ideology, nothing will really change." Complete and total abolition of the current American culture and ideology is seen as nearly impossible as we strive for equality, but educating yourself, friends and family is the first step.
On the other hand, Megan Wilcox thinks that white supremacy doesn't exist. "The concept of white supremacy does nothing but give people an excuse to be racist towards white people," said Wilcox. With the current stand of America, many believe that we will only see a bigger divide come along with time. 
"You can't change someone's opinion, you can't abolish global warming, you can't abolish all racism; it's striving too far," said Wilcox, expressing how these huge efforts for a better country will only tear us further apart. Meanwhile, other students like Funmi Oladipo see white supremacy as a way for white Americans to discriminate against BIPOC (Black, Indigenous, and People of Color) and Jewish individuals because they believe their race is superior.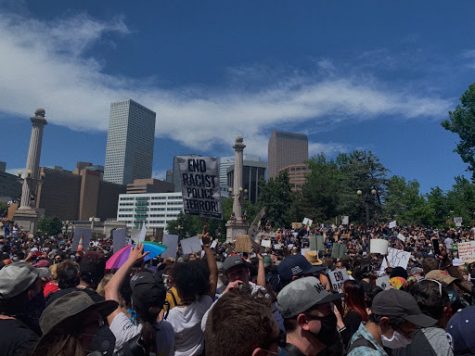 "We are born with privilege, whether we accept that or not. White supremacy is not something to be proud of," explained one student passionately. As a black woman in America, Ms. Oladipo has developed a sense of fear for these ideologies and the actions people are willing to take. 
With white nationalist violence at the root of this country, it is the determination among the people targeted for hate to fight back and build a country as good as it claims to be. The strength and the power of our country comes from the very same minorities who could have given up on it generations ago but refuse to do so.  
"In 2020, we saw Black, Brown, and Indigenous leaders continue this fight by calling out injustice and protecting the vote for all, and it was their work that saved our democracy yet again," The Leadership Conference of Civil and Human Rights stated. Celebrities, community leaders, civil rights advocates, and state and local officials all over the country worked together to ensure that voters could cast their ballots free from voter intimidation. Every ballot cast was seen as a defiance of the efforts of white supremacists who engaged in activity throughout the campaign to perpetuate hate and undermine the country's democracy.
Politico Magazine stated, "Donald Trump's entry into the 2016 presidential race was what really energized the white supremacy ideology and caused it to become highly active in support of Trump." This activism drew media attention that provided publicity for these types of actions and speech which allowed it to grow further. These ideologies within certain hate groups interpreted Trump's success at the polls in November 2016 as a success for their own movement as well.
Since Trump was inaugurated, white supremacist ideology has been shown through hateful actions and events. One month after Trump's inauguration, an Indian engineer named Srinivas Kuchibhotla was killed in a bar in Olathe, Kansas by a whiteman who shouted racial epithets. Soon after that, on May 20, 2017, Richard Collins III, a twenty-three-year-old Black man, was stabbed to death in College Park, Maryland, by a white man who was a member of a Facebook group called Alt-Reich: Nation. Alt-Reich: Nation is a facebook oriented group of young white men who share thoughts and plans based on the white supremacy ideology. 
This initial wave of violence peaked with the Unite the Right rally in Charlottesville, Virginia, on August 12, 2017, which brought white, racist thugs from around the country to stop the removal of a Robert E. Lee –commander of the Confederate States Army during the American Civil War– statue and resulted in the murder of the activist Heather Heyer.
"I would like to see ideologies of white supremacy addressed by the government so that the country can be less divided," Oladipo said. Both of these students hope to see America come together as recent years go on by the citizens being able to acknowledge these hateful ideologies and the impacts it has on people.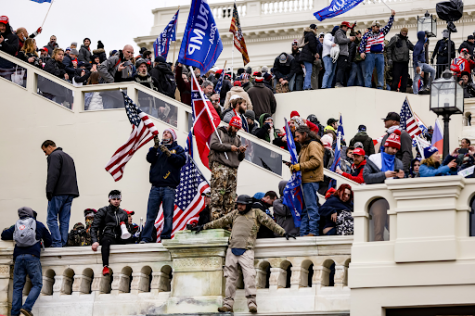 Since the terrorist attack on the Capitol on January 6, 2021, which was orchestrated by white supremacists, instigated by an arguably white nationalist president, and which ended with five people dead and threats of more violence, we have seen the latest manifestation of law enforcement acting without legal authority by a self-appointed group of people. And it's moving us closer to being a failed nation. 
Systemic white supremacy is more extensive, brutal, and efficient than most Americans, except those targeted by it, care to admit. The government is motivated to investigate the Capitol attack, which could provide an opportunity to educate the nation about the complex nature of systemic white supremacy and the devastating impact that it has on every aspect of American life. 
With supporters from all over and activism based educators, white people are beginning to notice that peaceful Black Lives Matter protests are treated more harshly than white insurrectionists. Law enforcement agencies are now prioritizing the surveillance and prosecution of organized domestic terrorists, a list which now includes several white supremacist groups. While the white supremacy that fueled their actions is not new, these attacks on our country demand that we fight it with renewed determination. We are currently working together to tackle this shared challenge that affects all American citizens for a better America.
Leave a Comment
About the Writer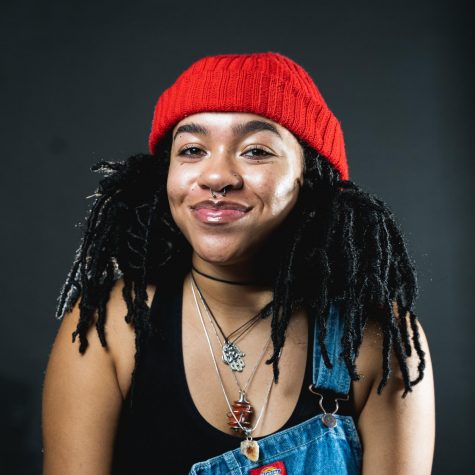 Rhyan Herrera, Website Manager
Rhyan Herrera is a junior at Eaglecrest, and this is her second year on staff for Nest Network. She now serves as our Website Manager - and resident oversized,...